I have compiled a list of 10 things you might not know about me.
This just for fun list first started by Brooke is a fun introduction for those going to a blogging conference know as Allume as a way to get to know your roommates. The conference is less than 3 weeks! This is my first conference that has anything to do with this blog.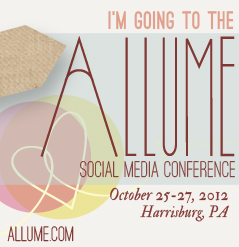 And while I am going to the conference, and my roommates are
Anne
,
Nikki
and
Leigh Ann
(and
Jami
for one night) I thought y'all might want to get to know me too! Even if you're not going.
Both my and my sister's husbands' are named Jake, I know how cool! And what's weird is they have similar backgrounds. Any one else's husband named Jake?
I sleep with a mask! (It's a must, kinda like a blanky for a toddler) my husband got it for me when I was pregnant with my son and have had one ever since, my current one is over 3 years old, don't worry I wash it every once and a while. If I'm sharing the bed with you at Allume, this might be good for you to know!
I am all about real foods and avoiding toxic foods but occasionally I do indulge in "bad" food, you might catch me at a Chick-fil-a, Starbucks or at a yogurt place once in a while. (Aka a vacation meal) During Allume it is a vacation for me, so I will be having some of that chocolate I have been hearing about… wink wink!
I'm not good about eating breakfast even though I do know it is the most important meal of the day! You'll probably catch me with a coffee in our sessions though, try to make sure I grab some eggs & fruit!
I sleep on the left side of the bed as you sleep on it.

Who is with me?

I like to try new recipes and have been trying a lot lately! Meatballs, pumpkin harvest  spice, and thought about bring some healthy cookie dough balls, I probably won't though- too busy!
My husband is a wellness doctor. You can even ask him a question about health if you have one! You know how Dave Ramsey says "don't be normal, be different." We agree with that but we also have a different outlook on health than the norm. You can ask me anything at Allume but I might not know all these answers!
I love board games and can be competitive.

I doubt we will have time to play a game at Allume, (sad face)!
I can be a late and am a non tech-y person but somehow still get lot accomplished. Erin, she is also coming to Allume and is one of my good blogging friends, would have #9 on her list too but she is a rockin' lady! You'd never know!
Well there's my 10 things… Didn't leave room for loving camping, being really confused by twitter or that I can be an introvert! If you want to "meet" some great bloggers, check out this list!
What are some things about you? Are you anything like me?