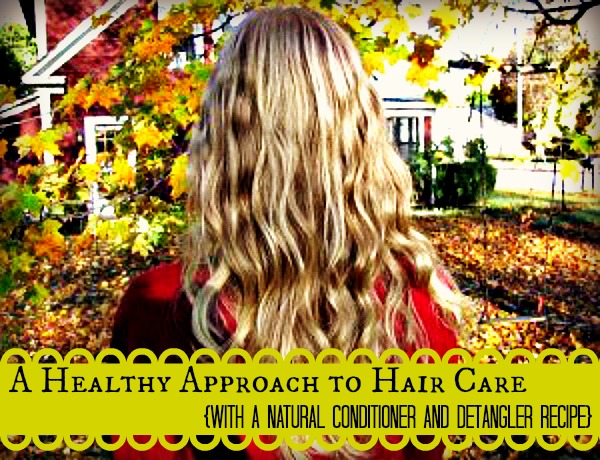 Written by Kim, Contributing Writer
I turned 45 this month and I'm a bit perplexed that it has taken me this long to discover the most effective (and natural and healthful!) way to take care of my hair. I literally feel like I have the healthiest hair of my life right now.
Why bother with a healthy approach to hair care?
There are many concerning chemicals in common hair care products (sitting on your scalp, being absorbed into your head and bloodstream, oh my. . .)
Traditional shampoos strip your hair and scalp of their natural, beneficial oilsThey are designed to make you dependent upon their products (strip with the shampoo, make manageable with the conditioner, on and on . . .)
Your hair will stay cleaner longer between washings.
The natural ingredients we use work with the design of our hair (relaxes scales/cuticles so your hair is more silky and manageable and encourages a healthy pH on the scalp and hair)
Common hair problems (dandruff, dry hair, oily hair) can resolve naturally
Your hair will naturally feel and smell nicer
You'll save tons of money on hair care products!
It's personally been a long journey to "natural hair care heaven" because it actually began about 15 years ago. At that time I became concerned with the chemicals in common hair care products and transitioned away from commercial brands to natural brands. A few years later we moved to Alabama and I moved away from shampoo entirely to using baking soda to clean my hair and scalp.
I'd simply wet my hair and then sprinkle some baking soda into my hand and work it into my hair and scalp, particularly along the hairline. Occasionally I would use a vinegar rinse (1 part vinegar, 2 parts water) to "condition" my hair. I didn't fully understand how it worked (something about adjusting the pH of the hair) but I knew it made a big difference in how tangle-free my hair was.
This all worked fine, but my hair seemed a bit dry and unruly. I tended to keep my hair relatively short, so it wasn't too much of a problem, but when I wore my hair longer I noticed the texture of my hair wasn't as nice.
Over this past year I've read a number of articles online that have encouraged me to "tweak" my process a bit. I now mix my baking soda in a handy squirt bottle (I use one that I picked up at a college book store that a pottery student would use, but a cheap set of picnic mustard/ketchup bottles would do the trick too, or any other bottle with a small squirt top). I add about one tablespoon of baking soda per cup of water to the bottle and shake till mixed. This sits on a shelf in the shower just as a bottle of shampoo would.
After I wet my hair I simply squirt a bit of this mixture along the hair line and onto the scalp. I can then massage it in. Now, this is entirely a different concept and experience from shampooing. Don't expect bubbles or lather. You are simply cleaning your scalp. A clean, healthy scalp produces clean, healthy hair.
After rinsing thoroughly, I take the cup into which I've put a few tablespoons of my homemade Conditioner/Detangler (recipe below) that I've set by the shower and then I add some nice warm shower water to it. I gently pour this over my hair, making sure to give the ends a good dose (I actually swish the tips of my hair in the mixture before I pour the last of it over my head). I allow this to set for at least one minute and then rinse. You won't believe how soft and manageable your hair will feel. It will brush out easily and have nice texture. I repeat this baking soda and conditioner routine each time I shower.
IMPORTANT NOTE: Expect a transition when you start "detoxing" your hair of the chemicals and hair products you've been using over the years. There is an accumulation of chemical residue on your hair and the baking soda treatment will begin to strip this away, but your hair will potentially go through a "straw-like" phase before it becomes silky clean. (It will feel nicer than it's ever felt! Residue-free. It's kind of like when you give up soap for bathing- yes, we don't use soap either!. When you touch soap again, the residue feeling just doesn't feel clean). You've just got to persevere and push through it this cleansing phase for your hair. The length of this stage may also be lessened with the use of the conditioner. I don't know because I didn't have this when I made the transition.
Natural Conditioner and Detangler Recipe
This is not a precise "recipe", so adjust as you'd like
What to do:
Into a bottle, jar, etc. (I simply use a Trader Joe's ketchup bottle, nothing glamorous, for sure, but it does the job) add:
½ cup raw apple cider vinegar
1/3 cup aloe vera gel
½ cup water
6-8 drops of essential oil of choice
**I usually opt for tea tree oil, but lavender and other botanicals are nice. You can research online what oils would be complimentary for your hair needs. Adrienne of Whole New Mom has some great suggestions on this post– one of several that inspired some changes in my routine.
Shake well to mix.
Before each shower, add about 2-3 Tbsp. (You don't need to bother measuring this, it's just an estimate) of the mixture to a 12 oz. cup. During the shower you will add additional warm shower water to it before pouring over your hair.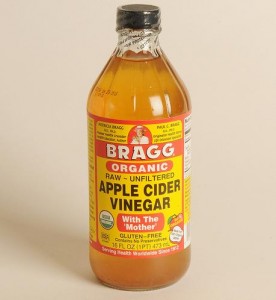 Photo Credit
NOTE: Some people may be concerned about the vinegar smell. Most of it rinses out and what is left disappears as your hair dries. I've never noticed (or been told) that the vinegar smell lingers at all.
TIP: DO NOT shave before using this conditioner! Any little nick will burn with the application of the vinegar mixture. Consider shaving after rinsing the conditioner from your hair.
Recommendation for an occasional deep conditioning treatment:
On occasion I will give my hair an extra special oil treatment. I've used straight coconut oil (works okay but doesn't rinse out as nicely) but I prefer the Invigorating Hair Oil made by Mountain Rose Herbs (a company that is a great source for all kinds of herbs, spices, teas and natural care items- definitely worth checking out!).
You only use 5-6 drops per treatment and I only use it once every couple of months, so this tiny little bottle will probably last me for years.
They also have a great natural conditioning/detangler spray my daughter loves.
What do you do to keep your hair healthy? If you use a product, which one?