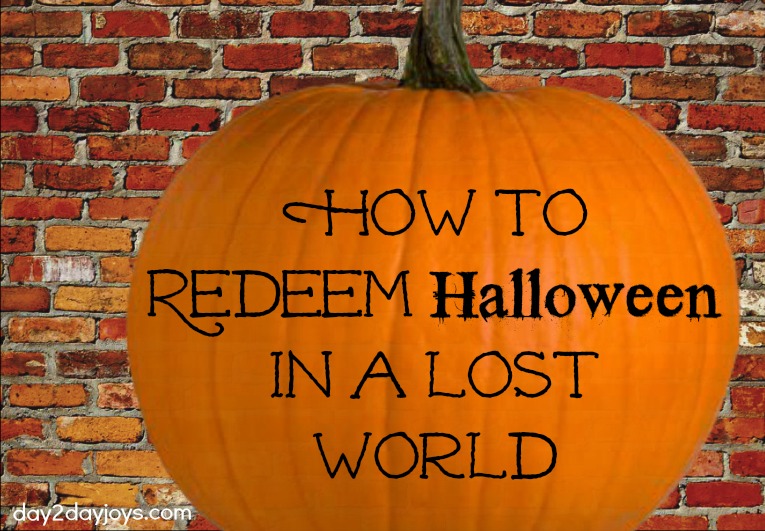 Goodness gracious. When it comes to holidays people can really snarl their noses and point fingers on saying whether something is right or wrong, no matter what side of the fence they're on.
And of course that can happen in most areas of raising children, can't it?? Natural birth vs. medicated, spankings vs. no spanking, homeschool vs. public school, when's the appropriate age to let your teen date, the list goes on in the great debates in motherhood.
So I guess I shouldn't be surprised that Halloween is any different. Some people participate and some choose not to but whatever side you find yourself on we should not be judgmental of the opposing side.
Although we choose to participate in Halloween, I don't think Christians should accept everything about Halloween.  My pastor says, "There's a big difference between kids that dress as hello kitty or batman, and another that dresses like a witch."  This culture, I know, puts big emphasis on the "evil" side with all of the witches, ghosts and bloody dead zombies.  
I actually hate dislike going to the store and there's all these spooky things hanging all over, I think it puts pressure on kids to want to dress up in a "bad" costume and also engages them in seeing ugly things at such a young age. But I do believe that for those who choose to participate here are some ways to Redeem it.
*My pastor answered the question below with these 5 answers which I agree on and I am simple sharing them. 
The question about redeeming anything in culture is how can we as believers leverage Halloween and engage culture with the gospel?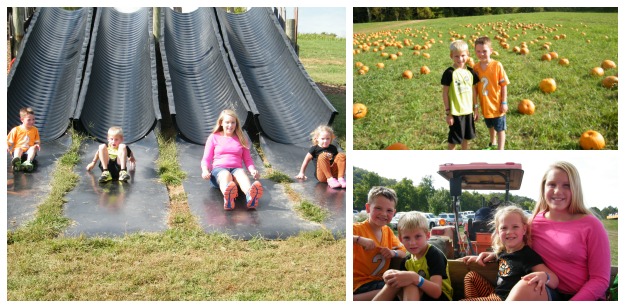 1. Most non-Christians are going to go to a pumpkin patch. So instead of going alone, invite a un-churched family member or friend to go with you to build a relationship with them. Hopefully giving you a chance to impact them and share the gospel.
2. Invite a un-churched family member or friend to go trick-or-treating with you. Let your kids dress up and get candy together. Again, building relationships with them.
3. Invite a un-churched family member or friend to attend your church's fall festival. Same thing, relational.
4. Even the costumes we choose can help redeem this holiday…others will choose to dress up scary, our kids can be positive with non-scary/ugly costumes.
5. We also have a debriefing time with our kids after we go out for candy…not that night, but the next day or to,  talk about the night. The scary costumes, why people dress like that. We talk about the pagan ancestry of the holiday so they have can understand the creepy nature of it. And at the same time I can tell them why we are doing it…to engage our neighborhood with the gospel. So I look at it like I do a mission trip…pray up and get ready for some good conversations with pagans!
6. This is something we do so I added it to the list. Carve pumpkins and talk about how Jesus takes the yucky stuff inside our hearts (the slime representing the icky sin) and Jesus is the only one who can cleanse us and forgive us. (clean out pumpkin) Then we carve our pumpkins with a smiley face (Jesus is the only one who can truly make us happy) and then put a light inside. (we are the light representing Jesus to the lost world)
To redeem Halloween doesn't mean you take a pagan holiday and make it Christian…Christians tried to do that many years ago and that's why All Hallows Day even exits…rather it means we are leveraging things in culture to engage culture with the transforming power of the gospel.
We can hide inside while the rest of the world is walking around asking for candy, or we can walk around with them and become the salt and light that Jesus asked to us to be.
Matthew 5:13-16 "Let me tell you why you are here. You're here to be salt-seasoning that brings out the God-flavors of this earth. If you lose your saltiness, how will people taste godliness? You've lost your usefulness and will end up in the garbage.

Here's another way to put it: You're here to be light, bringing out the God-colors in the world. God is not a secret to be kept. We're going public with this, as public as a city on a hill. If I make you light-bearers, you don't think I'm going to hide you under a bucket, do you? I'm putting you on a light stand. Now that I've put you there on a hilltop, on a light stand—shine! Keep open house; be generous with your lives. By opening up to others, you'll prompt people to open up with God, this generous Father in heaven." (Message Bible)
If you choose to participate how are your redeeming Halloween?