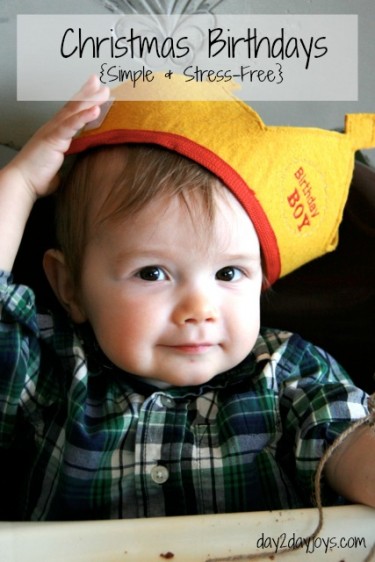 Written by Jenn @ A Simple Haven, Contributing Writer
The only preference I've ever had regarding childbearing was no Christmas babies.  To me, labor and delivery around the holidays seemed crazy stressful.  Not to mention the poor kid's birthday would be forever lost in the busyness of the season.
Turns out the good Lord thought having a Christmas baby is exactly what I needed.  As per usual, He was right.
Sweet baby boy entered the world about an hour before Christmas Eve; the grace I received during my pregnancy, his birth, and the newborn weeks was a huge example of God's loving care and provision for our family.
And I learned in a very tangible way that a baby–regardless of timing–is always a blessing.
Huge reminder that I'm not in control and often don't know what is best for me: check.
How to celebrate Christmas birthdays sans stress and still make the kid feel special?  Read on.
I'm only two years into this game, but my appreciation for a good party–and simplicity—has made me a quick study.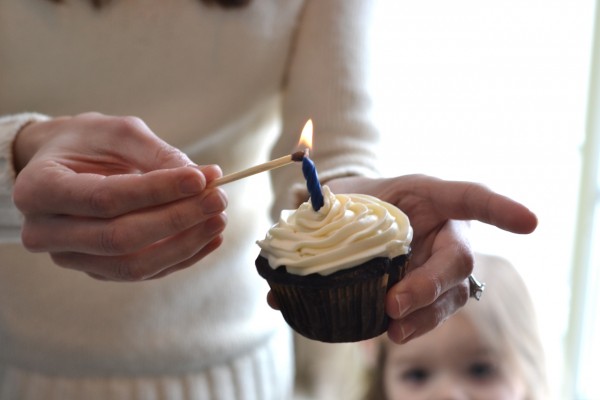 Simple Holiday Birthday Celebrations
Plan Ahead
My answer to most of life's challenges, a bit of forethought can help diffuse stress on mom and the budget.  For example, for baby's first birthday, I bought invitations and other party paraphernalia the month before the party so the December budget wouldn't feel quite so tight.
And if you're committed to a birthday party in December, it's probably best to get invitations out extra early in light of everyone's full calendars.
What's that you say–it's already the middle of December? I'm right there with you: zero forethought this year. Which brings me to…
Keep it Stress-Free
Remember that children are satisfied with a whole lot less than we might imagine. It doesn't have to be a big 'ol Pinterest-fied (did I just make that up?) party.
Last year, I kept it stress-free by limiting the guest list to only a few families, serving easy food, and decorating with what I already had.  (For more on simple, stress-free kids' parties, go here).
This year, we may just share cake with a friend or two.  A friend of mine celebrated her preschooler's Christmas birthday with a simple dress-up themed play-date.
Especially during the holiday season, I try to be intentional about what I take on and reevaluate when I start losing sleep over things like party favors.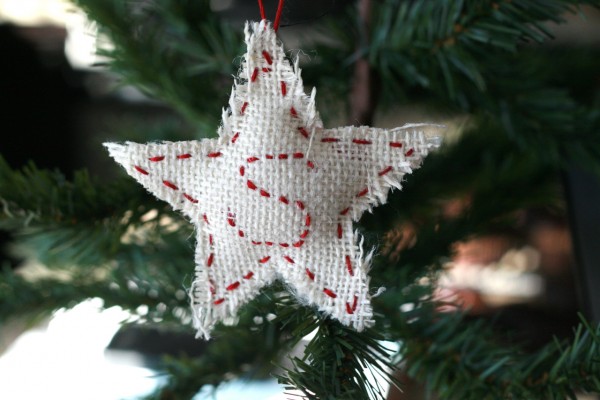 Move the Party
If the December calendar feels too full, consider a November or January party with a special family meal on the actual birthday.  I've yet to meet a kid who would object to stretching out birthday festivities.
Shoot, in my house we do "Birthday Princess Week."  For my daughter, of course.  Ahem.
And there's also the option of a half-birthday celebration during the summer to avoid the craziness of the holidays.
Minimal Gifting
Between the Christmas gifts Hubs and I give and the generosity of family members, our children always end up with a bounty of presents.  Throw in a December birthday and new toys start getting lost in the shuffle.
So, for now, we're keeping our Christmas-birthday boy's presents to a minimum.  He'll get one or two gifts from Daddy and Mommy now–and maybe we'll set some birthday funds aside to get him an outdoor toy come spring.
A Quiet Celebration
Of course, it's also possible to celebrate your child's birthday without an actual party.
I'm a pretty big fan of parties, but some years it feels best to do a low-key family celebration.  This year, I think we'll do a special dinner followed by baby boy's favorite activities (trains and wrestling with Daddy) and some birthday cake.
If the whole point is simply to rejoice that your kid was born and remind him of how special he is, I'm pretty sure we can do that without a guest list of twenty.
Do you have any holiday birthdays in your family?  How do you prefer to celebrate them?