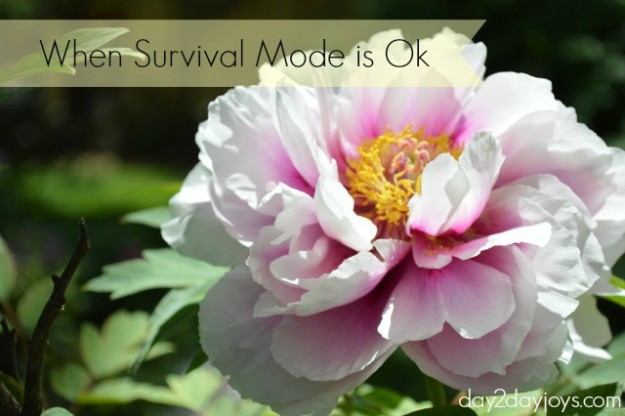 Written by Jenn @ A Simple Haven, Contributing Writer
Survival mode. It doesn't sound particularly enticing, does it?
It seems to be the antithesis of living intentionally, toward your goals and in line with your values. It sounds like just getting by. And who wants to do that? Not me.
And yet, survival mode is where I find myself.
In a season of being newly pregnant and feeling yuck, with my husband in summer school and working longer hours + traveling more than usual, I am just trying to keep everyone alive here, folks.
Because this is my third pregnancy, I know a little about what to expect. For me, the nausea and exhaustion eventually subsides. Before too long, summer classes will be over and Hubs's travel will slow down a bit.
Thankfully, there is an end in sight. But until then, I am lowering my expectations of myself, reassessing what's necessary, and giving myself permission to just get by for now.
 In fact, that's how I'm going to define survival mode: Adjusting expectations and doing only what's necessary for myself and my family amidst a challenging season.
As a recovering perfectionist, here's what's helped me be ok with that.
Why Survival Mode is Ok (and How it's Working for Me)
Why It's Ok:
Life is Full of Challenging Circumstances
My current challenges involve the first trimester of pregnancy and an unusual amount of solo parenting, but a myriad of circumstances may cause you to choose survival mode for a time.
Maybe it's a busy season at work, a husband who is traveling frequently, adjusting to adding another child to the family, or having one or more sick kids.
In any case, new challenges require a reassessment of routines and expectations in the home. And depending on how long the challenging season lasts and how long it takes you to figure out a new "normal", a time of survival mode might just be your ticket to, well, surviving.
We All Have Limits
I am one person; I can only do so much. Yes, through the power of Jesus, I can often do much more than I would have thought.
But is it reasonable to expect the same things of myself when I'm sick and pregnant as when I'm well? Probably not.
It's Only for a Season
This is what I have to tell myself to make me ok with operating in survival mode. It's not ideal, but it's also not forever.  Frozen pizzas and extra TV time is not the best, but I know it won't characterize my kids' childhood.
How It's Working For Me:
I've Decided What's Essential
And it's feeding and clothing myself and my family. That's it.  Meal prep and laundry are pretty much my daily goals.
As food prep makes me nauseous and my daughter changes clothes six times a day, I consider meeting these goals quite the feat.
I'm Saying Yes to Help 
While I used to struggle with asking for and accepting help, I've been so grateful for friends who have offered it over the last few weeks. From watching my kids so I could go to the doctor alone to bringing me pregnancy survival kits to time spent praying for little baby, I am so glad to have such a sweet community of support.
And what I'm saying no to? Extras.
Like trying to take the kids to the pool by myself, making fabulous dinners (more often, dinner is an odd assortment of snacky foods), or hosting company (as much as I love it, I'm mostly saving it for the second and third trimesters).
I'm Maximizing My Functional Moments
Most days, I do have a few hours where I feel functional. So I have a short list of chores, phone calls, errands, or other tasks that I try to tackle during those times.
I also try to prioritize getting the kids outside or to see friends when I can. Often, seeing other people (and getting away from my kitchen and all. the. smells.) boosts my mood and helps me forget how I'm feeling.
I'm Talking Things Through With My Husband
Hubs is very aware of his wife's current state (hopefully, I'm explaining rather than complaining :)). But sometimes, he needs me to be really explicit about what I can and can't manage to do right now.  So we've had some good talks about reasonable expectations for meals, housework, and the budget.
This past month, we tried out a monthly housekeeping service and used a chunk of our grocery budget for eating out. While he prefers a tidy home (as do I), he's giving me lots of grace when there are no clean towels.
I'm choosing to trust God. (Most of the time).
I could go completely crazy worrying about how on earth I'm going to schlep around Canada for two weeks during my first trimester.  Or what I'm going to do the next time Hubs is away. Or for that matter, how I'm going to manage bedtime duty tonight by myself.
So instead, I try to focus on all the times God has provided strength, help, or encouragement in the past. And on promises about His faithfulness and provision. Help often comes in ways I wouldn't have expected, but it's always there.
How do you manage a challenging season of life?