Last year I shared with you how we "do" school, which is a combo of a co-op and homeschool. And this year we are following the same system.

We take time to reevaluate each year (and pray) to ensure this is the best way we should school our children, plus this works best for our family's schedule.
I'm so excited about this year because we have a new school room and I have two school-aged kiddos. I have one year under my belt now so I know a little bit about the structure needed as well as understanding the curriculum we're using.
*This post is super long but I hope you enjoy checking out how we "do" school! I'll be answering these 4 questions:
Where do we "do" school?
When do we "do" school?
What do we "do" in our homeschool?
Why do we "do" school this way?
Where do we "do" school?
At the beginning of the year, before the homebirth of our 3rd baby, we became homeowners for the first time and knew we would have a designated area for our school room, as well as a play room and "work" room for me.
This room was FULL of boxes, with no vision in sight up until about mid-May when I was finally adjusting to the new baby and ready to tackle it. That Spring we completed our schooling in the kitchen which worked well but since we had the space I decided I would work on it throughout the summer.
And a little secret about me… well, you know how some women are into purses or shoes, or some like to get fabric like my mom and others collect scrapbooking stuff or books, or whatever, mine are crafts and school supplies. You definitely do not need a homeschool room to homeschool but my background is elementary education, so I like it all "school-ish" looking. I can't help it! 🙂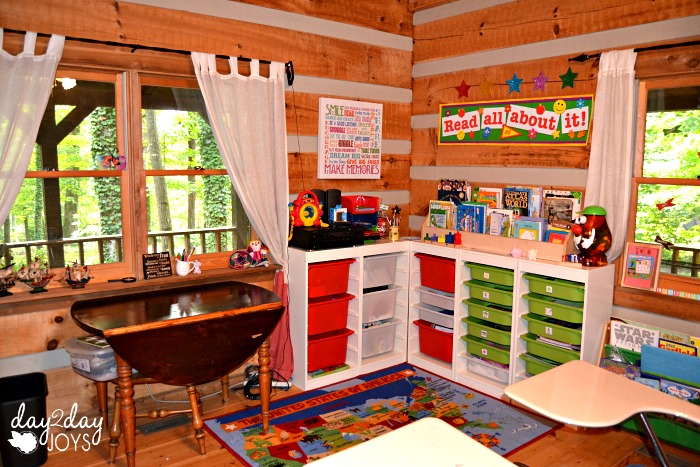 Anyhow, I'm sure you can tell that we don't live in a regular home with white walls and carpet. We live in a log-home nestled right in the middle of the city yet hidden away. Although I didn't have to think about painting the walls to add color, I did think about adding color by the items we chose, especially the rugs.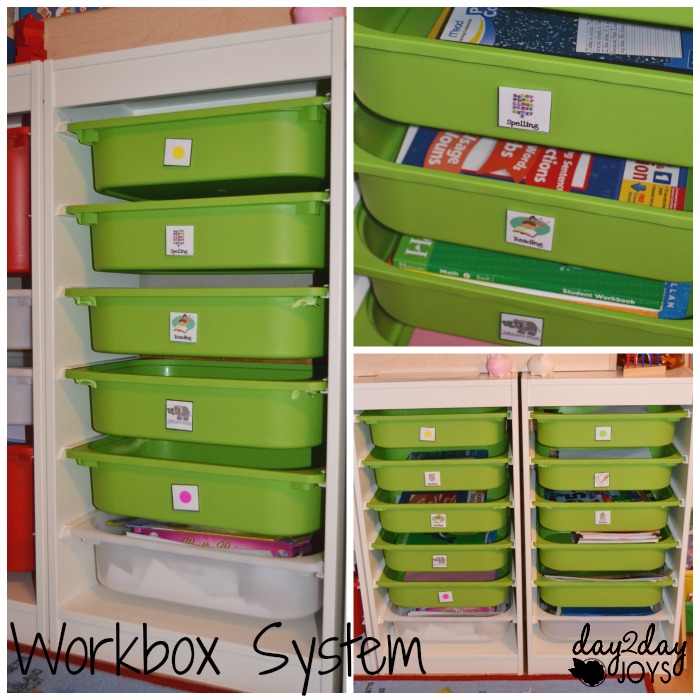 We were blessed to be able to budget Trofast shelving from Ikea to use for organization as well as implementing a workbox system. (It can be a bit pricey, you could try and make it yourself using this DIY Tutorial)
If you are unfamiliar with a workbox system hop on over to pinterest, there are tons of resources, but in short– it promotes Independence, helps keep a child organized (and mom might I add), on task and to know what is coming up.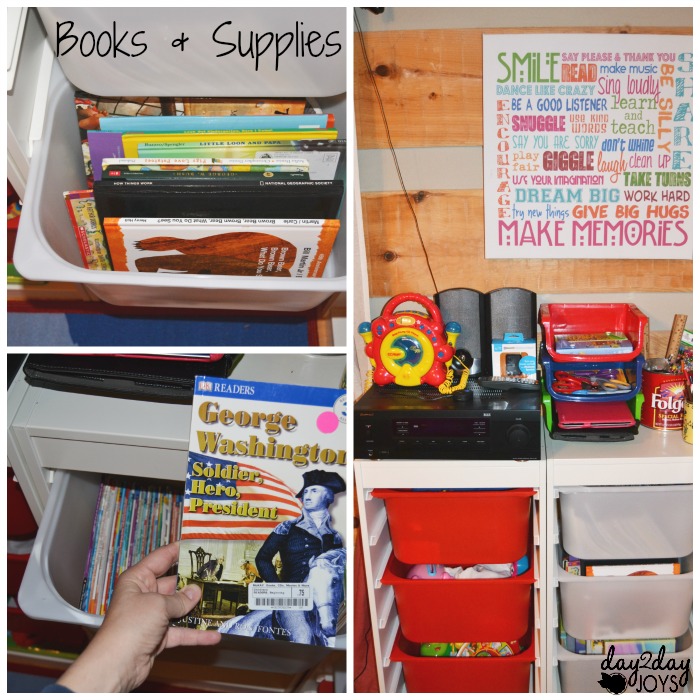 We also use the trofast shelving for supplies and books. In the three white storage boxes we have books. The top shelf is for readers. We got most of them at a discount resale store called McKay's for 75 cents each. Next we have picture books and at the bottom are baby books for my youngest.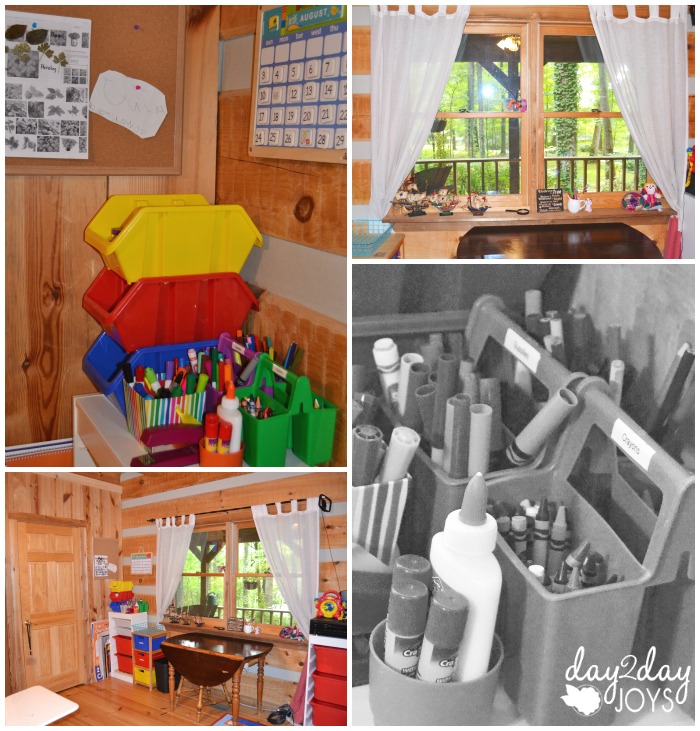 Beside the Trofast shelving and the cabinets you'll see in just a bit, we got most of the other furniture pieces from craigslist and consignment sales. Throughout the years and last school year, I had purchased a lot of things from the Dollar Tree and on clearance or after the initial back to school season when everything is marked down. I always stock up during that time. 😉
I also try to find deals at garage sales. One day after I dropped my kids off at co-op early last spring, I went to one of the houses down the road having a sale. I ended up buying a stainless steel pot and while I was checking out I saw a huge coffee can full of pencils, maybe around 150. The lady pretty much gave it to me for nothing but I told her to keep the 50 cent change from the pot.
Ok, confession time. I am so happy I saved money for all those pencils but can anyone else relate to giving a monthly donation to the library? 🙂 I.am.the.worst.libaray.mom! Alright, now I feel better now. All joking aside, I really AM going to work on getting the library books back on time. That's why I decided to have an established area. We're using a burlap wired basket.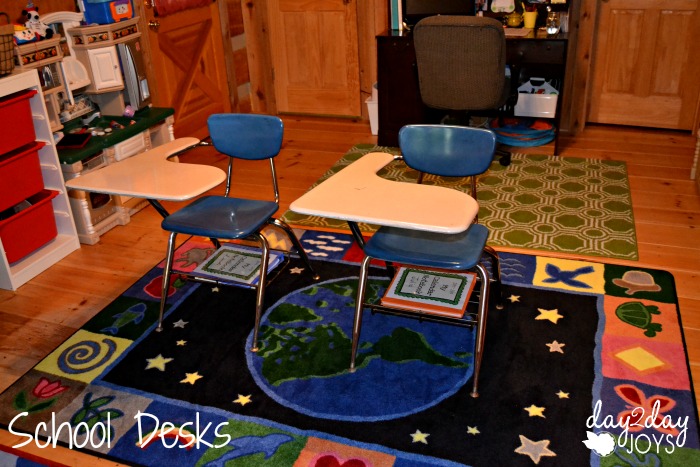 These desks were also an A-mazing craigslist find. These desks were only $8 each. They are the types of desks that were in my college classes, however, they seem to work well for my kiddos. Plus we have a table we use for bigger projects.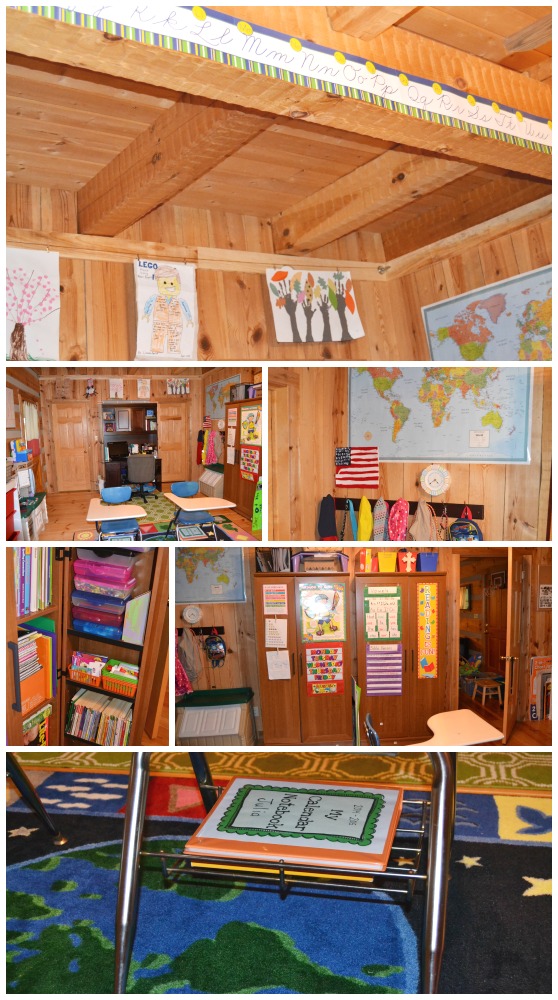 A few of the items did cost a bigger chunk of change. The rug under the desks, the trofast and the storage cabinets. (I got the idea for these particular cabinets from Sarah @ My Joy-Filled Life) I would have loved to find these items used but after searching for a while, I couldn't. However, I am glad we purchased them because they will lasts us a LONG time and are great for storage, even if we ever decide to not homeschool one day.
The cabinets hold curriculum we will be using throughout the year, extra workbooks, art supplies, school supplies, spiral notebooks, construction paper, and my own craft supplies, etc. I also got a lot of learning games on zulily for 50% off recently.
My wonderful husband put the storage cabinets together and I filled them up. 🙂
Here's a video tour:
When do we "do" school?
As I mentioned earlier, my kids go to a co-op. Their school days are Mondays, Wednesdays and Fridays from 8:45am-1:45pm. A Lovely employed teacher and assistant are there each day to teach, guide and inspire the children, and parents volunteer a lot! 😉 There are approximately 18 kids in the combined kindergarten and first grade class.
Here's a picture of the first day at their co-op: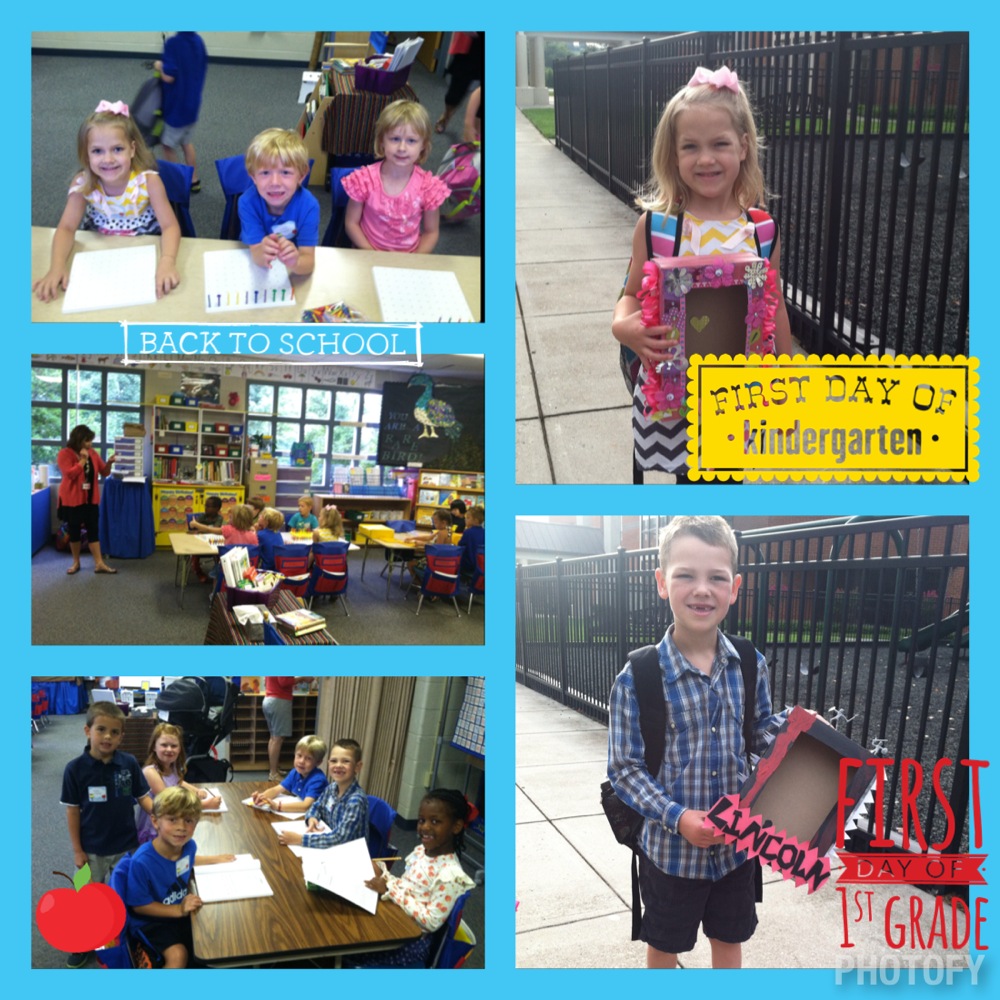 Our homeschool days are on Tuesdays and Thursdays.
This is our tentative hourly schedule, which may change as needed. The state of Tennessee requires four our hours of instruction for 180 days.
Our Schedule
8-8:30- Wake up, eat breakfast
9:00- Start lessons
10:30- snack, play outside
11:00- school work
12:30- lunch, a couple chores
1:00- finish up lessons
2:00- quiet reading time
What do we "do" in our homeschool?
Well, that's a lot to answer lol! And I am a little nervous about having two children to teach but I am sure it will work out just fine! (I don't know how some of you with several kids do it??)
Since we school alongside a co-op, we use the curriculum they select. We can supplement or add subjects as we wish. I will mostly stick to what's been assigned and add things as I see fit, like Bob Books
and Hooked on Phonics
for my kindergartener.
Or art or a calendar notebook we're trying out this year or even field trips to places like the zoo, nature hikes or museums as well as helping around the house and cooking.

We also do some other enrichment classes like Taekwondo and we're starting piano lessons this year.
Here's our curriculum for the 2014-2015 school year:
The curriculum is what we use for a prepared syllabus that is the "itinerary" of the required lessons each day that allign with the co-op days.
Kindergarten Curriculum List
First Grade Curriculum List
For both of my kids, I plan to use Grapevine Studies: Stick Figuring through the Bible for Bible.
Why do we "do" school this way?
Lastly, I wanted to share why we do this kind of schooling. It's really simple…. our two main reasons are: being a part of our children's learning environments and time.
Our co-op coordinator puts it best in a recent email to the parents… "I am prayerful that this year, with all its highs and lows, will bring both you and our children deeper into relationship with your loving Father. I want you each to know that, no matter what, this year will not be perfect. Along with our successes, there will be miscommunications, there will be horribly frustrating homeschool days, there will be decisions that are second guessed. It is inevitable. However, through all of that, through our highest points and our lowest lows, we have a Savior who is using us to guide and direct our children to Him. Our mistakes can be used by Him just as powerfully as our successes. God has placed you with these children, in this role, for a purpose; for His purpose."
For our family, we want our children growing and learning in an atmosphere that we find helps point them to Christ and I also agree with all of these reasons as well.
And then there is time. Time is short and indefinite. We only have 18 short years to help guide our children and we feel being a part of their life, learning and growing is important.
Plus, our family doesn't have the normal 9-5 hours like the majority of families. So our family time is often during the mornings of our homeschooling days as well as the weekends. Homeschooling also allows us to take mini-trips where we can work on our lessons and workbooks as we explore.
Yay!!!! Standing ovation if you made it! I hope you enjoyed learning how we "do" school. I would love to hear about your experiences!
How does your family "do" school?
Note: This post contains affiliate links, read full disclosure here.