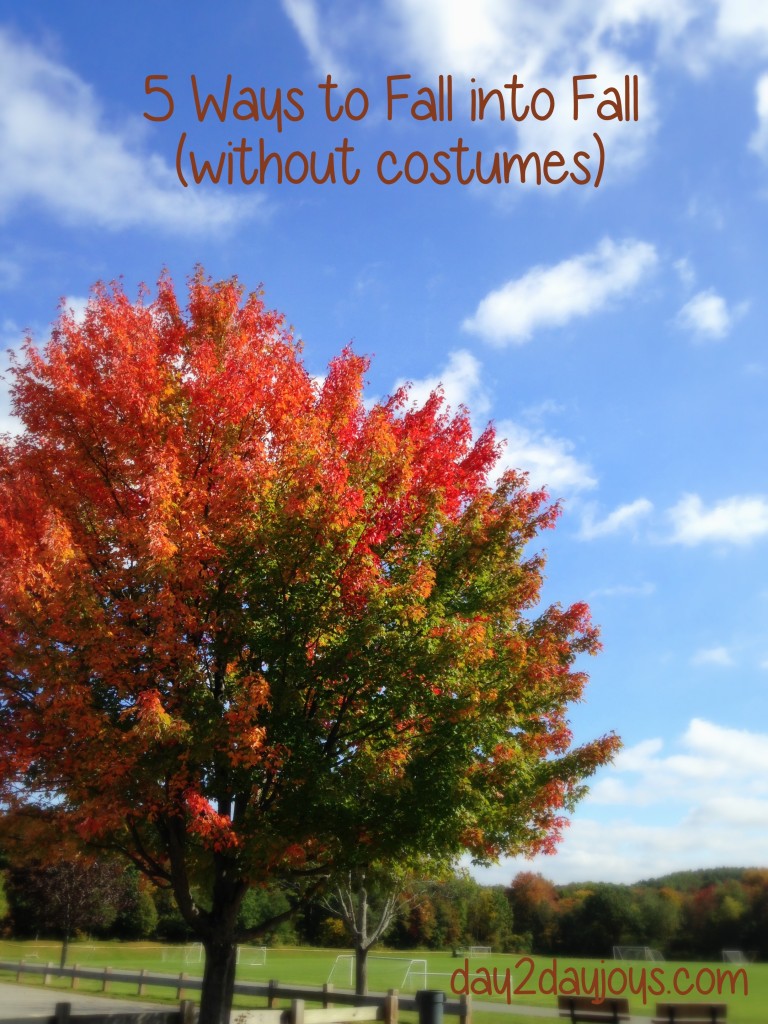 Written by KT @ One Organic Mama, Contributing Writer
Fall is a time of crisp air, changing seasons, and winter preparation in the Northeast where I live. I like to take time to really enjoy this season before the winter comes… because despite living here my whole life… I just can't stand the winter! Here are 5 ways to really enjoy and appreciate this most beautiful harvest season!
5 Ways to Fall into Fall:
Signs of Fall Walk/Hike
Gather up your kids and get outside. Take a walk on your street or a hike in a local state park and record all the signs of fall you see. Smaller children can draw and older children can record their observations. What are signs of fall? Changing leaves, the smell leaves and plants decomposing, small animals gathering food for the winter (my son was VERY concerned about a squirrel's "DANGRUUS" behavior running back and forth across the street), fungus growth, flowers drying/dying, migrating birds, nuts and acorns everywhere, etc.
Apple Picking
It is a typical fall activity and we are surrounded by apple orchards – see if there is one by you! Usually there are tractor rides and apple cider donuts, and lots of hoopla, but sometimes you can find a quiet farm where you and your kiddos can wander around, climb the trees, and snack on apples all day! When you get home crisp, pie, a smoothie, and applesauce are all possible! This applesauce recipe is an easy (REALLY EASY) way to make applesauce that even the smallest eaters in your house will enjoy… and you can make it in the crock pot while you're playing outside).
Leaf Rubbing
While you're out hiking and walking collect lots of (dry) leaves. Instead of focusing on color, focus on SHAPES. Choose lots of leaves with different shapes. When you get home, arrange the leaves with your kiddos, under a piece of white paper, and gently rub them with crayons (it's easiest if you remove the paper from the crayons). Choose fall colors to make your picture look like the leaves outside!
Crock Pot Cooking
Fall is time for warm foods, soups, and a cozy kitchen. Set your crockpot up in the morning with the evening's meal. Choose something that is seasonal and that you can use some of those winter squash you have been growing all summer. I like this Thanksgiving in a Crockpot.
Make a Fall Feeder
All those little animals getting bulky for the winter can be fun to observe. Grab some pine cones, or toilet paper rolls, and slather them with peanut butter. You can dunk them in birdseed, or sunflower seeds, and then hang them close to your house. Your children will enjoy waiting patiently to see who visits the feeder… it can really be an exercise in remaining quiet and observing animal behavior too!
How do you and your family welcome and enjoy fall before winter comes?