Written by Contributing Writer Kelly @ Eyes On The Source
Anyone else think brussel sprouts were disgusting when they were younger? Oh, man! Just the name, eeeew. 🙂 But now I love, love, LOVE them! Have you tried them on the grill before? YUM! My six-year old son walked into the kitchen holding his nose when I made them this time, ha! Needless to say, hubby and I ate them all by ourself, but we didn't mind not sharing. 😉
This month I have a 31 Day series happening on the blog all about Grain Free/Sugar Free Recipes. Sugar and unhealthy grains are in most everything. Even foods disguised as healthy! I am constantly researching and reading to determine healthy menus/recipes for my family, but it can be so hard. Basically the more I research, the more foods I want to avoid. Sugar is such an addiction, whether we realize it or not, because it's in everything and the more we have, the more we want! Most any prepared food has added sugar that may be disguised with a different name, but it is sugar no matter what you call it!
Grains are so confusing, as those we would think or hope to be good for us, have actually had all the "good stuff" removed. We are hard pressed to find a healthy grain and then on top of that we are pushed into eating more of them than we should. Anyone else think the standard food pyramid is just plain messed up?
I have specifically been looking at sugar and grains as they relate to heart and brain health and will continue to post more as I delve into this research. So many health problems could be avoided if we seek to prevent them instead of trying to reverse them when it's too late. Anyway…enough of me on my soap box. 🙂 Le't get on to the recipe!
Here's the recipe for Cranberry Maple Brussel Sprouts: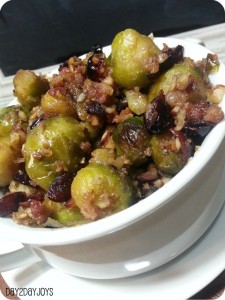 Cranberry Maple Brussel Sprouts
2014-10-05 21:09:40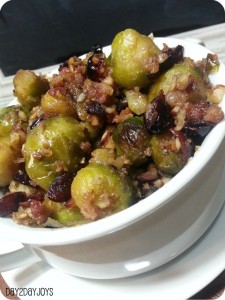 Ingredients
2 C Brussel Sprouts (washed and stems removed)
1/2 C Dried Cranberries
1/4 C Chopped Pecans
1-2 Tbsp Maple Syrup
2 Tbsp Apple Cider Vinegar
Coconut Oil
Instructions
Coat bottom of saute pan with Coconut Oil and heat. (make sure oil is hot so brussels will brown).
Brown brussel sprouts for 2 minutes.
Stir in Maple Syrup and Cider Vinegar and cook for another 2 minutes.
Add Cranberries and Pecans, stir and cook until Brussel Sprouts are tender.
Remove from heat, serve right away.
Notes
Adding bacon crumbles to the recipe is another tasty option!
Day2Day Joys http://day2dayjoys.com/
Does your family like brussel sprouts? What is your favorite recipe?