What family traditions do you carry on each year? Is it picking out an ornament for each child? Going to a live nativity? Making holiday goodies?
We like to do all of those I just mentioned, but one of my favorite traditions is writing up a Christmas letter each year. It's a keepsake I love taking out when the holiday season approaches, adding to, and reading through all the past letters each and every year.
The past 2 years I have used printables from a lovely blog called Stonegable. This year I decided to borrow her layout and create my own.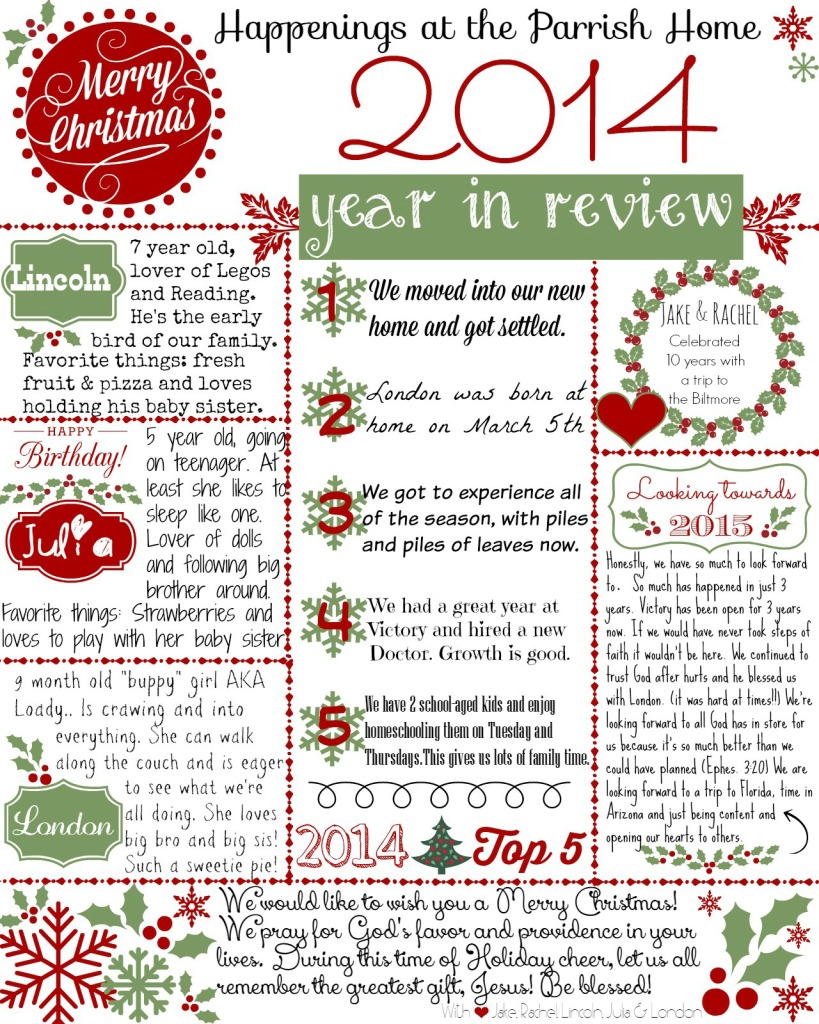 I decided to go with a white background so it'll use less ink and/or I can print them out on some nice stationary like this
. In our letters, I like to discuss our children, put in a blurb about my husband and I, what the top 5 events of the year were and what we are looking forward to next year.
How to use this printable?
There are a couple of ways to use this printable. You can print it out and write on it or once you download it, go to PicMonkey, upload it and use their free editing tools. You can use each of the spaces to meet your needs and what you want to discuss in each section. Then print it out and share it with your loved ones. Here's a great tutorial on how to use PicMonkey's editing tools.
**note: for PicMonkey you need to download the image below.
———>Download the 2014 Year in Review Pdf Here or Image Here<———-
What is your favorite family tradition? Do you write Christmas letters?