Once my daughter saw Frozen about a year ago, I knew that would be her theme of choice for her next birthday party.
I guess it's because of the catchy "Let it Go
" song in combination of a story about sisters that caught her heart. So I have been collecting ideas for a while now but of course didn't have anything ready until less than a week before the party. (Let the procrastinators band together) 😉 But really, it doesn't have to be extremely elaborate or cost a lot to have a fun FROZEN party.
My tip: DO NOT try to reinvent the wheel, there are soooooo many ideas out there, and that's exactly what they are for, for you me to USE!! 🙂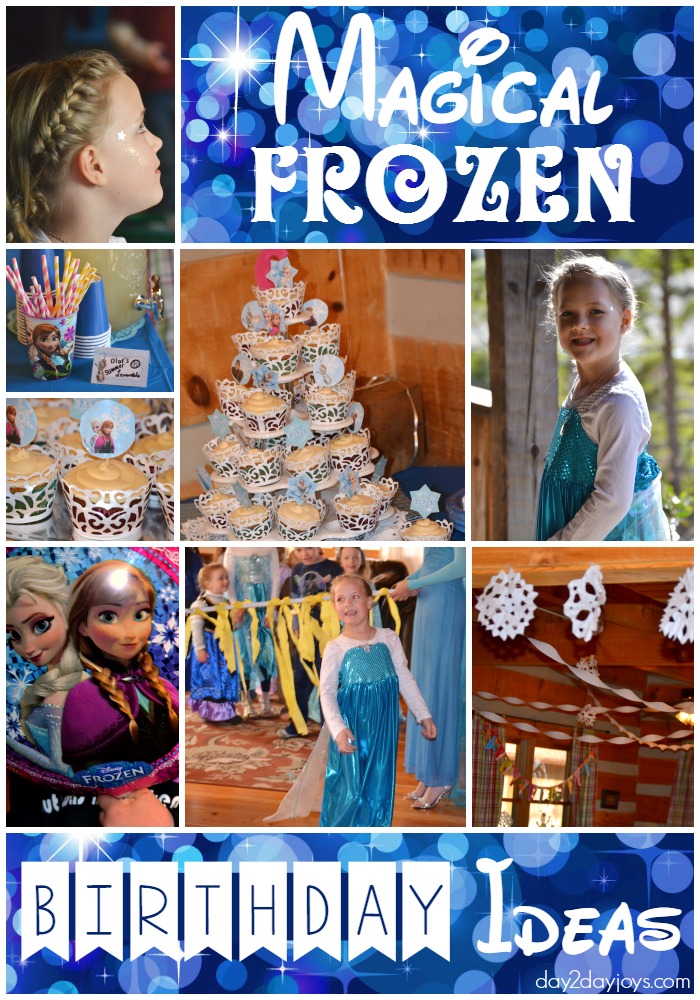 I thought I'd share with you what we used to make our daughter Julia's 6th birthday party magical!
The Invitation
I have always loved online invites.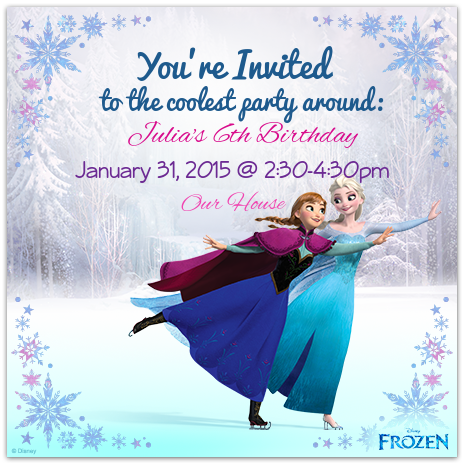 I usually use evite but this time I used punchbowl since they had a Frozen themed invite. It's really easy to use, just type in the info you want. And it's free and easy to keep up with all the RSVP's. Plus you can email right through the site to all the attendees for any updates or even reminders.
The Schedule
I always write up a tentative itinerary to use as a guide, it usually doesn't go exactly in the order I initially come up with, but it helps me to remember everything we need to do.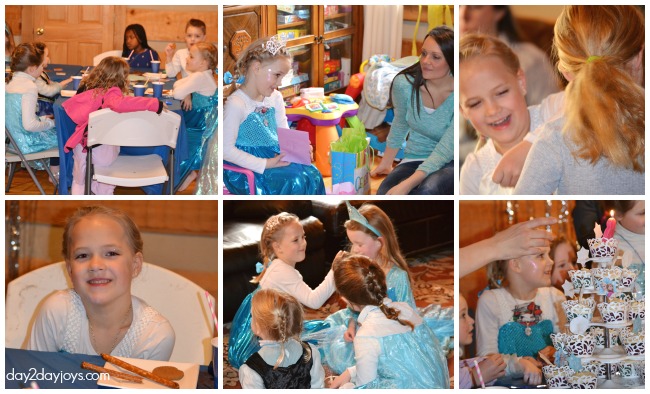 The plan went a little something like this:
2:30- When guests arrive, I had planed to do this little scavenger hunt (but before the party started, I ran out of time getting everything ready). Instead, kids ate some snacks, hung out and started on the craft.
3:00- The special guests arrive, meet & greet, a story, games and photo ops. (you'll read more under other sections below)
4:00- Serve the cake and open presents, enjoy time together
4:30- Birthday party is over, clean up
The Decorations
I think simple is better AND a lot cheaper. When I was searching, I thought easy ideas like paper chains and coffee filter snow flakes would be the way to go.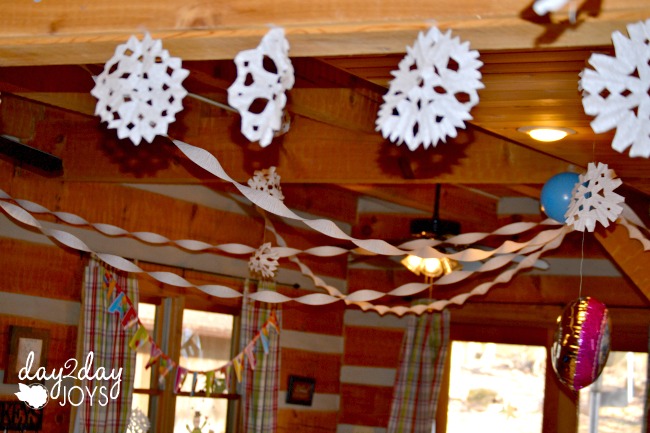 The night before the party, my kids had fun making some of the snowflakes.
To save time, I bought one 2-pack of white streamers to use instead of paper chains. And I got a few frozen- themed balloons! 🙂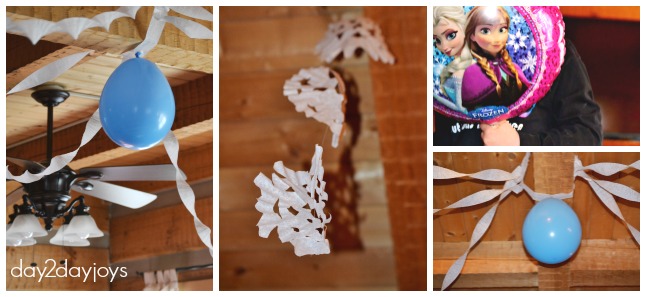 I used blue plastic table clothes, metallic tissue paper, and snowflake doilies
for table decor. Believe it or not, I spent about $20 on all of it and got all the decorations from the dollar store (yes, even the frozen balloons), which included the tableware supplies for eating.
The exception, the silver fringe curtain some photo ops. (From Oriental Trading)
The Craft
I have always loved to include making a craft instead of giving away a party favor- which quite honestly just gets lost or goes in the trash soon after.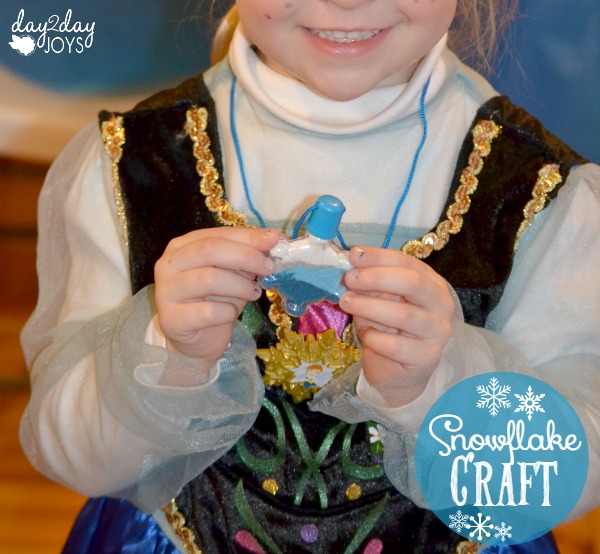 At least a craft can be kept for a little while with special memories of making it.
I found these snowflake necklaces on Oriental Trading and I thought all the kids would love to make their own. We had a station set up and a couple different times during the party, two kids at a time got to make them.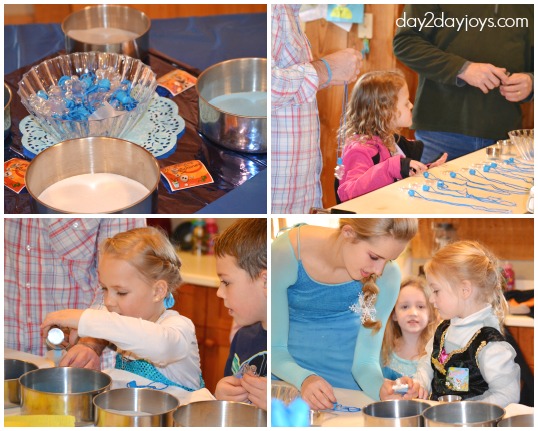 My husband and another dad helped in the beginning then later Elsa and Anna. I think the kids thought it was neat to work with the queen and princess.
The Food
At kids' parties, I think it's important to have some food, whether it's a full meal or snacks- that's up to you. We served chili at my son's Lego party, and everyone loved it. This time, since the party was in the afternoon, I decided a few snacks would be perfect.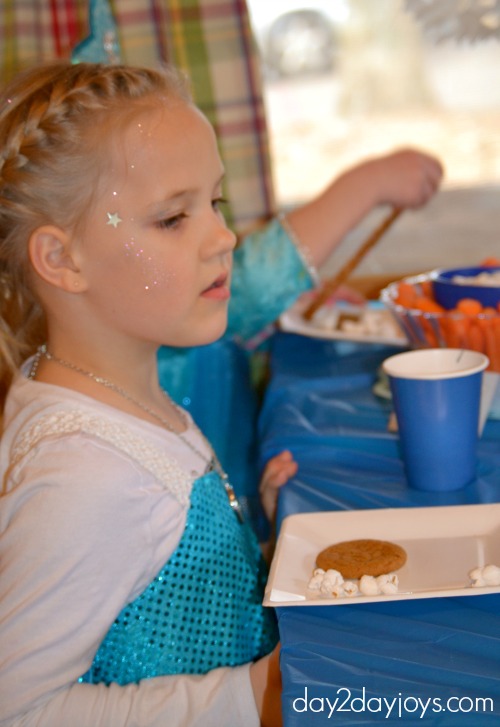 There are so many free printables offered on several sites to create fun food scape. I didn't have any card stock so I just printed the ones I chose out, then, laminated them. (I use my laminator for certain things we do for homeschool, so I quickly pulled it out and used it, it only took about 5 minutes)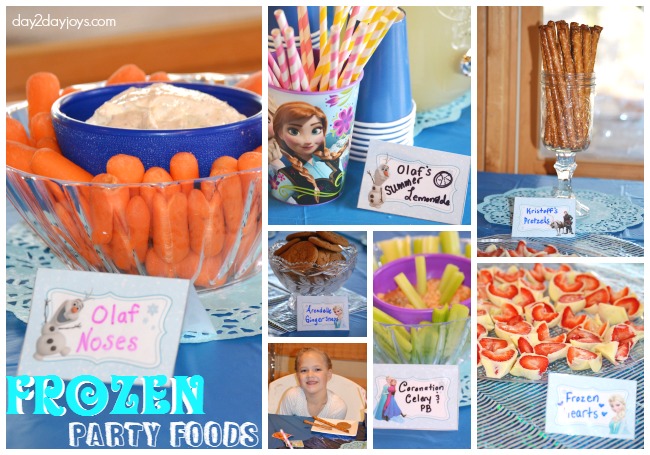 There are a kazillion different food ideas to choose from but here's what we had:
Olaf noses- carrots with homemade ranch
Arendelle ginger cookies
Coronation celery and peanut butter
Sven's popcorn
Kristoff's pretzels
Frozen Hearts- white chocolate covered strawberries
Olaf's summer lemonade
**I used these Frozen labels from Posh Tart Parties. All of the containers either came from the dollar store or came from my kitchen cabinets.
The Fun
What would a party be without fun?
Besides all the decorations, the craft, the food and games, there was an even BETTER idea! Two high school gals dressed up as Elsa & Anna…… score!!!
I had seen a post on one of the local garage sale groups on facebook from a mom whose daughter and her friend were earning money by coming as the characters and participating in all the fun. I didn't know what to expect but it ending up being absolutely fabulous!
The plan kind of unfolded as the party got started but everything went smoothly. I'll tell ya a little bit about it:
When all of Julia's friends arrived, they got their snack and a couple kids started on the craft. I had asked a mom to let me know when the special guests arrived. Once they did, I had the kids finish up their snacks.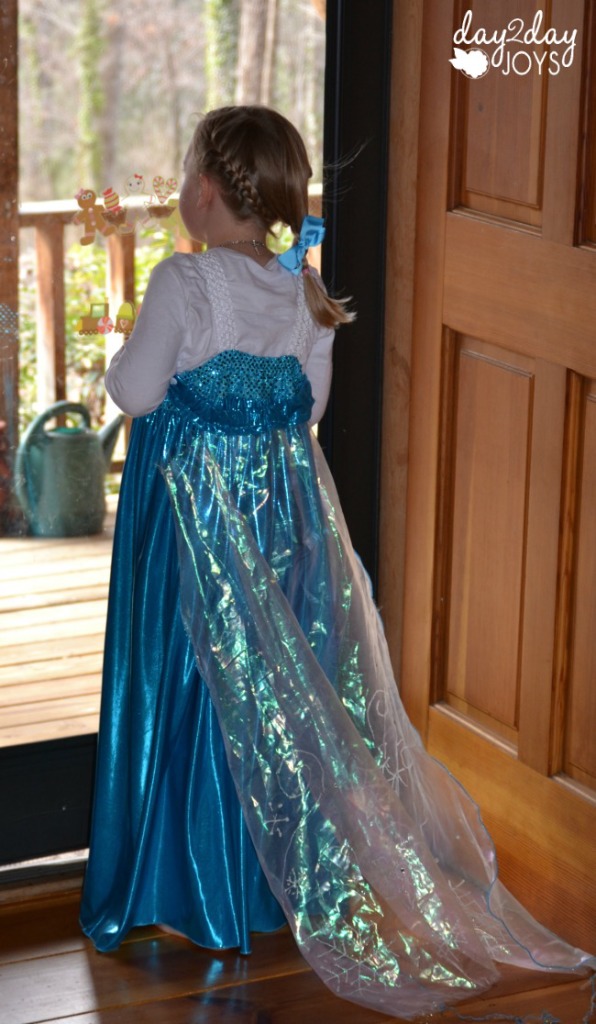 Elsa and Anna rang the door bell and I told Julia to go see who is was. When she looked out the door, she was in shock. She waved her hand for me to come. I went over and said excitingly , "Wow, Elsa and Anna have come to see you and celebrate your birthday!" The gals came in and ALL the kids were in amazement.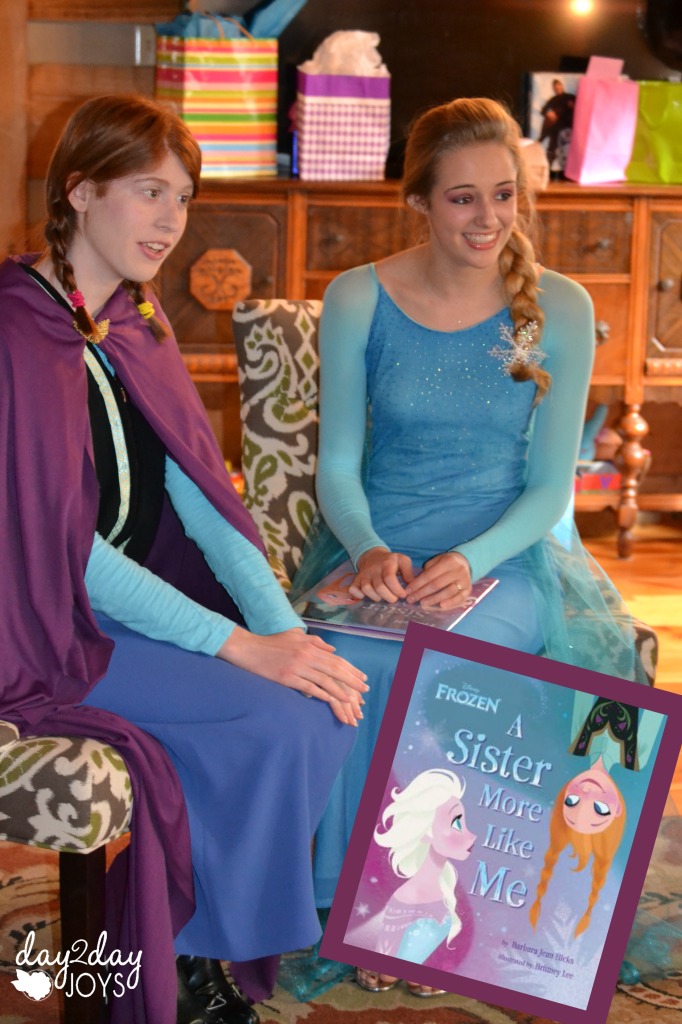 Queen Elsa and princess Anna read the Frozen inspired book A Sister more like Me. Each gal read her part. A few of us moms couldn't believe how quiet all the kids were.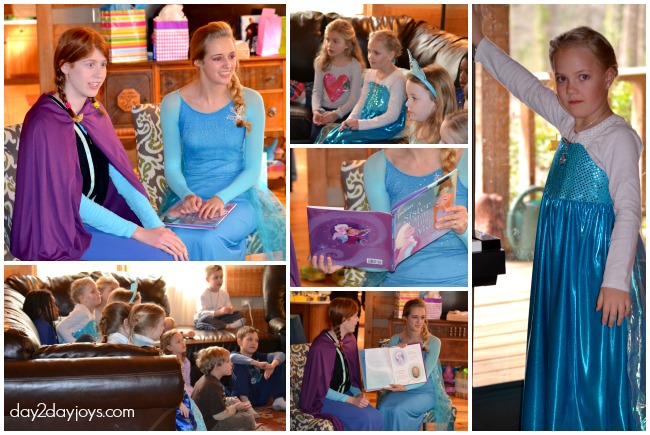 Once the book was read, the gals talked with the kids, then it was time for some photo ops. It was funny because when I asked who wants to take a picture with the princesses, one of the little boys raised his hand and he was first in line lol.
After it was time for the games (you can read in games section) then finishing up the craft. And of course you can't have a frozen party without singing "Let it Go".
Lastly, we sang Happy Birthday to my princess Julia, enjoyed cupcakes and then she opened her gifts. Before we knew it, it was time for Queen Elsa and Anna to go. We walked them out and waved goodbye. It was so, soooo much fun.
And I'll take it as a huge compliment, when Elsa's mom, who accompanied the teen girls told me before heading out, "this was the most organized party I have ever been to." If you know me personally, you know I am last minute type of person, so that was such a nice compliment to me.
The Games
We played two games. Limbo and Toilet Paper Olaf.
For limbo, I simply unscrewed the broom from the stick and tied on yellow streamers. Elsa and Anna held the stick, the music played was "In Summer" from the Frozen soundtrack and went until there was a winner.
Next we played Toilet Paper Olaf.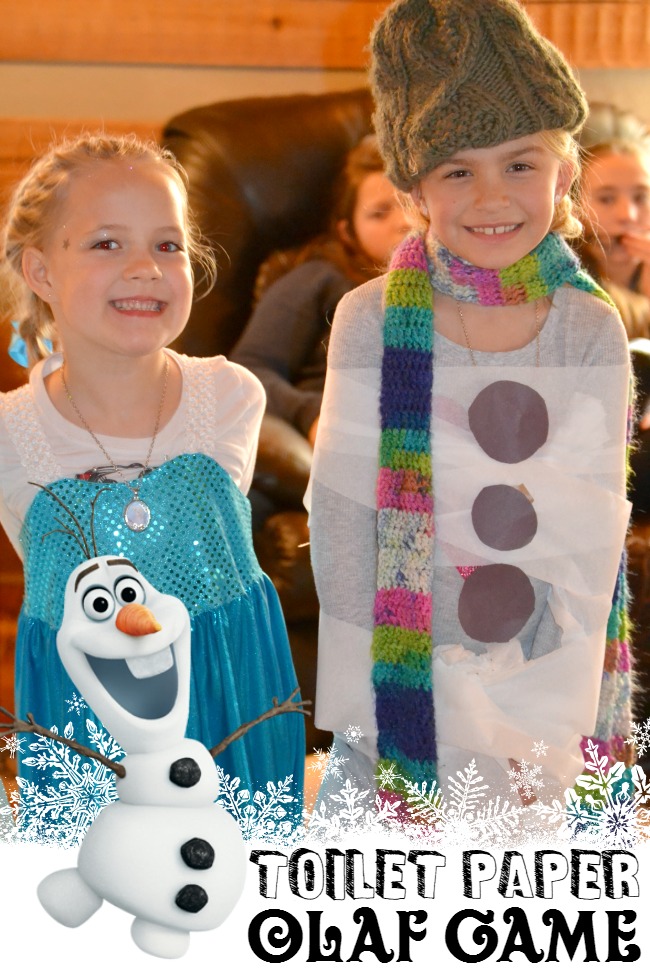 Toilet Paper Olaf Game
Supplies:
For each pair or team, you'll need a bin with a roll of toilet paper, a scarf, a cap or hat and 3 paper buttons with tape already attached, taped to bin. *Optional- paper carrot, also with tape on backside.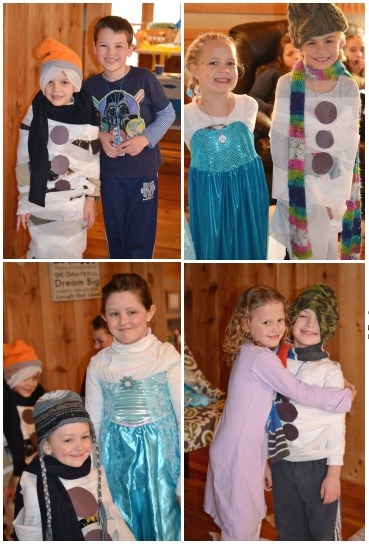 How to Play:
Line up kids, tell every other kid to come on one side, then to find a partner. (You can choose teams how ever you would like to, that's what I did)
Then explain to the kids they are to make a toilet paper snowman/Olaf and must use things provided, be sure to show the supplies (I would not recommend telling them they have to use the whole roll of toilet paper)
Choose a judge
Give them a time limit. I played "Do you want to build a Snowman" from the Frozen soundtrack twice
Once song is over, the judge can choose a winning team
Have fun!
Both games were fun and easy. I had purchased a few $1 items from Target for the winners.
The Cake
As always, the cake, or shall I say cupcakes? Y'all, cupcakes are so easy. And I have used the same cupcake stand I got at hobby lobby with the 40% off coupon for years and years.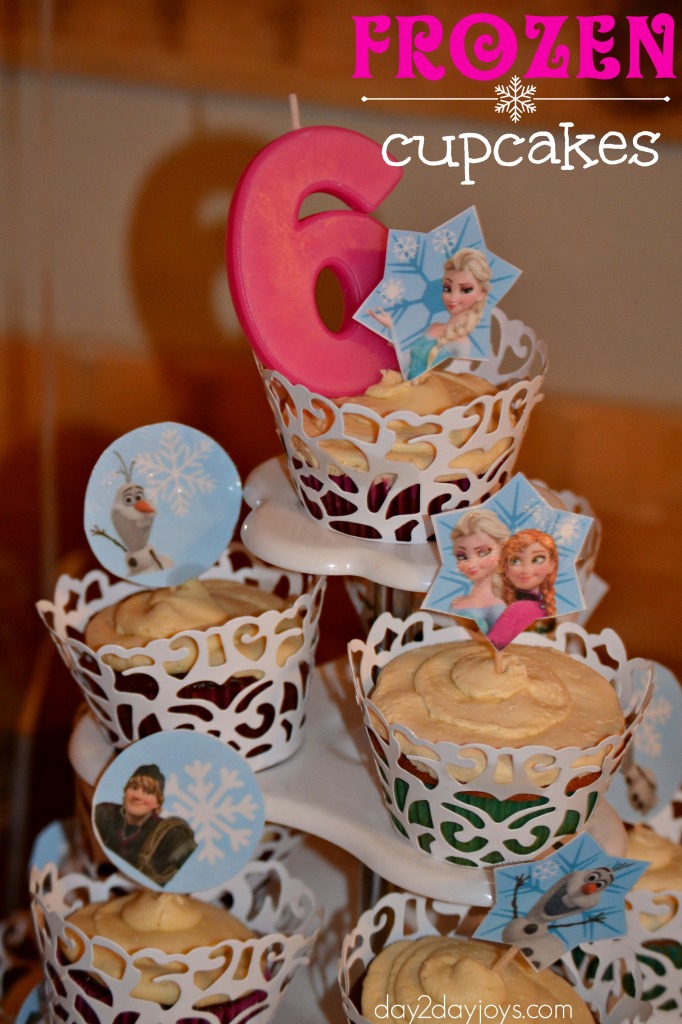 I ordered the pictured white cupcake wraps from Oriental Trading and used these and these free printables for the toppers. (I printed them out, laminated them and taped them to toothpicks)
I used this natural cake mix (in the chocolate and vanilla flavors) and my friend made a delicious vanilla butter cream frosting made with Kerrygold Pure Butter
… YUM!
.
Side note: I am ever thankful for my awesome friend Christina who came to help me out!! She is SUCH a blessing and has such a servant's heart!!
The Elsa Dress
On the invitation email, I had invited all the friends to come dressed as a princess (or superhero for the boys) and a lot of the girls did come dressed in you guessed it, Elsa.
And of course Julia wanted an Elsa dress too.
My mom made this beautiful one and she sells them on her Etsy shop.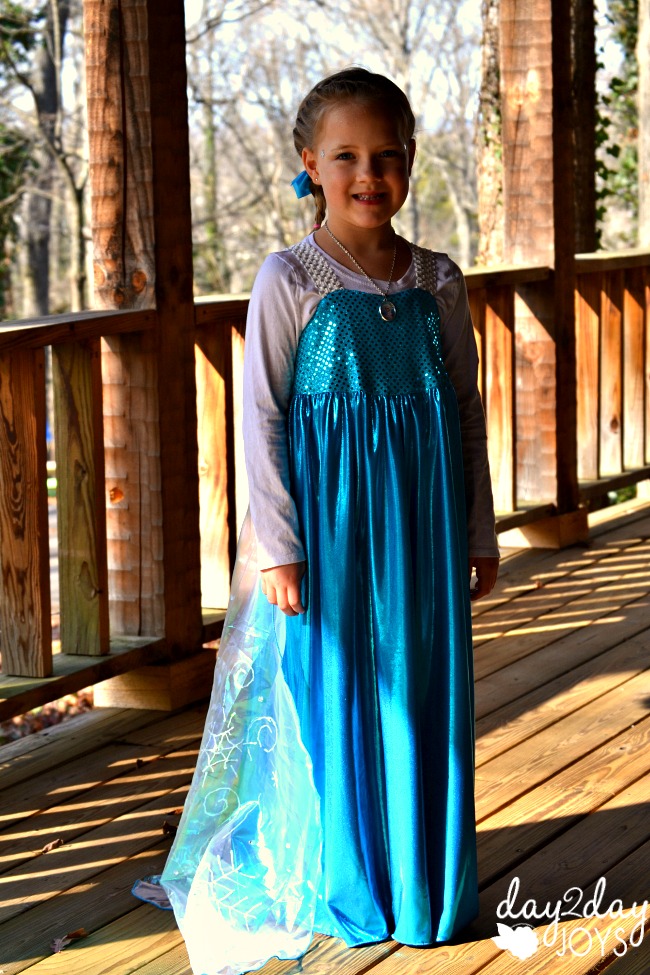 To end this Magical Frozen Birthday party post I have a question for you… Would you like to win an Elsa dress for your little girl?!? You have a chance to win one because she is actually doing a giveaway. Go here for all the details!
It was a MAGICAL party! Julia absolutely loved it!
Some more resources:
*post contains affiliate links, see disclosure here
What are your best birthday party tips? Do you have a Frozen fan in your house?