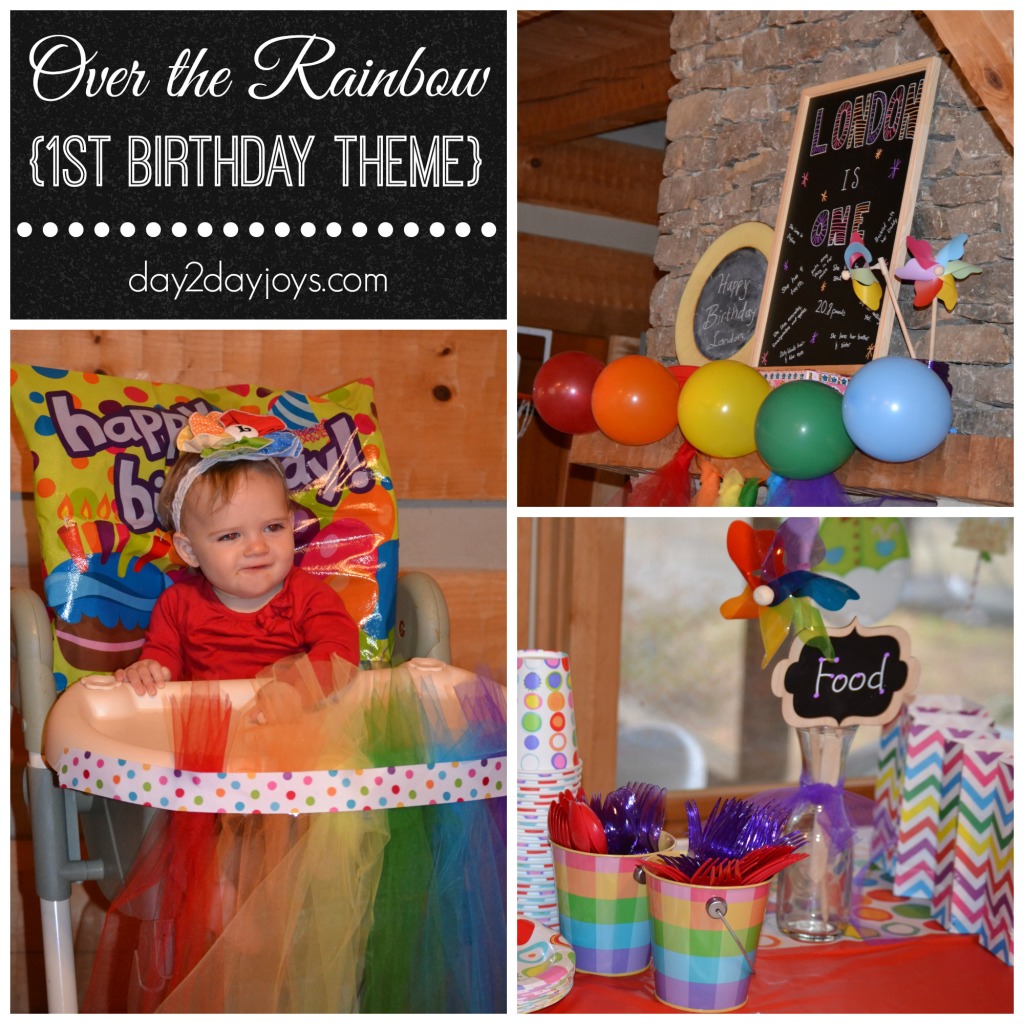 I cannot believe we actually have a ONE year old!
Granted she's the 3rd baby, but only a few short years ago, I didn't know if we would have any more babies, then I got pregnant and after 40+ weeks she was welcomed into the world at home on March 5, 2014.
London is a vibrant little lady. She's full of life!
She adores her big brother and sister, she's into everything. Her laugh is contagious and only smiles when she feels like it (Hum, wonder what kind of teenager she'll be) 😉 She plays bashful with Daddy and is Mama's girl, probably because I'm her only (mostly) source of nourishment- breastfed.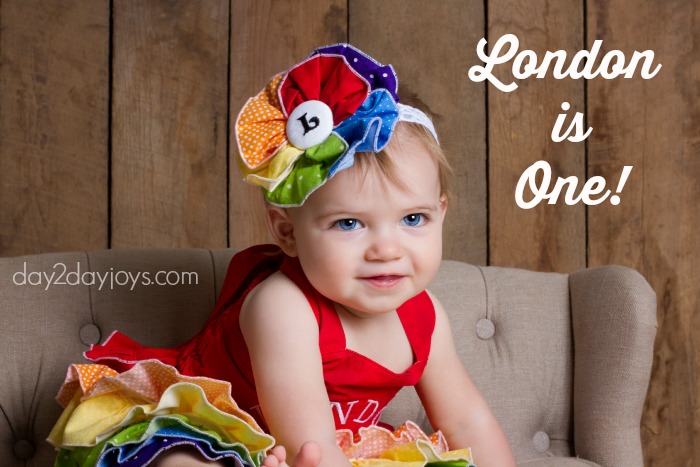 She brings a joy to our family we all cherish. (side note: My mom made her dress and she sells them on her Etsy shop, incase you were wondering!!)
This past year has been a whirlwind!
When I decided to plan little London's first birthday I was set on a rainbow theme, I had seen dozens of cute ideas on pinterest and decided I wanted to jump on that bandwagon. Little did I know a "rainbow" theme had an even more special meaning to it that I had never heard of….
A rainbow baby is a baby after a loss of a pregnancy. What a fitting theme since we had two losses and then conceived London.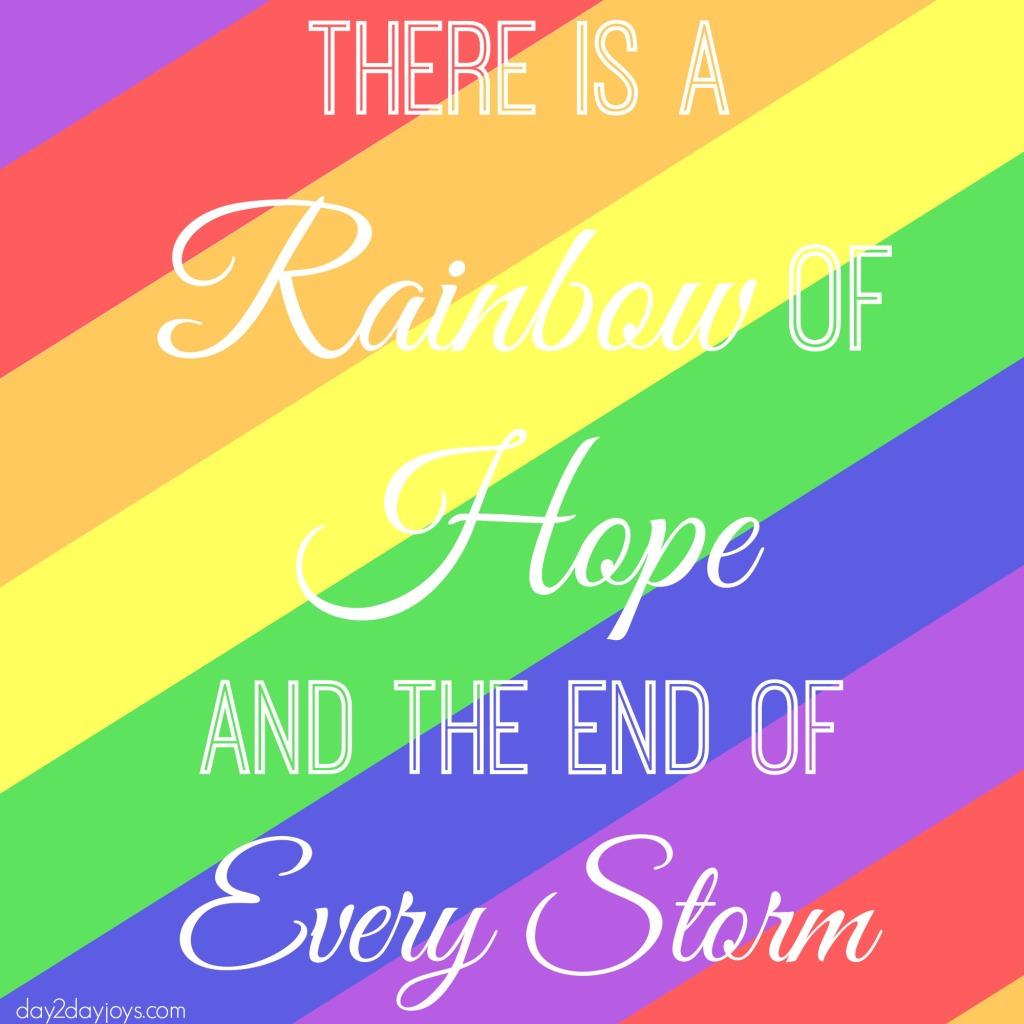 So now I'd like to share with your her "Over the Rainbow" Birthday ideas that made her 1st birthday special!
"Over the Rainbow" Birthday Ideas:
The Decorations
We kept it pretty simple. A couple of balloons and some photos to make the room sparkle.
With the balloons, it's pretty easy to make a rainbow. Just put the colors in order and make a cloud with white balloons at the end.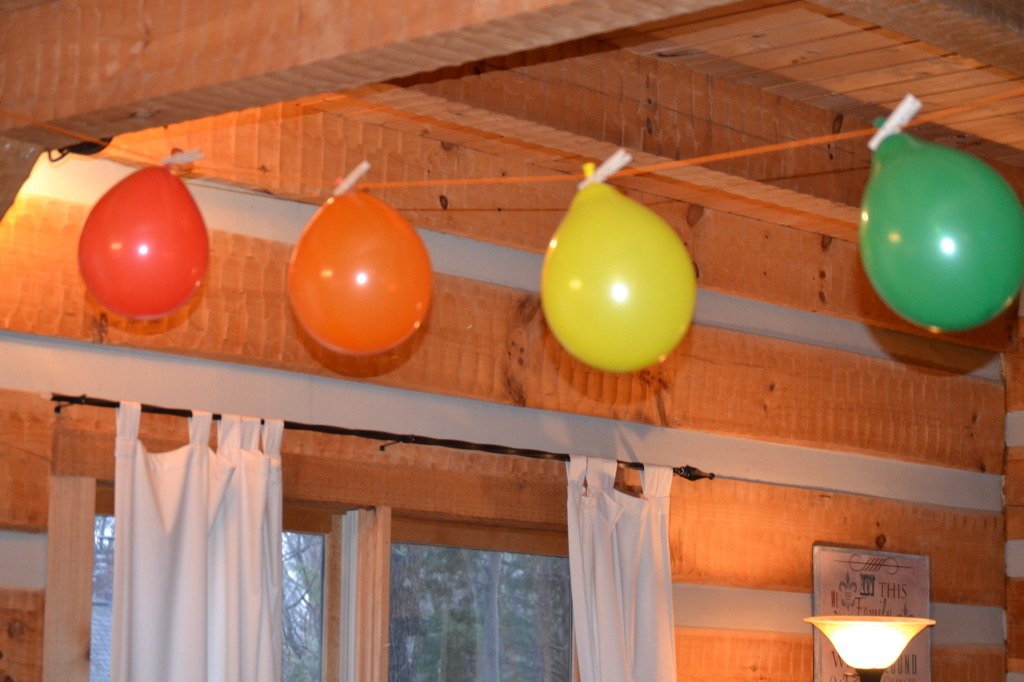 I got a few prints from Walgreens to share with all the friends who came to celebrate London's birthday.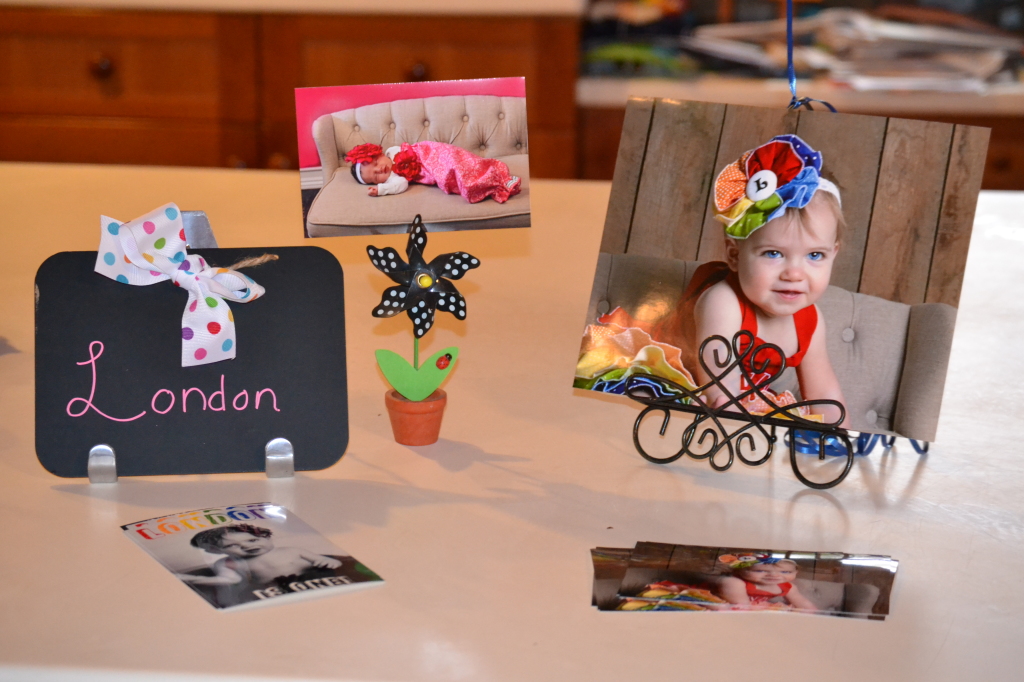 I thought it would be fun to display a picture from birth until current to see how she grown from an 8 pound 1 ounce infant to a 20 pound 1 ounce little toddler. It's quite easy, just get some ribbon, tool and clothes pins, get the pictures developed and hang it up.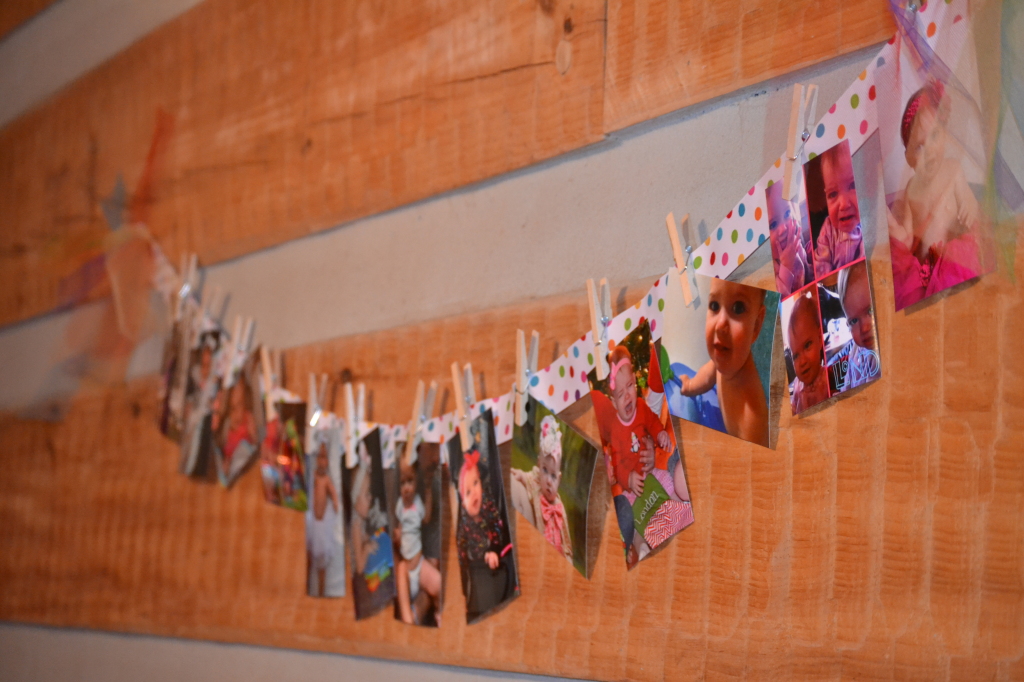 Plus it's something you can keep in their room for how ever long you want to.
I originally wanted to make one of these chalkboard birthday signs but I ran out of time so I quickly just wrote up somethings about our little London. I purchased this black board for only $4.80 (after using the 40% off coupon at Hobby Lobby) as well as the chalk board markers. I just wrote a bunch of fun things about her.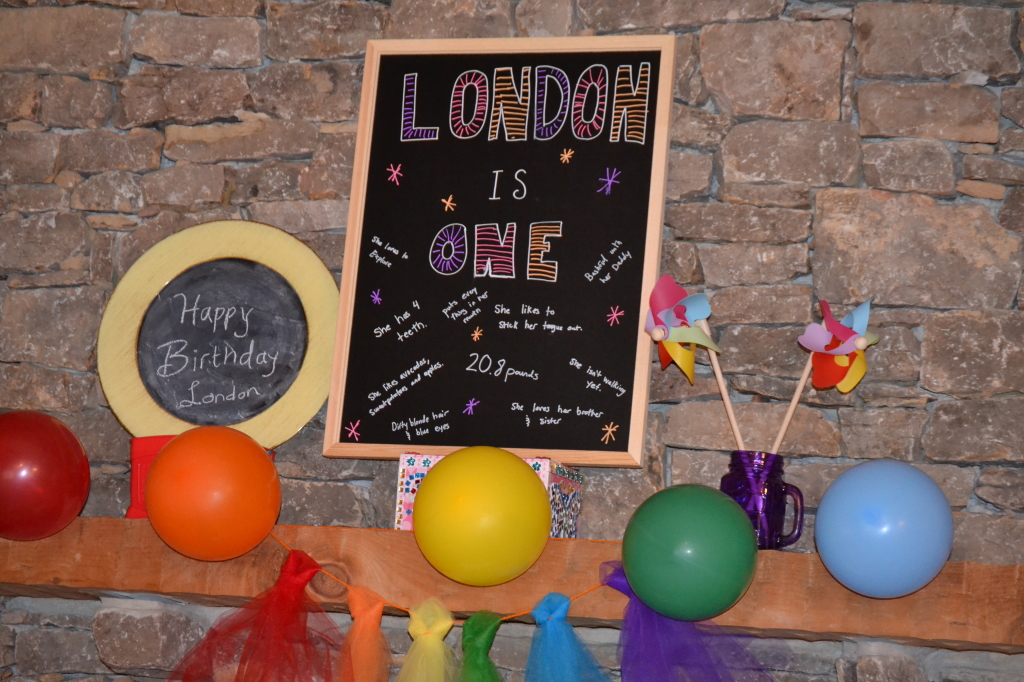 I also used somethings we already had at home to decorate, like the pinwheels and the chalkboard plate.
I purchased all the table clothes, some ballons and some a couple more pinwheels at the dollar store to add in more colorful fun. And the tool from Hobby Lobby added a fun colorful touch!
The Food & Tableware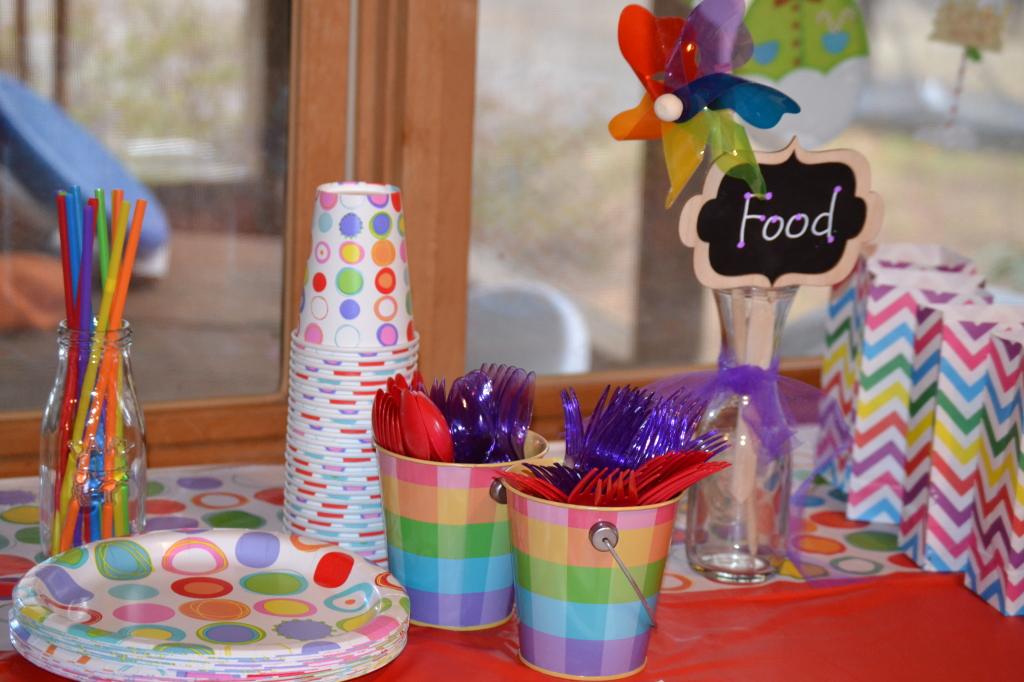 We had fruit, veggies and some popcorn and chips to add color to go along with the rainbow theme.
And since her birthday party was at a time you would normally eat dinner, we had pizza we ordered from a local healthy store. It was really good!
The Activity
Since I knew we werent going to be giving London the typical "smash" cake, I wanted to come up with something fin that she would still get all messy and we would all have a ball watching her.
Since her theme was Rainbow, I thought why not have her paint a canvas, so that is exactly what we did.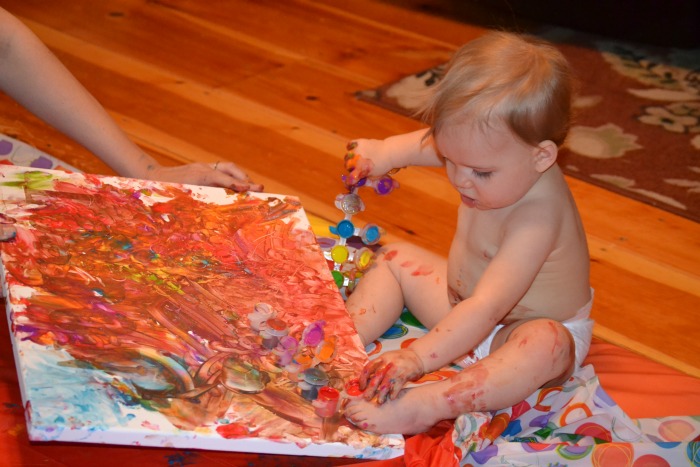 It was so much fun!
You can see how to make a 1st Birthday Canvas here.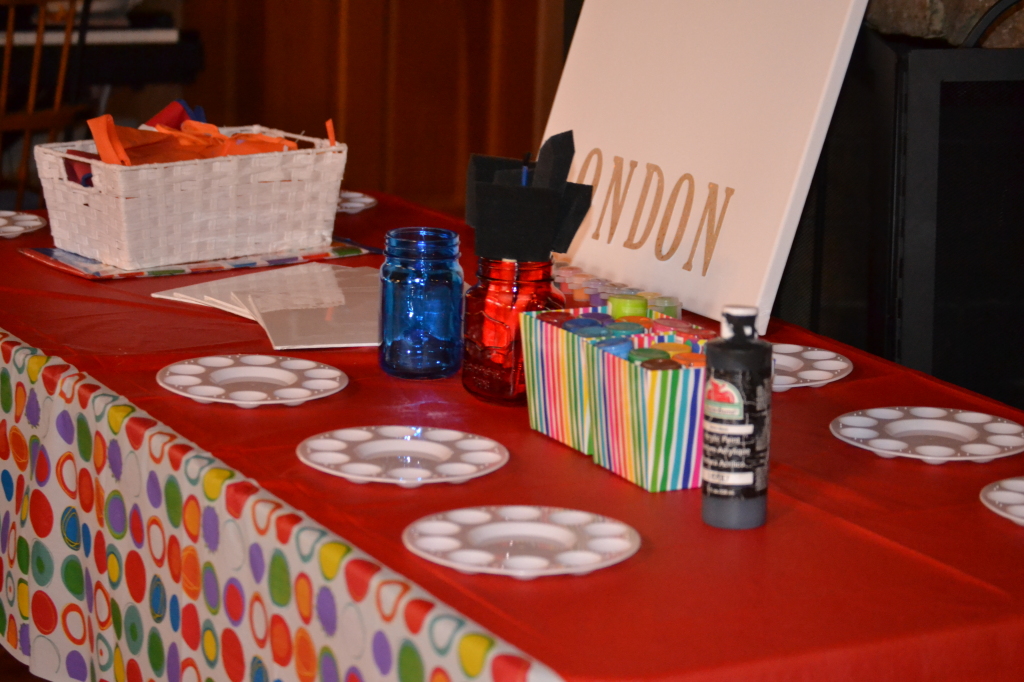 While London was painting her canvas, all the other guest got to paint small canvases of their own… with paint brushes! 😉
The Cake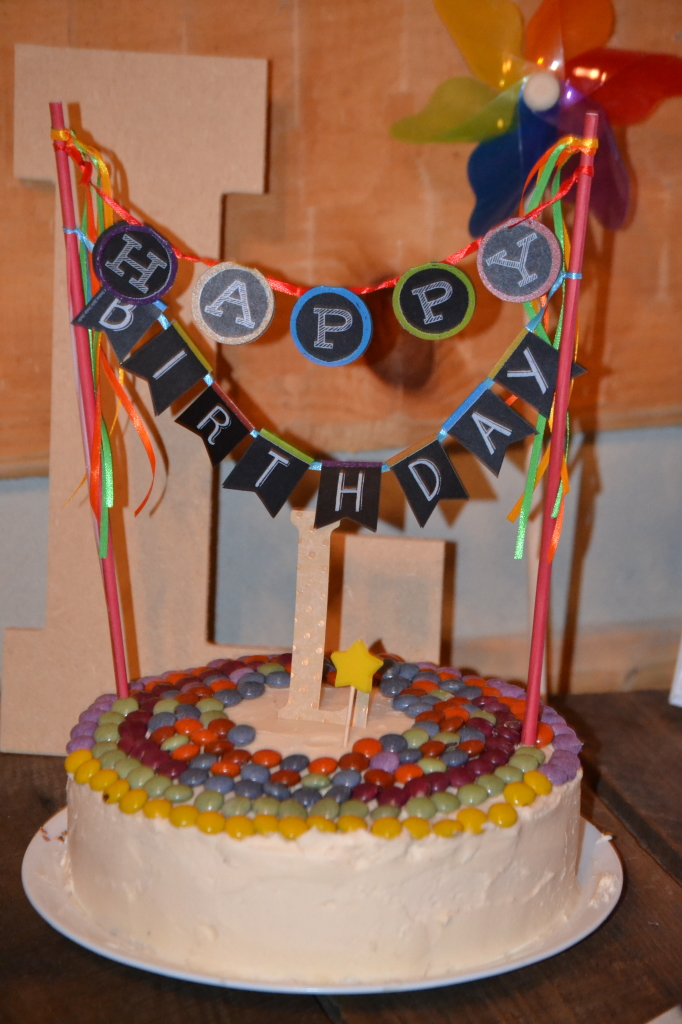 I used this natural cake mix (in the chocolate flavor) and my friend made a delicious vanilla buttercream frosting made with Kerrygold Pure Butter… YUM! We topped it with natural colorful candies that are simiilar to M&M's. The little "Happy Birthday" sign came from Hobby Lobby but you could use this free printable if you have time.
I used double-sided tape and left over ribbon to create a fun space for London to enjoy a piece of "cake."
I had made her up a quick throw together recipe of one banana, 1/2 cup of coconut flour, 1/2 t of baking powder , a little almond milk and maybe something else, and baked it for her and another little girl who is dairy intolerant, they both loved it!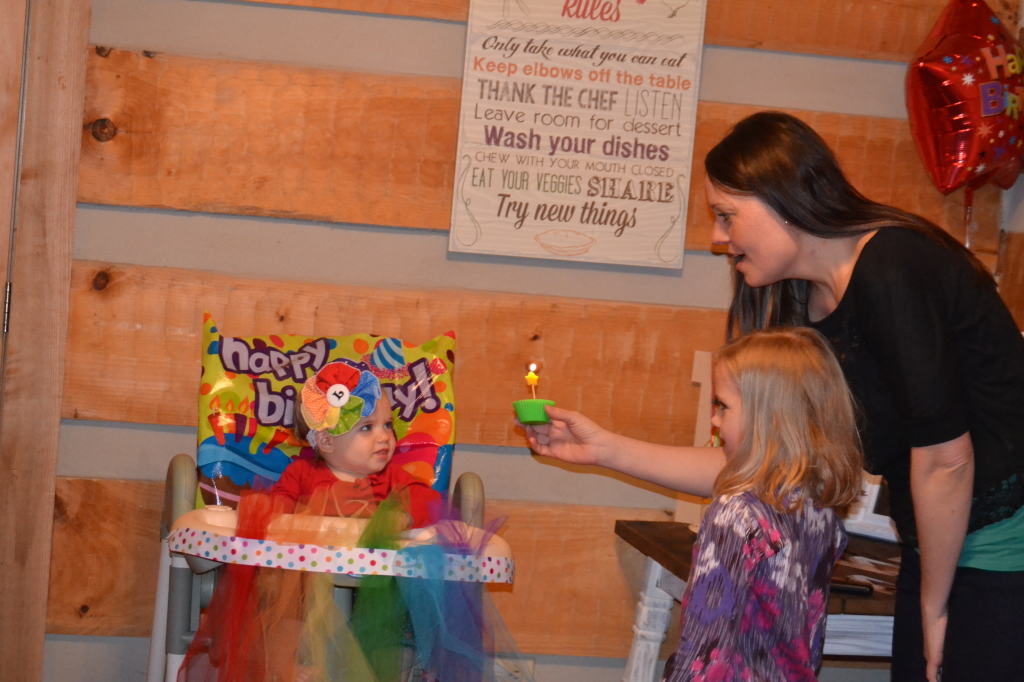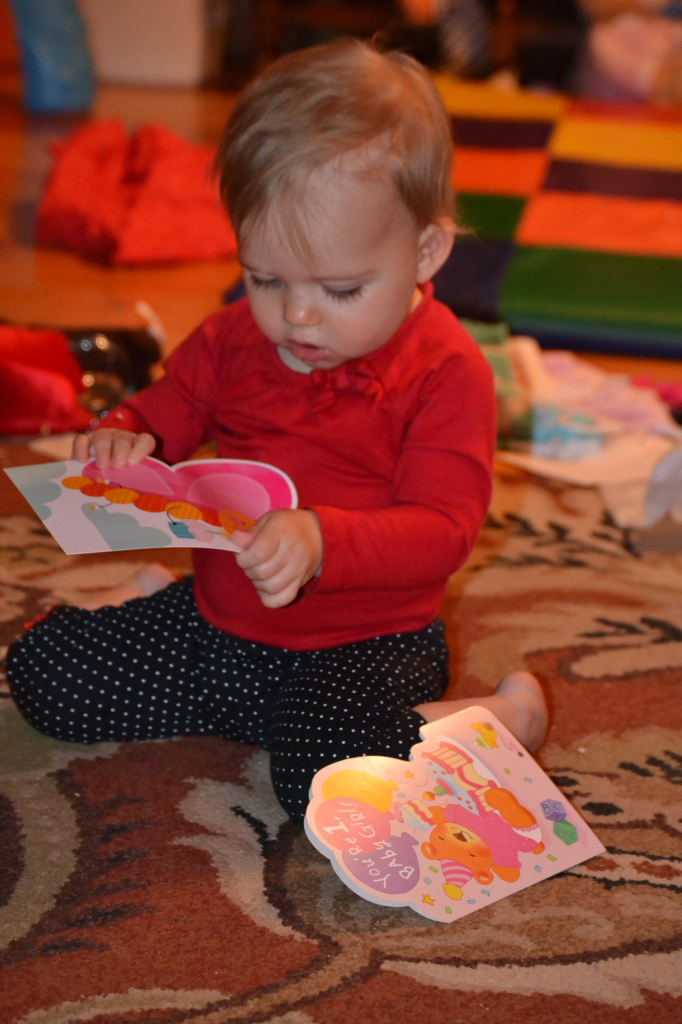 Lastly, we cleaned up and London got to open her little gifts. We had a wonderful time and thank God all the time for our precious rainbow baby!
I hope you enjoyed these "Over the Rainbow" theme birthday ideas!
What other Rainbow ideas do you have?