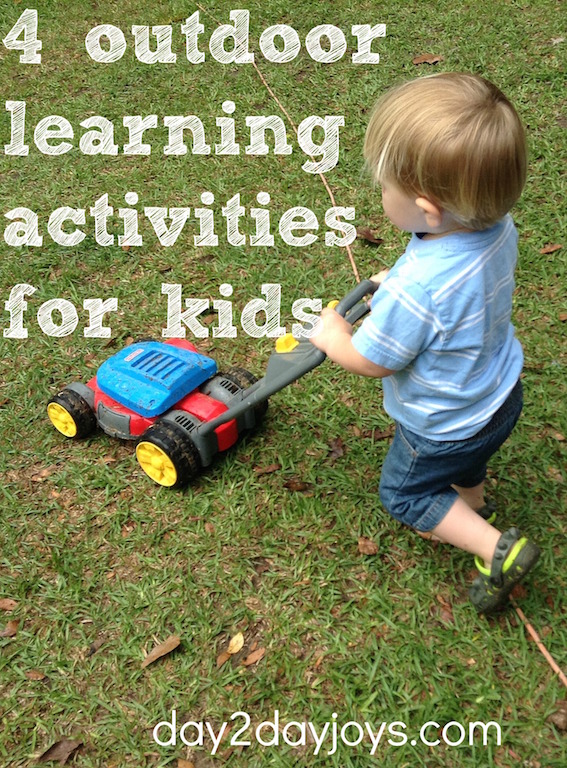 Written by Lydia @ Frugal, debt free life, *NEW* Contributing Writer
I feel like Summer is the ultimate time for frugal fun. There are so many activities and events you can participate in as a family.
And what is MORE frugal than your own backyard? I am big believer in free play. Free play is pretty much my best friend. However, I do want summer to be a time of learning and enrichment for my little ones, as well.
Today I thought I would share some ways you can make outdoor time learning time. The best part is you probably have all the stuff you need.
4 Outdoor Activities for Kids:
Go on a digital scavenger hunt
Camera or camera phone
Printer (optional)
There are a few ways you can do it. But I like to snap photos using my iPod of things through out the yard. A pinecone, a rock, a frog, some blueberries from the bushes in our backyard, a butterfly.
Then I give my boys the iPod and they hunt for the things in the yard. Or you can print out the photos out and put them in an album and do it that way.
Alphabet hopscotch
Grab up that sidewalk chalk and head to the driveway or front porch and write the ABCs. Then have your child hop the appropriate letter. Have them say their ABCs while they hope but stop at the assigned letter.
You can do the same thing with numbers or if your child is older, sight words.
Letter fishing
Kiddie pool/Totes container
Large Spoon
Cookie sheet
Do you have a TON of magnet letter? We do. Throws those suckers into your kiddie pool or a Totes container.
Have your child fish out a letter and put it on the cookie sheet. Ask your child to find specific letters.
If your child is a little older you can use this to create certain words like ish words or at words.
For example you could put "at" on the cookie sheet and have your child fish our C for cat or TH for that.
Color hunt
Color a square on the driveway or front porch and ask your child to find items in your yard that match that color. Green leaves, purple flowers, etc.
These activities not only provide educational time, they also keep kids occupied on those long summer days.
What activities do you like to do outside that create a love for learning?