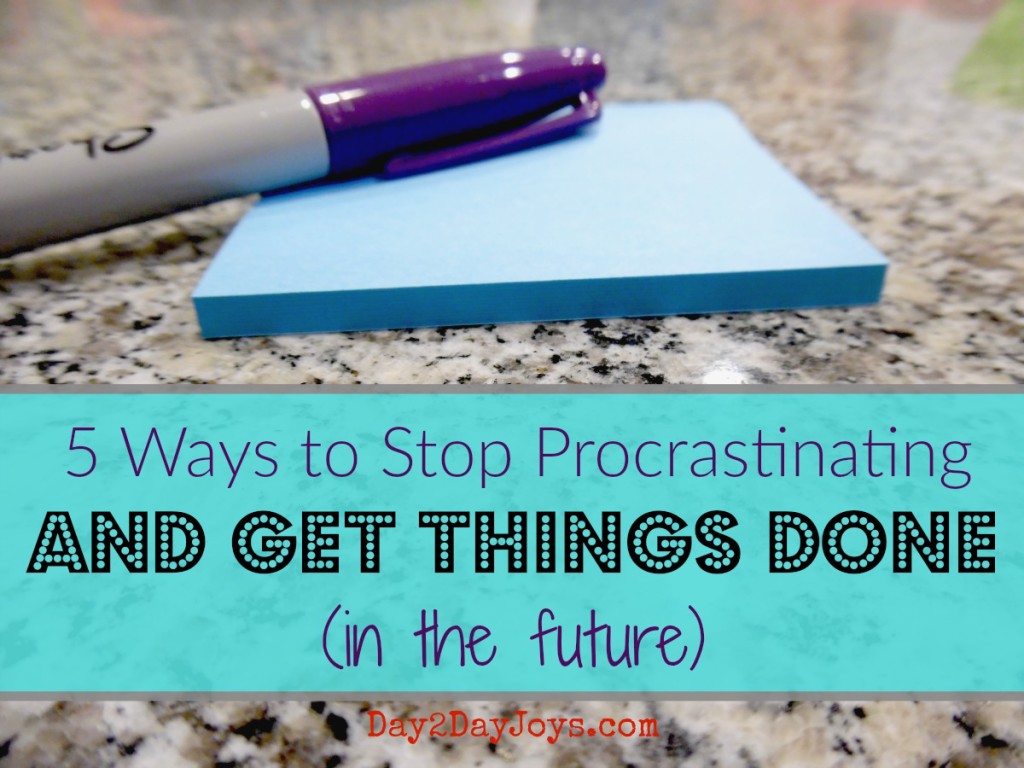 Written by Christine @ So Domestically Challenged, contributing writer
A few weeks ago, I was invited by Rachel to be a contributor here on Day2DayJoys. I read her invitation. I got excited. I closed my email and made a mental note to get back to her…and I did get back to her a few days later.
She invited me to do a post. Immediately, at least 6 great ideas popped into my head. I was thrilled. I was energized. I was ready to go. But here I sit, in the last few hours before my first post is set to go live, and I have nothing. Those half-dozen great ideas have betrayed me: each one seemingly fantastic until I realized that I couldn't find the words or it just wasn't so interesting after all.
Here I am, a blank. I've spent days analyzing my life and motivations, reading notes I've written, mind-mapping, reviewing books, magazines, Pinterest…and nothing. Have I truly lost my mojo?
The truth. I turn my focus inward to look for reasoning. The truth, though I hate to admit it, is fear. I have procrastinated since day one because of fear. Not that I have any kind of real fear for my own well-being. No, my fear is distinctly first-world. My fear is of disappointing, failing, not being good enough. My fear makes me feel like a child, but is a fear I always tell my own children they have to push through.
The reality is that I procrastinate because I'm scared of failing and scared of the unknown. I figure this is an issue that probably faces a lot of us, so for my first post, my introduction to you, I'm going to share 5 ways to stop procrastinating and get things done (in the future).
5 Ways to Stop Procrastinating:
Commit
Saying "I'm going to do this later" or "I'll have time after work on Thursday" are open-ended and set yourself up to keep moving the day or time you're going to do something. Instead, make a "To Do List" every day, and write in how much time you're committing to the task and when, just like an appointment: "I'm going to write my post from 5:45pm-6:30pm on Tuesday night". Writing it down has the added bonus of somewhat tricking your brain into believing that the task absolutely has to be done at that time.
Reward Yourself
As I write this, I'm craving my three biggest vices: a cup of coffee, a coconut Outshine bar, and a book….okay, not a book. I want to play spider solitaire online. Guilty. I know that I'm going to enjoy doing those things a lot more when I don't have anything else hanging over my head, stressing me out. I'm not going to allow myself any of those things until this post is complete! Not only does the reward give me something to look forward to, but it also takes away my ability to use any of those things to procrastinate: "I'm going to get back to working after this ice cream". Bam! A two-fer.
Visualize the Future
This is actually something I do with my family and my Girl Scouts when they're stressed and it works great for both long-term and short-term issues. Take a minute, relax, breathe and go through the steps of what is going to happen next. Work it out.
I'm going to keep typing.
I will get to the end of what I want to say.
I will read it back to myself.
I might hate it.
I will make sure it's correct and of good quality.
I will submit it.
Some people might not like it.
I might be asked never to write again.
I will keep breathing. I will keep living.
Tomorrow, I will write about something else.
In a week, I won't even think about it anymore.
Break a Job Into Tasks
Sometimes a job can seem stressful and overwhelming because it's got several steps to it that don't immediately sort themselves out in our minds. Try breaking a job down into various smaller tasks and write out a checklist. Even if you don't have time to do an entire task, you can look at your list and get a few parts done.
For example:
Brainstorm talking points
Type up post
Review & edit
Format post
Add links
Take photos
Edit photos
Add photos to post
Submit post
Stop Being Your Worst Critic
Where did we all learn this? Every day is like one long Dove commercial, but instead of just criticizing the bags under my eyes or my flabby middle, I criticize my entire being: "I just did that because I'm an idiot" or "I could never understand that" or "I'm a terrible housekeeper" or "I wish I was better/smarter/more comfortable with myself". Sometimes even confident-sounding statements to yourself can be undermining you: "I'm just going to fake it until I make it" or "I've still got it" or "I was great at that when I was younger". All of these statements have an implied "there's something wrong with me". We send ourselves these constant messages that we are somehow less than our full potential, and worse than that, we quietly start believing it. Instead, make statements that are inherently true and non-objective.
I am a mother.
I am a wife.
I am a mentor.
I am a writer.
I am enough.
My words/actions/abilities are enough.
And they are all perfectly me.
Do you procrastinate? Why do you think you do it and what do you do to fight it?