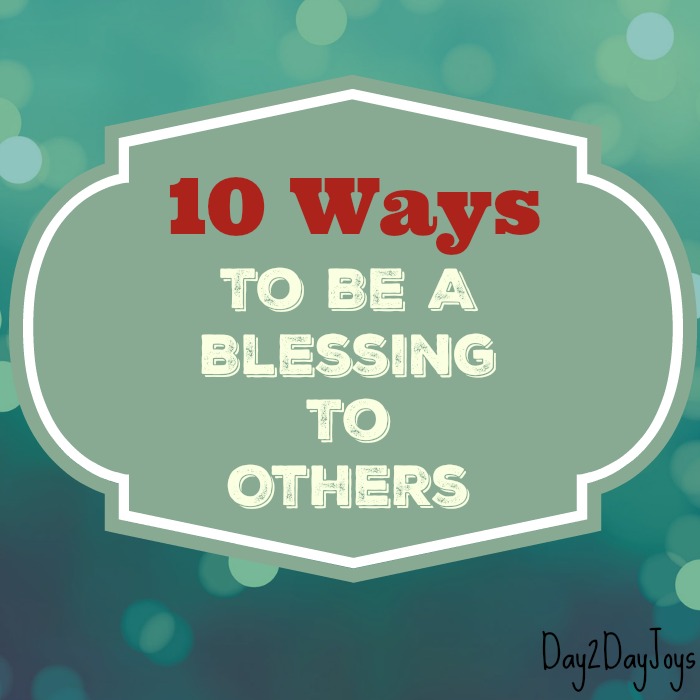 Written by Christine @ So Domestically Challenged, Contributing Writer
Tis the season! Thanksgiving is just four days away and the season of caring has begun. this is the time of year that we not only think about giving gifts to people we appreciate, but also the time when performing acts of kindness come back into our consciousness.
Hebrews 13:16 says "And do not forget to do good and to share with others, for with such sacrifices God is pleased."
In the spirit of this scripture, here are my 10 new ways of sharing and being a blessing to those around us.
10 Ways to Bless Others
Neighbors
1. I used to bring a plate of fresh baked cookies to every new neighbor that moved in, but since our new house is in a new construction area, the stream of new neighbors seems endless. Instead, this year, I'll be picking a December day to do tons of baking so that I can bring everyone on our street a plate of fresh baked goodies with a card.
2. Bonus Blessing: I like to bake some fresh, homemade peanut butter dog treats as well. This recipe is healthy, easy and dogs love it.
Schools
3. I've spent a lot of time in schools, both public and charter, and the things I've noticed are universal: kids and classrooms are always in need of supplies. If you want to bless a school in your area, consider dropping off a goody box with pencils, erasers, glue sticks and Kleenex. It seems every class that either of my children has been in, has been out of these essentials by Thanksgiving break.
4. Bonus Blessing: If your school has crossing guards or staff that have to stay outside in the cold to help kids, bring them some hand warmers. You can pick them up cheap from any store that has camping supplies, or you can make them yourself using fabric and rice.
Police or Fire Department
5. These are the men and women who put themselves at risk every day and might even save your life at some point. Nothing we can do for them can ever feel like enough. Consider stopping by with a couple of boxes of bagels or donuts along with a 'thank you' card. Bonus points for bringing items by in the evening to the often forgotten night shift.
Senior Homes, Nursing Homes, & Hospice
6. Stop by with some holiday decorations and literally deck the halls! Spending the holidays in one of these places can be incredibly depressing and frequently the budgets are razor thin. Bring a little joy to the building by giving it a lively, festive, happy look.
7. Bonus Blessing: A lot of people in nursing homes never or almost never have visitors. We owe our seniors more than that. Grab some inexpensive gifts: thick, warm socks & simple slide-on slippers are great, practical gifts. For something a little more fun, grab some large-print crossword puzzle books from Dollar Tree or some magazines (you can get used copies of National Geographic and other timeless mags for next to nothing at used book stores). Most importantly, give the gifts in person, visit with the elderly, hold their hands and let them feel loved and not alone.
8. Extra Bonus Blessing: Bring some hot chocolate mix or a large container of warm apple cider for the nurses' station. These nurses (especially hospice) have an incredibly tough job and we're blessed that there are people like them willing to do it with compassion.
ICUs
9. When I was a kid, my grandmother had a couple of strokes and ended up in the ICU, once for a very long period of time. One of my most vivid memories is of a nice Japanese woman (another patient) who showed me how to make origami swans. I remember her because she broke my boredom. Patients end up in the ICU quickly and without warning. That means that family members have to drop everything to be at their loved ones' side. Because of the delicate health conditions of these patients, childrn are not allowed to visit. When the woman taught me about origami, I had been sitting in that waiting room alone with nothing to do for hours.
I'd like to say that a lot has changed, but in the last few years, as I've lost my grandparents and father-in-law, I've found that all the ICU waiting rooms my children have waited in have given them the same experience I always had. You can bless these children (and help take a burden from their worried parents) by donating a small bin with coloring books, crayons and puzzles to your local hospital's ICE ward.
Donate Your Time or Talent
10. As a Girl Scout leader, I cannot tell you how many badges have requirements that I'm just not really qualified to teach. There are crafty things like painting, drawing and jewelry-making and there are outdoorsy ones like horseback riding. Going to businesses that can teach these requirements can cost the girls a ton of money (keep in mind they only earn about 40 cents per box of cookies). If you have a horse or know how to teach a craft, consider donating your time to Scouts, school groups, seniors or even special needs adults. The memories you can give the people you teach will last a lifetime.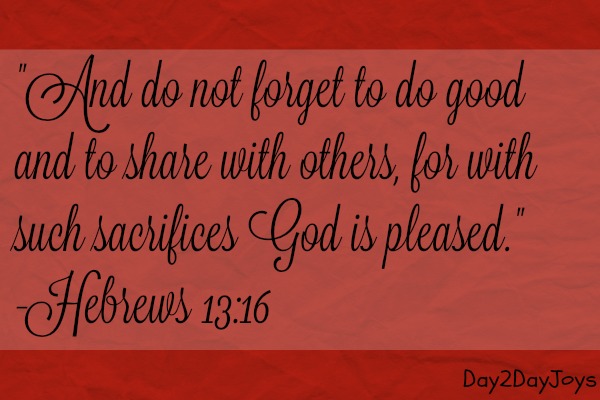 This Thursday, my family is kicking off our season of giving by serving Thanksgiving dinner to homeless and people who wouldn't otherwise have a Thanksgiving. How will you be kicking off the giving season with your family?