Written by Courtney @ A + Life, Contributing Writer
Last year was our very first year homeschooling our oldest daughter, Abigail. While, both my husband and I were homeschooled growing up, going from homeschool student to homeschool parent and teacher can be kind of overwhelming!
We tested the waters of homeschool pre-k and absolutely loved it. So, this September, we officially started homeschool Kindergarten! Or, Spena School, as we call it. We have been at it for almost two months now, so I thought it would be fun to share some of our favorite things to use in our school days(aside from lots of coffee for Mom, a bumbo seat for the baby to chill out in, and lots of outside time to burn extra energy for Abigail)
Our Must Have Homeschool Supplies:
1. Tons of Crafts
.
If there is one thing that makes my daughter happiest, it is the ability to create something with a giant pack of markers and an even more giant stack of paper. Construction paper, markers, crayons, scissors, glue, paints, and tape are all kept close at hand and always readily available to help stretch her big, BIG imagination.
2. Books, Books, and more Books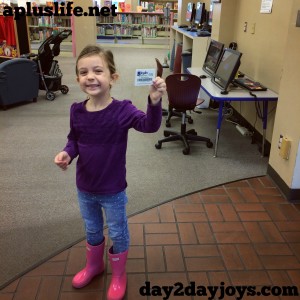 We finally got our act together and joined our local library! It has been absolutely wonderful for our school year. We go every Thursday for story time, return our books, and check out a whole slew of new books that sound interesting, fun, and coordinate with our curriculum's theme for the week. (Things like, Nest, Apple, Leaves, Moon, Sun, etc.)
3. Youtube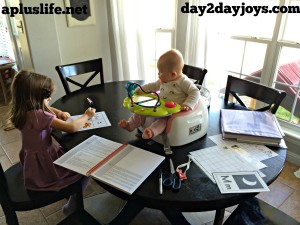 It is amazing to me all of the knowledge that we have right at our fingertips! As soon as Abigail asks a question, if we can't find it in our books at hand, all it takes is a quick search to figure out the answer. We listen to all sorts of classical music and learn about the composers, watch videos about animals, and learn new life lessons from video shorts that appeal to both me and her! We love taking a brief break from sitting down to dance around the kitchen to music(our favorite- Eine Kleine) and youtube makes it incredibly easy for us to do that.
4. The Jesus Storybook Bible
My personal favorite book to read through with the girls is the Jesus Storybook Bible. It is written in words that the girls can understand, but it speaks to all of our hearts in incredibly profound ways. At the end of the day, it's all about Jesus and every single story- as the book says- whispers His name. I love being able to incorporate that into our school days. One of the biggest, best, and most wonderful blessings about doing school at home!
We absolutely love homeschooling and have been so blessed by the gift it has been to our family.
What are some of your absolute must have homeschooling supplies?