Written by Starla @ Pressing In and Pressing On, Contributing Writer
I see a common dilemma among Christians. When I get together with my friends for coffee and play dates, the conversation almost always will hit on our relationship with God and prayer life. The dilemma being that as moms we are so busy and we struggle to have the time to spend in God's word.
I have gotten creative in saturating my life with scripture. You do not have to set out an hour of your time to read the bible. I'm a mom, but I'm not supermom. I know the hectic schedule we have. Let's not let a busy schedule be a stumbling block to us. Let's not get discouraged with our overwhelming schedule, but let's get creative!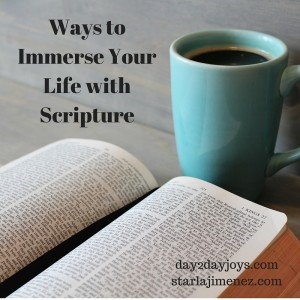 Check out these creative ways to make sure your life is immersed in God's Word:
Set aside 10-15 minutes every morning to spend time with God. Get a bible study and/or a devotional to help guide you. I can see a big difference in my daily life when I make this happen. Going before God and laying down everything and picking up His peace, love and strength is the best thing you can do on a daily basis.
Decorate your home, car and work place with scripture art. You can find plenty of them for free on Pinterest or simply do a Google search for free printable scripture. I have done this many times. I have found beautiful scripture art and framed it or taped it about my house. Every time I go into my bathroom I see the scripture art that I have printed off and taped around my bathroom mirror. My living room has a framed art piece with scripture and my fridge has several on it too.
Use an app. There are several apps that can be set up to send you alerts to read the Bible or read a devotion. I have found several free ones. It is fairly easy to set up the alerts.
Follow as many christian pages you can on social media in an effort to flood your feed with inspirational posts. This will help keep your mind on God's word. As you see your feed saturated with scripture, pick one or two and let it rest in your mind and heart.
Listen to Christian radio, music and/or Bible on CD. Fill the empty air space with scripture. While driving in your car, cleaning house or just softly in the background while you are working is a great way to fill your day with God's Word and encouragement.

In what ways do you find you are able to get into God's word? What ideas do you have for busy Moms?