Today is the 9th day of the 12 days of Christmas Reviews & Giveaways 2015!
On the 9th day of Christmas, day2day joys gave to me…
A comfy baby-wearing must for your little ones, especially newborns!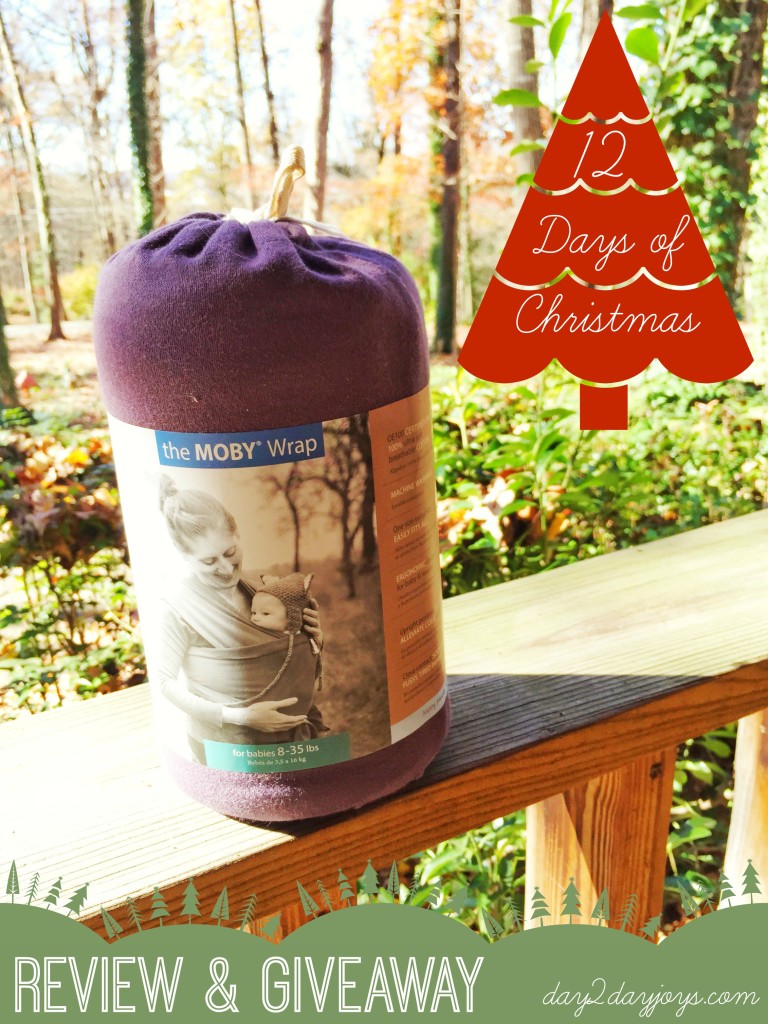 I wouldn't call myself a babywearer. I don't co-sleep, I modestly breastfeed with or with our a cover and I really don't like to be holding my babies all.ALL.all of the time… hope that doesn't scare anyone, lol!
Don't get me wrong, I LOVE my babies, and I like to hold them, nurse them, cuddle them, but sometimes, I don't want to be holding or wearing them.
However, when they are teeny tiny, I soak up all the baby-wearing and holding time. We will soon be welcoming baby #4 in about 4-5 weeks and I am really looking forward to wearing him or her in this fabulous Organic Moby Wrap!
Encourages parent/child bonding
Perfect for babies 8-35 lbs
Petite & plus size friendly
100% natural cotton
Adjusts to grow with your baby
Comfortable to wear for extended periods
Easy care
Machine Washable
Now for my review:
I was given the Organic Moby Wrap Carrier in the eggplant color. The wrap itself was tightly rolled into an bag (that my husband and I are not quite sure we will be able to get back into the bag). 🙂
The wrap is a very long piece of organic cotton with tapered ends that you wrap around in seemingly easy ways to securely hold your baby hands-free while being able to do a number of things… the dishes, walking the dog, folding the laundry, whatever it may be.
Upon first feeling this organic moby wrap, I really couldn't believe of soft it was, I even told my husband, you have to touch this.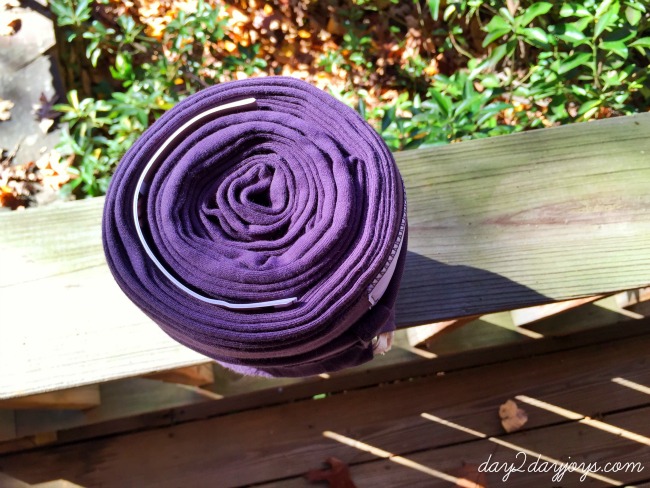 Once you have figured out how to wear the Moby Wrap (you can see instructions here or video here) it's really quite simple to do.
*side note: I have actually used a MOBY Wrap carrier before with my daughter London, so I am reflecting on those experiences as they would be the same if I was reviewing this new one, that I will be using the with next baby.
The stretchy cotton material is pretty thick which is great for the winter but a little hot for the summer.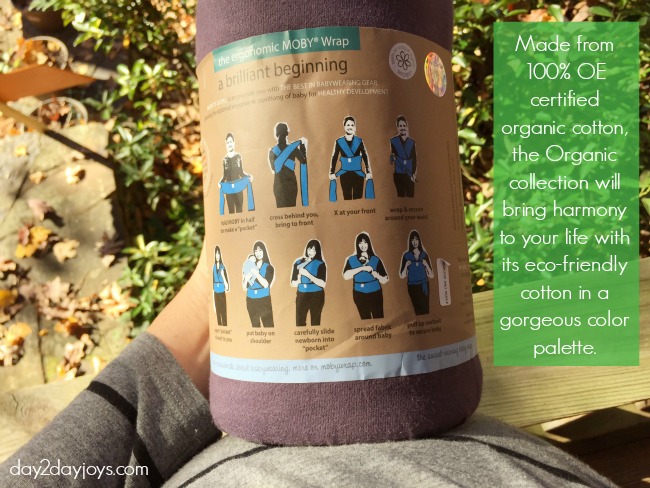 What I Liked:
That it's made with organic material
An easy baby-wearing option
Easy to put on
You can wear a child up to 35 pounds, so it can get a lot of use
What I didn't Like:
It's only front-side carrying
You can Buy It!
Go to Moby Wrap and see all they have to offer! Moby Wrap is actually generously giving readers a special coupon code from now until December 7th for 20% off the organic wrap on their site mobywrap.com. Use code: MOBY12DAYS
*If you happen to buy a wrap and win, they will give you a refund!
You can Win it!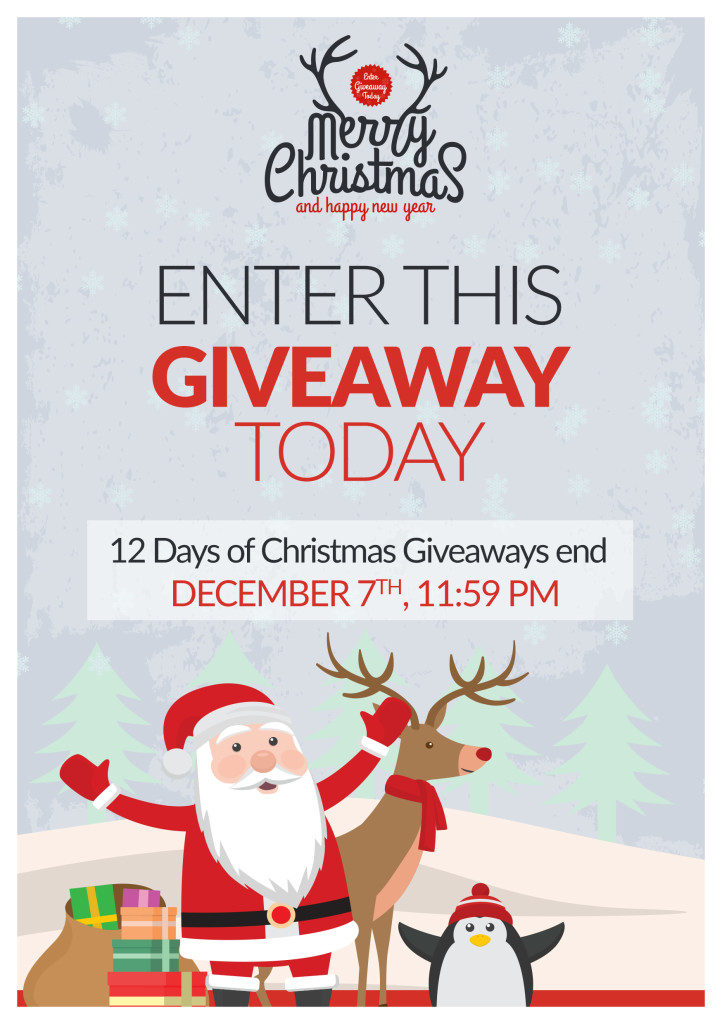 Enter this giveaway! If you win, you will get an organic Moby Wrap in the color of your choice! If you already have one or aren't don't have a bay yourself, this would be a great gift for a baby shower for friend with a baby. Use rafflecopter below!
If widget is opening, click here to enter: a Rafflecopter giveaway
See all of the 12 Days of Christmas here!
Disclaimer: I, Rachel, was given the product(s), to review with my fair and honest opinions. If you would like more info or to have a product reviewed, please contact Rachel.
**ALL of the 12 Days of Christmas giveaways end on December 7, 2015 at 11:59pm EST and is open to USA & Canada residents ONLY. One lucky winner will be chosen using rafflecopter and be notified by email. The winner will have 3 days to respond with their contact information, if they do not respond a new winner will be chosen. Must be 18 to enter. No purchase Necessary.
Do you like to wear your babies? Where would you go first (grocery store, zoo, etc.) if you had this wrap?