Written by Kari, Contributing Writer
Do you cringe when it comes to wasting food? I certainly do and it seems that in our society it's not looked down upon like it used to be. There was a time when the only food a family had was what they grew on their land. Maybe small towns had a quaint little corner store that sold some food items – but they weren't like our Walmart Supercenters or Krogers.
People valued food and I think we've lost that in this day and age of abundance, prepackaged foods and laboratory made foods available on every corner in America (think Doritos, Little Debbies, Captain Crunch and Slurpees).
So how can we be good stewards of the provision we have been given when it comes to food? What steps can we take to make our food supply last longer? Even if you don't have a harvest from a garden, you can take these simple methods and use them when you are buying food from the farmers market or grocery store.
The three simple ways I save money and stop food waste in our home are:
1. Freezing

2. Deyhdrating or Drying

3. Fermenting
Now before you stop reading this thinking this is only for homesteaders – know that this is for everyone! I don't live on land, own cattle or have a farm. I live in the suburbs with an 8'x12′ garden, a summer farmer's market up the street and a wonderful health food store near us where they only sell organic produce, YET I employ all these sources in keeping my shelves stocked with amazing food year round.
Let's take a look at each of these individually…
 FREEZING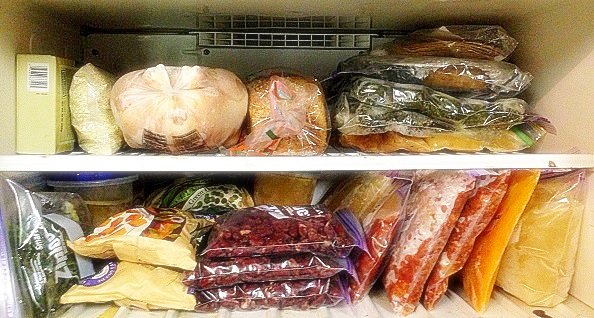 Whether you are harvesting a great yield from your garden or seasonal fruit and vegetables are priced great at the store, take this opportunity to freeze portions of these for use later in the season. Buy more than you'll need, then freeze the rest. This is also great to do with vegetables, homemade sauces, beans and meat.
Buying meat when prices are good and freezing it (freezing times vary with type of meat) can save some money down the road when prices raise due to seasonal/weather changes or unexpected issues, like drought. Doing a quick search on the internet on instructions for freezing specific foods will provide many resources and instructions on how to successfully achieve this wonderful preservation method.
– To freeze fruit, wash and allow them to dry thoroughly. Lay them out in a single layer on a lined baking sheet. Stick this in the freezer until they are frozen, then transfer to a freezer bag or container. – To freeze veggies, it's more of a process and you'll need to blanch and chill them before freezing. – Blend up smoothies or juice fruits and veggies, then freeze them in ice cube trays, then transfer them to freezer bags or containers to use in smoothies at a later time. – Pre-make sauces, soups, stock and beans and freeze to use in the cooler months. – Keep all your veggie scraps when making other dishes, freeze them and use them to make vegetable stock. – Save bones from whole fryer chickens to make bone broth.
The possibilities are endless! Just make sure you have a good system in your freezer to store all these items. I find that freezing in freezer bags and laying them flat offers up the most space saving option.
DEHYDRATING OR DRYING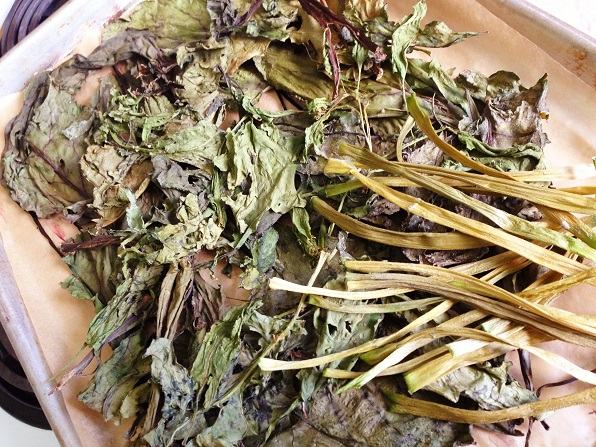 This method is great for all your greens, herbs, some veggies and even fruit. When you only need 2 tablespoons of fresh cilantro, you still have to buy it as a 'bunch', so you're left with extra. Instead of letting it go bad, throwing it out or even composting it (although, once it's gone bad – this is the best option) – dry or dehydrate the leftovers for your own dried herbs.
Oftentimes I hang my herbs to dry in a cool dark place, then grind them down and store in a glass container. When you buy or grow items like kale, chard, lettuce, spinach, etc., these are great to dehydrate and to process them into a green powder (including stems and leaves). Add these to soups or make your own green powder blend to drink – you'll get amazing nutritional benefits from these concentrated powders.
If you don't have a dehydrator, this can easily be done in the oven or even out in the summer sun. When using an oven, choose the lowest setting (150 on older models, 170 on newer) and heat with door shut for 2 hours. At that time, open the oven door slightly for ventilation and allow to continue heating until items are thoroughly dried. During the summer, this is best done in the evening hours so you don't heat up the house.
Other foods you can dehydrate are nuts and seeds, which allows for an extended shelf life along with making them healthier and easier to digest. Favorites in my house are homemade trail mix, dehydrated cinnamon apple slices and sweet potato chips with sea salt. I've also made raw cookies using a dehydrator and they were amazing!
FERMENTING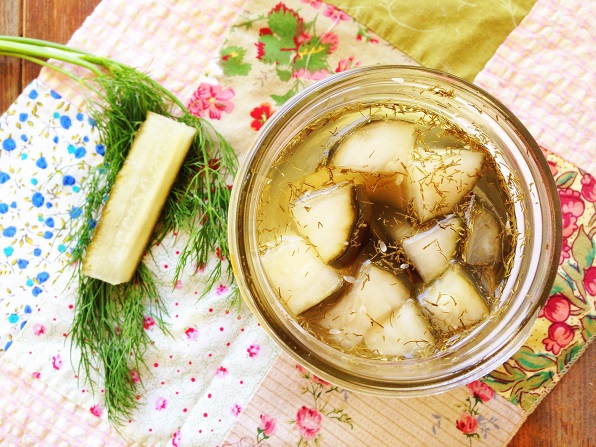 This is such a wonderful preservation method that has been used for centuries and truly offers amazingly healthy foods! We typically think of pickles and sauerkraut, but you can ferment foods such as eggs, cabbage, beets, watermelon, dairy and meat.
There are many wonderful websites out there that will walk you through fermenting foods and they offer delicious recipes. It's a process of creating an environment for a chemical breakdown and change in food (typically lactic-acid and alcohol fermentation).
A couple favorites at our house are my Summer Sun Pickles, Homemade Cream Cheese, DIY Crème Fraiche and Homemade Yogurt and Dairy Kefir. Make sure you don't get sidetracked by all those articles that say fermented foods are harmful. This method to preserve food has been around since the beginning of time and research shows that those cultures who used this method (and those that still use this method) are some of the healthiest people on the earth. Refrigerators and stoves are relatively new.
Microwaves are babies in the age of kitchen appliances – so we have to realize that cultures had to prepare and preserve food in ways that didn't require modern technology. These methods proved to be nutritionally beneficial and insured there was no waste to their provision. Remember they didn't have Walmart down the street to go stock up on food! I love gleaning from past generation's wisdom when it comes to food since they were a whole lot healthier then we are in 2013!
These are just three simple and easy methods that will save you money on your grocery bill and keep your pantry, freezer and refrigerator full during fresh food's off-season! It will feel amazing to be a good steward of your money and food and not to mention that you'll be feeding your family nutrient dense foods for optimum health!
What is your favorite way to preserve and extend the life of your abundance of food?