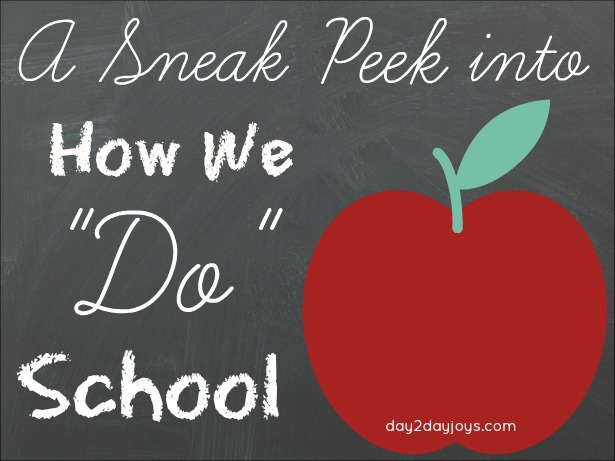 A lot of the posts here are how-to's, recipes or even encouragement but today I thought I'd give you a sneak peek into our "school-life" since it's back to school time! I know a lot of the contributing writers have written about how they "do" school, I hope you'll check out their blogs too!
I grew up going to public school and never even thought about homeschooling my own kids until a couple years ago. I knew I would never want to homeschool totally on my own but I also knew I liked the idea of being more involved. That's when I found the best of both worlds; university style schooling and homeschool co-ops.
Both university style schooling and co-ops have pretty much the same idea behind them, your child goes to school 2-3 days per week and you do school at home the other days. (I should note that some co-ops are only 1 day a week and organized by parents or moms) This year we are doing a co-op which has a set classroom teacher and parents are responsible for the at-home portion.
Yesterday was our son Lincoln's first day. He is in the K/1 class. We decided to have him wait a year to begin school much like my friend The Humbled Homemaker did with her eldest this year.
Here's a picture of him ready for the day: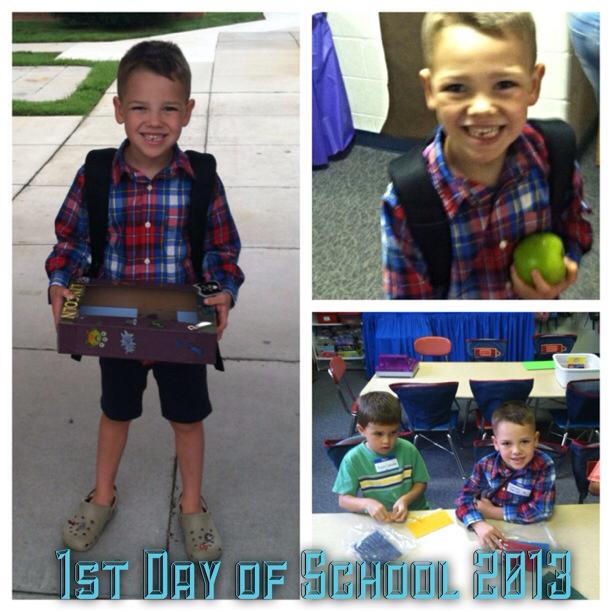 He'll go to his co-op class 3 days a week, Monday, Wednesday and Friday. These days work perfect for our schedule since we own our own business and 9-5 work hours are not our norm. Our office is closed Tuesday and Thursday mornings so this allows my husband to be more involved with the at-home schooling.
Where do we "do" school?
A lot of people wonder where homeschool families DO school and the answer really is anywhere, could be outside on nice days– which we'll love to do this Fall, at the kitchen table, some people have designated areas in the home and some have homeschool rooms.
We're lucky enough to have a room that's also the playroom.
Here are a few pictures:
When do we "do" school?
On homeschool days we typically wake up later than on a school day, eat breakfast and head to the school room. I almost always put on the studying station on pandora. We'll begin, take a snack break, more schooling (and a little fun), then lunch, a few chores, then finish up any work.
Our typical schedule:
8-8:30-  Wake up, eat breakfast
9:00- Start lessons
10:30- snack, play outside
11:00- school work
12:30- lunch, a couple chores
1:00- finish up lessons
2:00- quiet reading time
Every day could look different, some days I go to MOPS, so my husband does school, other days we start in the afternoon. Well, that's it, a sneak peek into our "school-life"!!!
This post is linked to ihomeschool network's School Room Week 2013, go check out tons of other rooms here.
How does your family "do" school? In a school setting? Strictly at home?