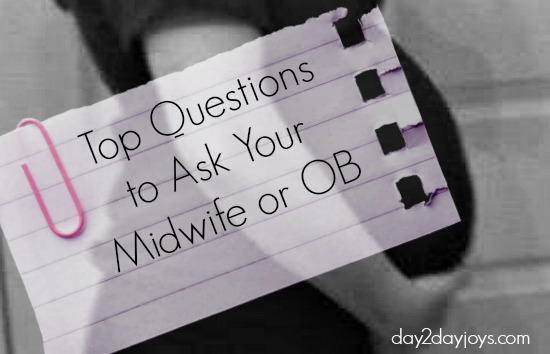 Guest Post by Shannon of Growing Slower
Most midwives are happy to have you interview them before committing to choosing their practice. Some even require an initial consultation before you schedule your first prenatal appointment. An interview is not quite as standard practice for obstetricians, but don't be afraid to ask lots of questions at your first prenatal and change practices if necessary.
This is your chance to ask questions to reveal whether a care provider has the experience and values to help you have your ideal birth experience. It's so important to be relaxed and comfortable in your with the people who are surrounding you during labor!
There are many questions that you could and should ask when you interview a potential midwife or obstetrician. (Here's my complete list of
47 Questions to Ask Your Midwife or OB
.)  There are some that the experienced moms I interviewed for my book consistently considered to be the most important.
Here are the Top 3 Questions:
#1

 What is your philosophy on birth and your role in it?

Your care provider should be as passionate as you are about helping your birth be as close to your birth plan as possible. If you want a natural birth, you'll probably be looking for a care provider who sees their role as more of an active observer and supporter rather than one of a manager.
#2

What is your rate of c-sections?

Of course, the answer to this question could vary pretty dramatically depending on the level or risk of the births your care provider usually attends.  Almost one-third of women giving birth in the US end up with a c-section. However, most major organizations including the Mother Friendly Childbirth Initiative and World Health Organization recommend a c-section rate below 15 percent. Whether you're hoping for a natural birth or not, you probably don't want to expose yourself and your baby to the risk of an unnecessary c-section.
#3

What is your standard postpartum and newborn care procedure?

Your birth experience doesn't end at the moment of birth. I'm sure you'll be very interested to know what a potential midwife or OB's views are on postpartum and newborn care.You might be looking for specific information about cord clamping, skin-to-skin contact, establishment of breastfeeding, bathing, vitamin K, eye ointment, and vaccinations.

All these questions work together to tell you what it is you really want to know: "What are my chances of having the birth experience I want with this care provider?"With my work as a birth advocate, writing an entire book about natural birth, and having two pregnancies and home births of my own, I can confidently tell you that unforeseen circumstances probably will arise during your pregnancy or birth.
It's great to have the peace of mind that when they do, you will know exactly what to expect from your care provider.
What other questions would you have for a midwife or OB?
Shannon Brown writes about pregnancy, parenting, and simple living at GrowingSlower. She is author of Natural Birth Stories: A Real Mom's Guide to an Empowering Natural Birth. She and her wonderful husband of five years live in Spokane, WA. They are parents to an energetic little boy and a peaceful baby girl.