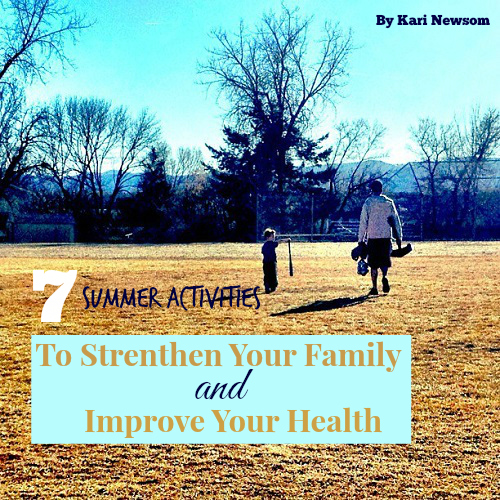 Written by Contributing Writer, Kari at Living Strong, Health & Wellness
With summer just right around the corner, it's finally time to step outside and begin enjoying the beautiful sunshine and warm weather again. Living in Colorado means we get over 300 days of sunshine, but not all those days are warm. This makes summer a much anticipated season in our home.
What are some fun and exciting activities that you and your family can participate in that will allow you to make memories and improve your health all at the same time? Here is my list of go-to summer activities that are sure to bring smiles to your faces. All of these allow you access to fresh air, possible peaceful and quiet surroundings, time away from televisions and computers and a chance to have real conversations with the ones you love. Not to mention the chance to see God's beautiful creation, soak in some Vitamin D and time to think without the noise of technology.
1. Hiking…
Not everyone has access to foothills or mountains, but if you do this is a wonderful way to get out and spend some time quality time with your family. Take photos in front of streams, trees and climbing rocks to preserve the days events. Pick some leaves from trees and press them in a book at home and grab a few small unique rocks to put on display to remember your day.
2. Gardening…
Is beneficial on all sides. You get to dig your hands in the dirt (absorb those healthy soil organisms), learn about how food grows and you get to partake of the bounty of the harvest. It's also a great activity to do with your children of any age, as it teaches them responsibility and to be thankful for the provision of food.
3. Grounding…
Not the most commonly known term, but it simply means being outside barefoot! This is so beneficial for our health for many reason (learn more about that here), but what child doesn't love running around the thick grass with their shoes off and soaking in the days of summer. Grounding can also be done on sand, some pavement – but not tar streets!
4. Camping…
This definitely isn't everyone's favorite, but I do think everyone should camp at least once in their life. You can either find a remote spot in the mountains or go to your local lake or reservoir and enjoy the amenities there. Yes, in Colorado we still have traces of snow in the mountains even during the warmer months of the year!
5. Sports…
If you have kids this should be something you are always doing with them. T-ball, frisbee, basketball, soccer, swimming – there are so many options. Even without kids, grab a group of friends or your sibling and parents and head out to the yard or park and play some ultimate frisbee. Get some fun cardio into your day.
6. Go Into the City or Take a Trip to the Country…
For us it's always fun to take a trip into Downtown Denver and experience the culture we don't get living in the suburbs! We have great sculptures in Downtown Denver that the kids get a kick out of! If you already live in the city – visit the country, local farms or even historical sites away from all the noise.
7. Family Movie Nights…
We enjoy family movie nights where we whip up some stove-top popcorn, hang out on the sleeping mats or all snuggle on the couch. Or who can deny that watching movies outside isn't possibly one of the coolest movie-going experiences! Whether it's in your backyard, at the park or on the side of a building hosted by local vendors – this is a wonderful way to spend time outside on those warm summer nights. Either way, grab a family-friendly movie and laugh the night away.
I firmly believe that the family unit needs to start spending more quality time together and just a wonderful way to do that is outdoor activities instead of spending every minute inside in front of electronics. I also believe we have moved far away from family bonding and spending valuable and memorable quality time together. This summer make sure you put some of these activities on your calendar! I guarantee you that your kids will love every minute and so will you!
What is your favorite way to spend time outside in the summer months?