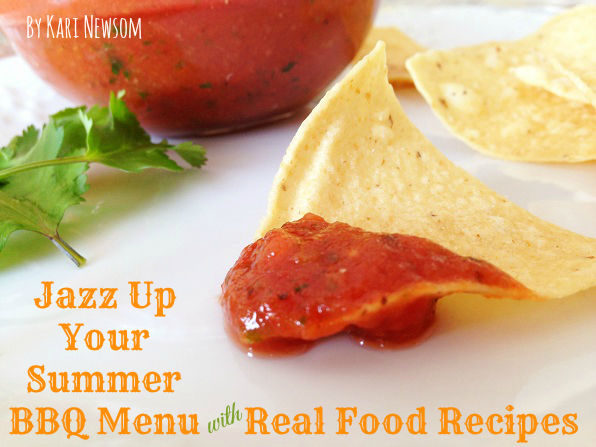 Written by Kari @ Living Strong, Health and Wellness, Contributing Writer
With summer in full swing and the Fourth of July right around the corner, we all know that this means a lot of picnics, bbq's and get togethers are on the calendar. This also means that this will involve a lot of, you guessed it, food!
Is it possible to eat healthy during all these summer festivities? Yes, yes and yes! Eating healthy doesn't mean that these celebrations have to be boring! In fact, I believe that you can have even better tasting food when you choose real foods prepared properly and with love! Nothing off the grocery store shelf can hold a candle to the greatness of real food!
A couple months ago I released my first cookbook
 that addresses the reality and simplicity of delicious and healthy food! On my journey to live a healthier lifestyle, I was finding that eating healthy usually meant bland, boring and just plain not good! My family felt the same! I knew that real food could taste amazing, be nourishing and keep you satisfied, so I went to work creating, experimenting and indulging.
Below are two wonderful recipes that can be found in my cookbook
 that you can incorporate into your summer celebrations! Kari's Restaurant Style Salsa – to go with those big bowls of tortilla chips and Easy Peasy Peanut Butter Drops for a protein packed sweet treat. I know you will enjoy these real food treats and feel good knowing that you are feeding your family foods that will not harm them.

What You'll Need:

1 can (28 ounce) whole tomatoes, with juice (I use Muir Glen Organic Fire Roasted Tomatoes)
1 can (28 ounce) diced tomatoes with green chilies
1/4 cup yellow onion, chopped
2 to 3 cloves of garlic
1 teaspoon, unrefined sugar (cane, sucanat, coconut) or honey
1/2 teaspoon sea salt
1/2 teaspoon ground cumin
1 cup fresh cilantro
2 to 3 tablespoons lime juice (from the actual lime is best, if they aren't in season, use lime juice)
2 small cans diced chilies (hot if you like the zing, otherwise use mild)
1 tablespoon diced jalapenos (add these very last to make the salsa more hot) (optional)
1/2 to 1 smoked chili pepper (optional – these add zing too)
What You'll Do:

Pour one can of the tomatoes in the blender, add the onion, garlic, sugar, sea salt and cumin.
Blend until smooth.
Pour this into a large mixing bowl.
Now, pour the other can of tomatoes in the blender and add the cilantro, lime juice, diced chilies and jalapenos.
Blend until smooth.
Add this into the bowl with the other half of the salsa.
Mix well with a bamboo spoon until combined thoroughly.
Now it's taste testing time. Grab some chips and and test it out. Does it need more heat? Add the smoked chili pepper. A little more cumin? Lime juice? This is your time to get creative and create a taste that you and your whole family will love.
If you need to add more ingredients, scoop a couple cups of salsa back into the blender, add the extra ingredients, blend and pour back into the bowl. Mix again and test again.
Store in glass jars – this typically makes 2 quarts of salsa.
Refrigerate. Over the course of a couple days, the flavors will have time to mesh together and you'll get a wonderful, amazing and fresh salsa!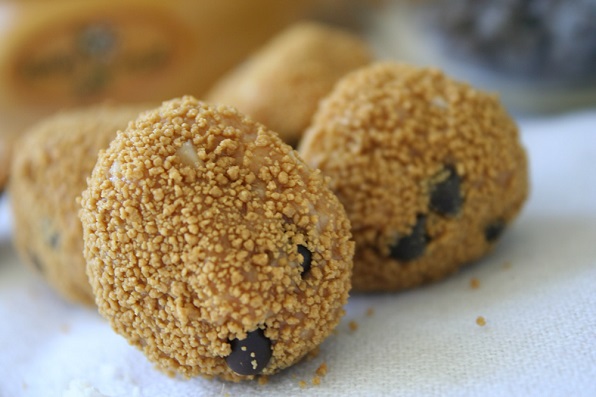 Easy Peasy Peanut Butter Drops
(Packed with Protein and Energy)
What You'll Need:

1/2 cup natural peanut butter (or another nut butter of choice)
1/2 cup raw honey
1/2-1 cup unsweetened, finely shredded coconut
1/4 –1/3 cup mini dark chocolate chips
Sucanat (unrefined sugar) for rolling the drops
What You'll Do:

In a medium size bowl, mix the peanut butter and honey until combined thoroughly.
Add the chocolate chips. You can add more or less according to your taste (I always add the larger amount).
Add the coconut in 1/4 cup amounts until the consistency reaches a thick, yet semi-sticky state.
You don't want it so sticky that you can't roll it, but you don't want it so dry that it wont hold together. Find the happy medium.
Once you are able to roll them and they still have some stickiness to them, roll into balls and then roll in the sucanat.
Place on wax or parchment paper on a baking sheet or plate.
Refrigerate for a while so they can harden up a bit, transfer to a glass jar and keep in the fridge.
I hope you have a wonderful and amazing summer, making time to enjoy family, friends and delicious food. Take time to cherish these moments and be thankful for the many blessings that God has poured out upon our lives!
**note from Rachel: Make sure you check out Kari's new cookbook Real Food. Real Kitchen. So Good.: Health Made Easy.
 It's actually on sale on amazon right now! 🙂
What is your favorite summer dish that brings a smile to your face and everyone who tries it?