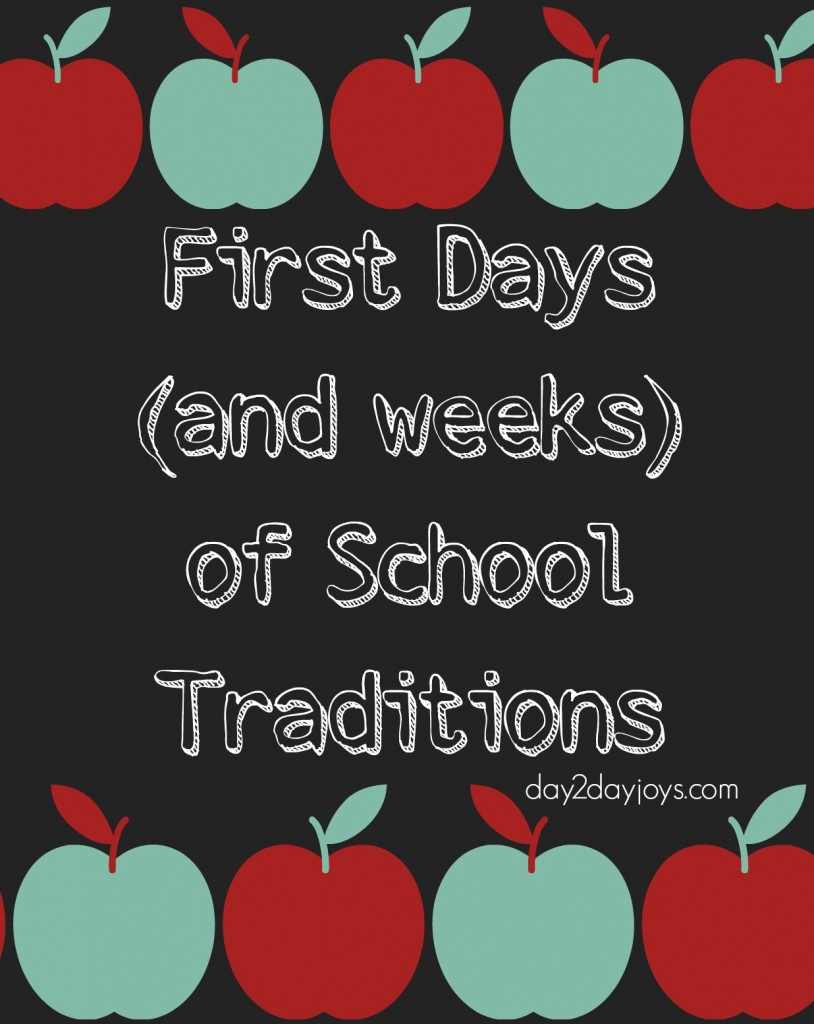 Do you remember your first days of school as a child?
I remember it being the like night before Christmas, I was so excited I could hardly sleep. Well, up until about 5th grade, after that, I lost all my excitement lol. Each year I remember shopping for the 1st day of school outfit, getting our school supplies ready, visiting the classroom and packing our backpacks. Then the first day came and the years flew by so quickly.
Now I am a mom of three and I'm having my own "mom" memories of my children's first days (and weeks) of school. My two oldest are venturing into kindergarten and first grade this year and we're already into our 3rd week of how we "do" school, which is a combo of school and homeschool.
I feel a lot more organized now than I was this time last year when I had terrible morning sickness. Whether you homeschool or your child goes to school M-F, I think it's a lot of fun to create ways to remember these first days, because they don't stay little forever.
Here are 5 First Days (and weeks) of School Traditions:
There are millions and zillions of ideas on pinterest but here are 5 traditions I enjoy doing with my kiddos. In the title of this post I added (and weeks) because it might take a few weeks to do all of these if you're like me. 😉
1. Take a photograph
You don't need a fancy camera to do this… nowadays everyone just uses their phone. Before your child goes into the classroom (or your school area at home), stand outside the school or even by the door and snag a couple smiles. Use a First Day of… sign if you have time to print one out. Then if you want to spruce things up, you can use that photo to create a magazine cover or "about me" picture using picmonkey.
I borrowed this idea from Between you & Me.
2. Apple for the teacher
Ok, you can never go wrong with this one. If your child has a teacher, let your child help make a card or small gift, it doesn't necessarily have to be a REAL apple. Teachers work so hard behind the scenes and it's a sweet gesture to let them know that you as the parent and your child are excited about the school year. I normally like to get crafty, but this year I went with the REAL apple and a small gift I picked up and just wrapped up with a bow.
If you are homeschooling and you are the teacher, well, then go get you a nice cup of coffee one day! 🙂 I give you permission!!!!
3. Interview
If you're going to create the photo keepsake from #1, you can use these answers from this interview. I found these a few weeks ago and really love the idea.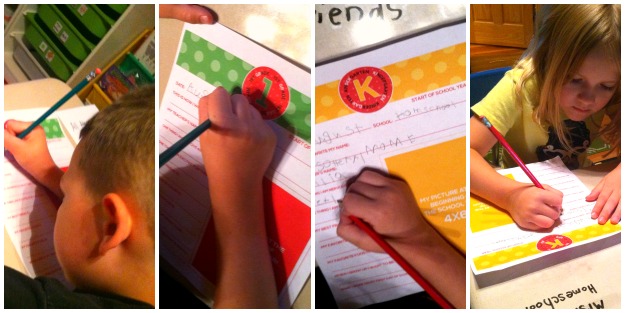 Sometime during the first weeks, sit your child down and have them answer the questions. I think it's best when you just let them answer and to not worry about spelling. And if your child cannot read yet, you could write the answers and let them copy it onto the sheet. This will be so fun to look at when they are seniors.
4. Write a story
After the first day of school, sometime over the next week or so have your child write about their first day. I created a printable for you to use. Again, if your child needs help, write it out and let them copy.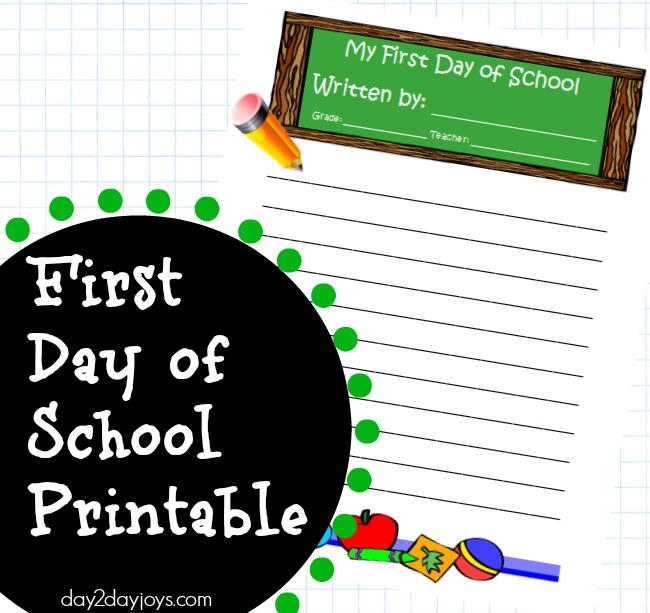 Feel free to use the First Day of School Printable or just write a story on your own paper or even use this journal which great for early elementary-age throughout the school year.
5. Draw a Self Portrait
Use whichever medium your child likes best, whether crayons, paints or pencils and have then create a self portrait. I once learned in a college art class that when you're able to capture yourself in art you are then able to capture other people or things around you with a greater understanding. While I do not know it that is true because I never liked self portraits myself, I want my children to know they are great works of art from Jesus
In Ephesians 2:10 it says "we are His workmanship, created in Christ Jesus for good works, which God prepared beforehand that we should walk in them". "His Workmanship" could be translated as "His work of art" which is what we ALL are! We still haven't made out self portraits but hoping to this week.
I hope you enjoy all of these ideas!
What are your first days of school traditions?