I know, I know, I am very "fashionably late" with the 2nd part of London's birth story. But better late then never right?? London is only 8 months as of today 🙂 If you haven't read part 1 yet, click on over to read the first part.
Now back to the birth story:
A little bit before my "Yes come!" text to my midwife that I told you about in part one of this story was when I realized this baby IS coming today, I could not wait to meet him or her. We never found out the gender because we had decided to be surprised at birth.
I had been thinking about all the details in-between the contractions, not birth details per-se but about the kids and how they should be leaving with my mom and where they should go since it wasn't quite time to bring them to their homeschool co-op yet. I planned all the details: go wake up mom at 7:15am, they can get ready, get their stuff and she can bring them to Panera, a local bakery/eatery first then to school.
So 7:15 seemed to come hurriedly. It took all I had to walk to my daughter's room where my mom had been sleeping. I got there, bent over and told her I think today is the day, get up and go! She tried to ask me a few questions and I remember just saying something like "I don't know, I need to go lay down, come in here if you need me" while hurrying back to my bed.
I think it was around 20 minutes later they came inside the room to say goodbye. By then I was moaning loudly, I thought but when they came in I tried to be quiet. I remember thinking… I love you now get out (I wasn't wanting to be mean, I just didn't know if I could handle talking)
Right after they left, my husband and I discussed if we should start a bath. I had never had a homebirth before so I didn't know the timeline of procedures I thought maybe were supposed to happen. All I knew was that this was intense, wondering how long I'd be enduring this pain. I said, yes, go ahead and start the bath, thinking it might help.
While still laying in my bed, I felt something wet come out, I thought my had broke so I told my husband while waddling over to the toilet. I wiped and saw the bloody show a woman normally gets before labor. I then got into the bathtub. We have a pretty large tub so the water was only a few inches full. Before all of this happened I'd pictured myself sitting in the tub with my back against a cushion I had purchased, but no, that's not at all how it played out. I was on my knees, bent over, clinging tightly to the water faucet.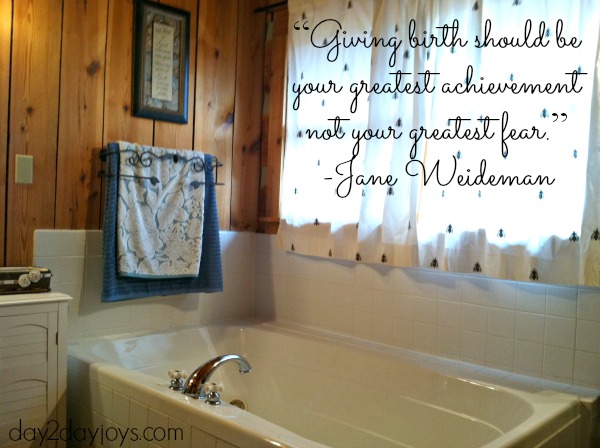 Sometime while in the bathtub the midwife arrived. We didn't know it at the time, but she had been knocking for 10 minutes outside before my husband let her in, we never heard her in all the commotion.
Upon arriving, just from seeing me in whatever stage of labor I was in, she knew it was game-time. While I was trying not to freak out, hold my cool, go through natural birth- whatever you'd like to call it, my midwife and husband got prepared as much as they could.
She checked me and said I was 8cm and that the water sack was right there, and said if she broke it, it would help, I said ok. The same thing had to happen with my other 2 so I knew it was the best idea. I think pretty much after that I must have fully dilated fully within 1-2 minutes.
I'd like to say that Lisa, my midwife was an extremely awesome coach. When I was groaning in the tub, she was saying "sing your song" which helped me to realized that it was ok to be vocal (or scream). Right away, I felt the urge to push so I did. After doing this a few times, I had emptied my bowels. I know, gross right?
Lisa told me I have 2 choices since it would not be healthy for the baby to be birthed into the icky water: 1) get out of the tub and go to the bed (which was not prepared with all of the stuff I had prepared for my birth kit) or 2) stand up. In my mind, there was no way I was walking to the bed with baby about to come out.
So I stood. And pushed. And not sure how many times but I thought I was going to die at some point. I really thought this was going to kill me. For real. Then I think my husband said the head is right there. Lisa told me to stop pushing for a second- don't remember why. And then once she told me to push again, I did and the baby came out. She quickly grabbed her and handed her up to me. And I could barely hold her. I was thinking and might have said, is it a boy or girl. I believe they answered but it all the excitement I didn't hear them.
Lisa helped me walk to the bed where I caught my breathe and energy. I looked at the baby in awe and asked again, boy or girl.
She's a girl!!!!
I soaked everything up. Shortly after my mom arrived and found out she missed all the action.
Next is part three… which has all the postpartum stuff and fun pictures! (here is part 1 if you missed it)