Written by Lisa @ This Pilgrim Life, Contributing Writer
The New Year is almost here!
For many, that means resolutions and goals and hopefully a large dose of healthy optimism.
My head is full of plans and ideas, mostly centered on getting us back to a normal routine and menu plan after a couple of months full of festivities and party foods.
How about you? Thinking of your own resolutions?
Maybe you're resolved to eat healthier, whole foods? Or less sugar? Resolved to start your day right with a nutritious breakfast?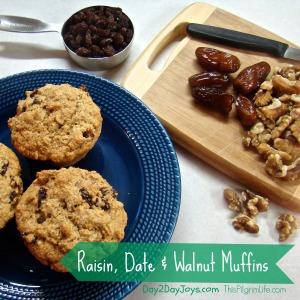 After all the cookies I have eaten this month, all of those resolutions will be reappearing on my list. For my family, eating a great breakfast is of utmost importance. We usually start our day with eggs, yogurt, smoothies, or freshly baked muffins. (Some days, we start with all of these!)
These raisin, date and walnut muffins were inspired by my husband's favorite oatmeal combination. They are simply sweetened with a small amount of maple syrup as well as the natural sweetness of the raisins and dates. For additional nutrition, you can use whole wheat flour.
Bake up a batch to bring in the New Year and start the year on a healthy and delicious note!
Happy New Year's!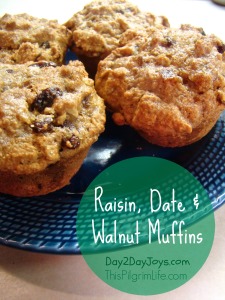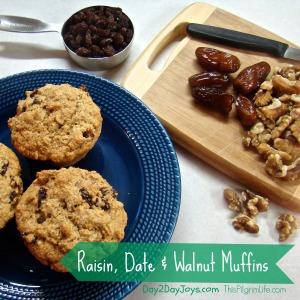 Raisin, Date, & Walnut Muffins
2014-12-26 21:13:04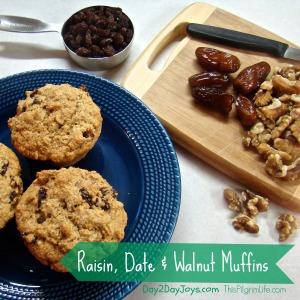 A delicious healthy muffin with a popular combination of fillings.
Ingredients
2 C flour
1 C old fashioned oats
1 Tbsp baking powder
1 tsp cinnamon
1/2 tsp salt
1/2 tsp baking soda
1 C milk
1/4 C maple syrup
1 egg, lightly beaten
1/2 C coconut oil, melted
1/2 C chopped walnuts
1/2 C raisins
1/2 C chopped dates
Instructions
Preheat the oven to 375 degrees.
In a medium-size mixing bowl, combine the dry ingredients (flour through baking soda). Whisk together to combine. In a large measuring cup or small mixing bowl, stir together the milk, maple syrup, egg, and coconut oil. Pour the wet ingredients into the dry ingredients and stir until just combined and no streaks of flour remain. Add in walnuts, raisins, and dates and stir.
Grease a muffin pan and evenly distribute the batter into the twelve wells. (Optional) Sprinkle the tops of the muffins with brown sugar.
Bake in preheated oven for approximately 15-20 minutes or until the tops are browned and spring back when lightly pressed.
Let the muffins cool in the pan for 5 minutes before trying to remove them. Transfer to a wire rack to continue to cool. (Or, better yet, throw on some butter and eat them warm!)
Day2Day Joys http://day2dayjoys.com/
What is one of your resolutions for 2015?