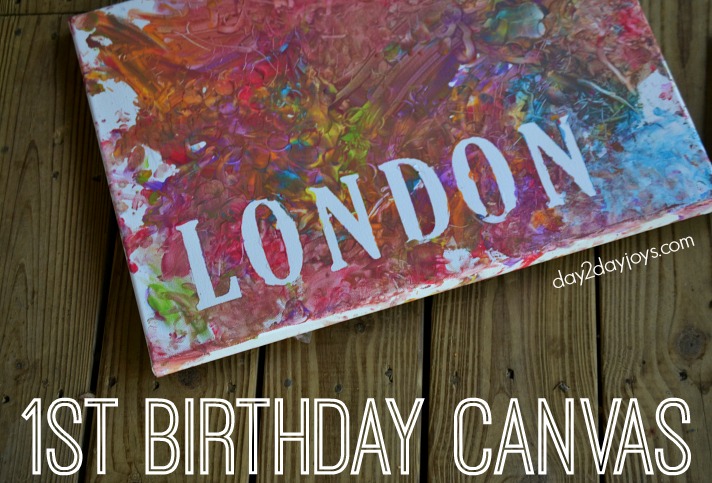 I absolutely love getting crafty.
Between part-time homeschooling, activities, and the regular day to day tasks I feel as though getting crafty has been put on the back burner. I have been more focused on getting the chores done, working around naptime, and so much more that I have forgotten to have a little fun.
So my mission as we enter Spring and on into Summer, is to have more fun!
And getting crafty is so much fun to me and my kids love it as well. So I wanted to introduce getting a little (age-appropriate) crafty with my newly one year old daughter London.

We had a Rainbow themed birthday party and she painted this canvas at her celebration while older kids got to paint a much smaller canvas of their own. There are all kinds of ways to have fun with canvases!
DIY 1st Birthday Canvas:
What you need:
What to do:
Gather supplies
Adhere name using letter stickers
Depending on where your baby is going to paint, put a disposable table cloth or garbage bag down.
Put baby on table cloth stripped down to diaper only, unless you don't mind the mess
Put dabs of paint all over the canvas and rub baby's hand so she knows what to do
Have lots of fun watching while taking lots of pictures
Give baby a bath and let canvas dry overnight
Remove letters
Use the sponge brush to paint a light coating of the iridescent paint to add a nice shimmer, let dry
Display in room as a fun reminder of baby's 1st birthday!
I cannot believe our baby girl is one, time goes by so fast doesn't it? This 1st birthday canvas is going to be something we'll cherish for a long time and we'll get to tell her that she made it at her 1st birthday one day… I think she'll love that!
*This post contains affiliate links
What kinds of things do you (or did you) do to make your baby's 1st birthday memorable?