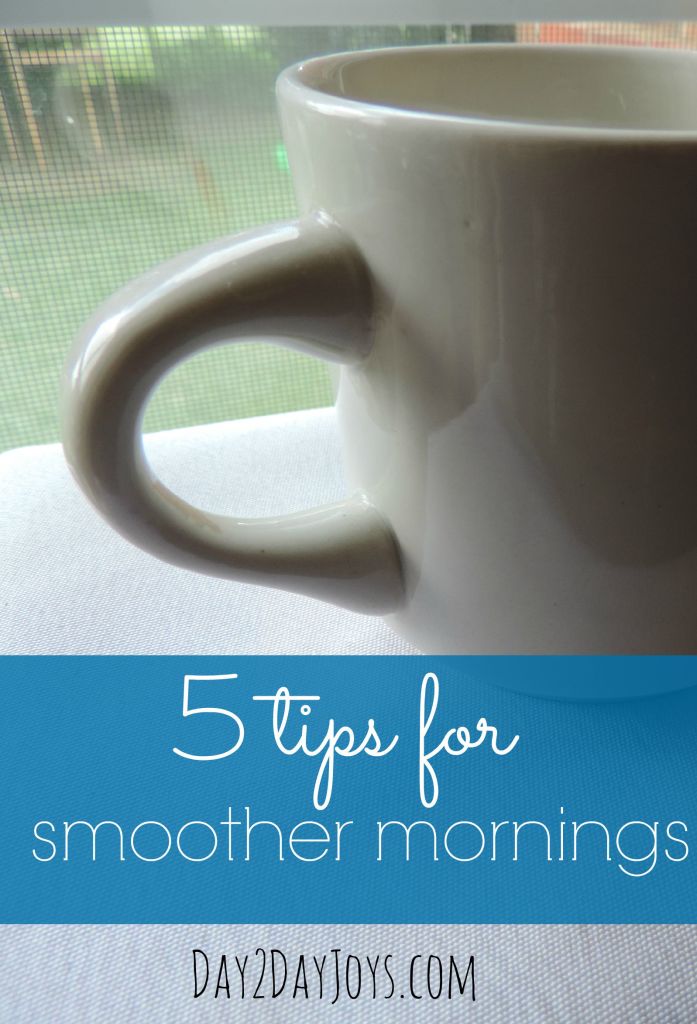 Written by Lydia @ Frugal, debt free life, Contributing Writer
A school bus rolled by my house this morning. I was sitting at my desk reading my emails, sipping a cup of coffee when I heard the tell tale sound of a diesel engine rumbling down the road. Is it back to school time already?
A quick glance at my Facebook feed filled with smiling faces in fresh school uniforms or holding up newly-minted backpacks confirmed it. Even for those of us whose children aren't yet school-aged (or in my case I am preschooling at home this year) back-to-school season can still be crazy.
Our calendars become packed with activities, lessons, practices, church events and life can just feel out of control. Today I wanted to share a few things you can do to bring sanity to your household when things get busy.
5 tips for Smoother, Happier Mornings
1. Plan to eat.
Do a quick scan of your pantry, freezer, fridge, etc. and make a meal plan for the week. This not only saves money, but it also saves you a lot of sanity. There is no 5:30 p.m. rush when you're totally deprived of energy and order a pizza or make spaghetti… again.
2. Plan to dress.
Even if you're a stay-at-home mom and your children are home with you all day plan to get up and get dresses in the morning. Layout something to wear that makes you feel good that isn't yoga pants (unless yoga pants just make you feel special. Then rock them sister, rock them).
Lay out a skirt and a cute top or a stain free shirt and a pair of jeans. It's so much easier to face the day when you know what you're going to wear and it isn't covered in vomit or breast milk stains.
3. Clean your kitchen.
I know, I know. It sounds like I am telling you to do MORE housework than you're already doing, but trust me. When your day is hectic the last thing you want to do is walk into a dirty kitchen first thing in the morning. Load the dishwasher, wipe down the countertops and set out your coffee mug the night before.
4. Make a prioritized to do list.
Grab a notebook or your phone and make a simple list. Write your list according to most to least important. I actually do this the night before. That way when I start the day I already know what needs to get done.
5. Pack a snack.
If you're hauling children from library time, a church meeting and then to the grocery store someone is going to get cranky. So pack a snack. I usually grab an apple, some string cheese and some pretzels and throw them in my purse or the diaper bag. That way I am prepared for a cranky hunger meltdown, even if it's my own.
Don't stress this can be a really fun time of year.
In what ways do you make your mornings run smoother?