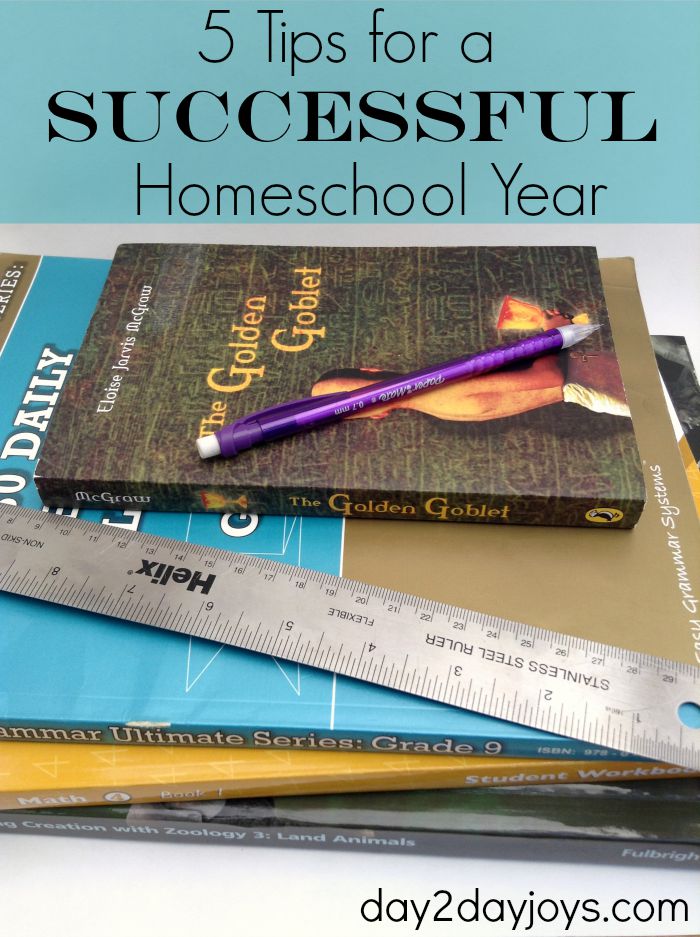 Written by Karen @ To Work With My Hands, Contributing Writer
Today is the first day of our new school year.
Today the books are out again, all fresh and crisp. Everyone is excited, and everything is new – for now.
But within a few weeks – maybe even days – the newness wears off and my children will wonder how they got duped by those pretty, crisp-covered books again. Sound familiar?
After 20 years of homeschooling, we still sometimes struggle. But along the way, I've learned a few ways to help minimize the struggle and keep ourselves from losing the joy of homeschooling.
1. Be Organized
Long before the first day begins, I've made plans. Beginning with curriculum choices and stocking up on school supplies, I also clean out our school cabinet and work areas. Some years lots of changes need to take place. Other years, just some tweaking is all that is required.
Next, I create a schedule for the year. Looking at what needs to be accomplished by each child during the year, I break those goals down into monthly, then weekly bites.
2. Clear Expectations
Just because I know where we are going, doesn't mean that the children necessarily do. In an effort to help them own their work, I let them know what the plan is for the year.
The older boys appreciate knowing exactly what they need to accomplish for the year and can more easily plan their study hours around outside activities.
The younger children get weekly goal lists that help them stay on track with their independent work, and to know what is coming up in the subjects we study together. They can see a clear path and have an understanding of what it will take for them to finish for the week.
3. Rewards
Through the years we have sometimes used rewards. At other times, we haven't. Our children known that schoolwork is simply a part of their lives, and we don't give prizes for getting it done. However, there have been times that we found it helpful for them and for us to positively encourage them along.
When we have a particularly trying subject, hit a difficult time in personal motivation with one child or another, or even have family events that compromise our normal school schedule, we have used incentives to help make the work more rewarding.
Let's face it. If you're 7 years old, it's hard to see the long-term benefit of learning math facts day after day, especially when the going gets tough.
Since our younger children struggled last year with getting their independent work finished without lots of pushing, this year we're giving them the opportunity to earn a point each week when it's finished early. Work finished on time is expected, but finishing before it's expected will be rewarded.
Following the idea our library uses each summer during the summer reading program (which my children just completed and thrived in this point-earning system), the children will be able to save up earned points and cash them in for special activities that they enjoy.
4. Shake Things Up
I'm a routine/schedule/stay-on-track kind of mom, but realize that although routine provides stability, know that it can also produce boredom – especially in children who are wired differently.
Having a solid routine in place works well for most days, but I've found that when I throw in a change of pace every now and then, they're better energized for the more typical days.
Packing up the books and spending a day at the park, enjoying a field trip without the books, taking a day to watch DVD's on our current science or history topics, or just taking a day off on that first crisp morning after a scorching summer to take a hike or bike ride can all be ways to recharge the batteries by getting out of the routine for a day.
5. Margin
If there's one thing that I continually struggle with – even after so many years of homeschooling – its margin.
There's so many wonderful things to do, so many exciting things to study, so much to learn. It's way too easy to over schedule, over plan, and overdo.
Learning to shorten my personal to-do list each day is also spilling over into the school to-do list. There simply isn't enough time to do everything and when I try to cram it all in, we lose margin. When the unexpected happens – and it will – the whole cart gets upturned.
The answer is to under schedule. If we can accomplish 5 days of science each week, I'll only plan for 3. If we get the extra 2 days in, that's great. If we don't, that's okay and we aren't falling behind.
Leaving room for the unplanned and for just having breathing room is essential for making it through the year without hitting the February slump and getting burned out or feeling like we didn't quite make it.
If your homeschool runs anything like ours, the first week can be pretty exhausting. Even after all of these years, and relatively short summer breaks, I still marvel at how much change is generated when we get back to school.
But with a few tactics in place, it can be a rewarding week that is just the first step toward a productive and enjoyable year. And when we look back at all that we will have accomplished next spring, I'll be armed with knowledge to make the next years even better.
What are your tips for a successful homeschool year?