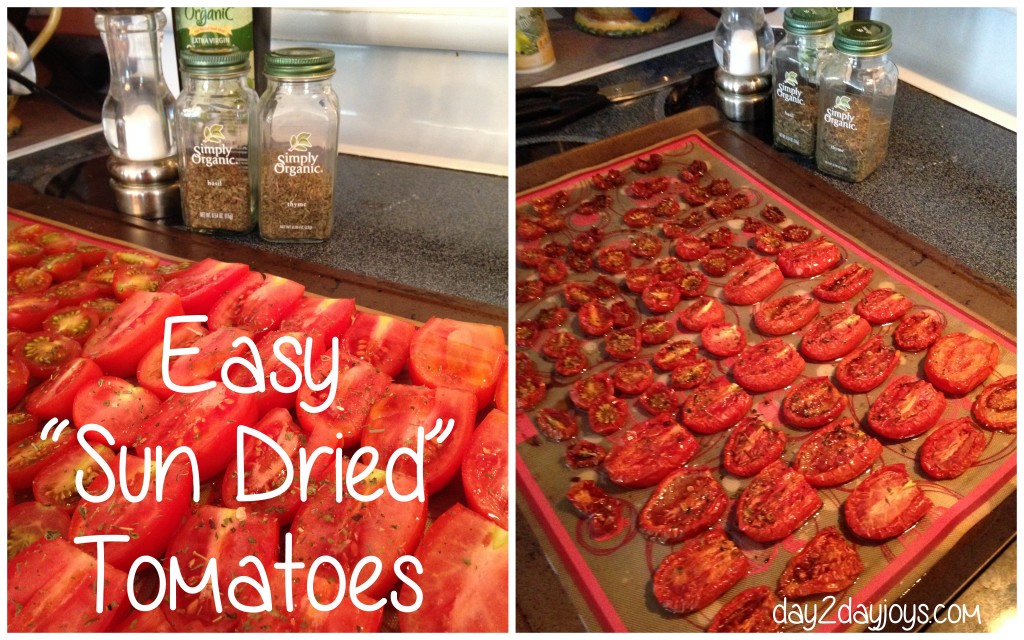 Written by KT @ One Organic Mama, Contributing Writer
If your garden is anything like mine – you are being inundated by tomatoes… of all varieties… let me explain. Because we compost we always get lots of sprouts of various old seeds from the year before… this year because I was pregnant/just had a baby I wasn't so great at pulling them… Now my backyard is a total jungle of hundreds of tomatoes.
Each week I make 150+ of them into tomato sauce and freeze it. The remaining tomatoes get either eaten raw or turned into these super simple sun dried tomatoes. Don't worry – you won't need any sun for these – actually they would make a great rainy day activity!
Sun Dried Tomatoes
Ingredients:
Tomatoes – a low moisture variety – we use plum and cherry tomatoes – any amount of them is fine you can cram them onto a cookie sheet!
Olive oil (you need a bunch of this – you're using it to cook and then to pack the tomatoes)
Dried Thyme
Dried Basil
Salt
Directions:
Pre-heat your oven to 250 degrees. Line a cookie sheet with either parchment paper or a silicone mat. Jam as many tomato halves on there as you can! They won't need the space because they are going to shrink. Douse them with a considerable amount of olive oil (you're going to dump the excess into a jar for the tomatoes when you're finished and it will be all yummy flavored – so be generous). Sprinkle the tomatoes liberally with salt, basil, and thyme. Put your tomatoes in the oven for 2-8 hours! Taste the tomatoes along the way and also give them a feel. You don't want them to get crunchy on the edges. You want them to be soft, but with most of the water gone from them. When they are finished – dump the whole tray, oil included, into a jar and then top with additional olive oil. Refrigerate! The oil will harden in the fridge, but no matter, just take it from the fridge a couple of minutes before you need it and they will be ready to eat! We love to throw them into the food processor with some fresh basil and then served with Parmesan cheese over warm pasta… mmmmmmm.
How do you use up your excess garden produce?