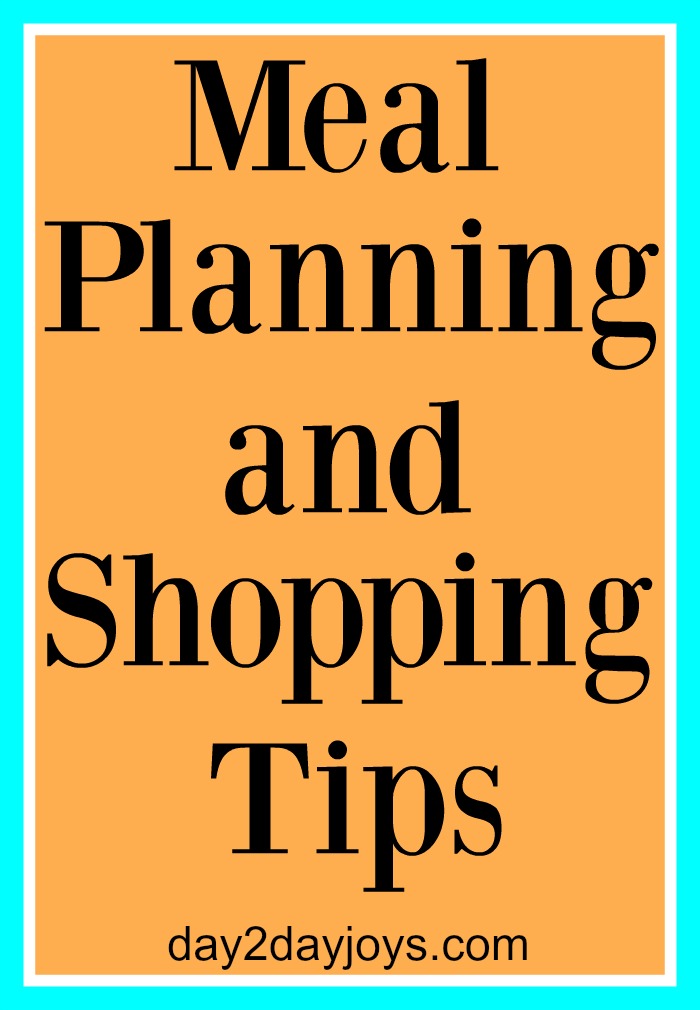 Written by Karen @ To Work With My Hands, Contributing Writer
Whether you enjoy it or hate it, gathering food and preparing it for our families is something we all have to do.
Sometimes I really enjoy it. At other times…not so much. But, with over 27 years of experience behind me, I've learned a few things that have helped make it a natural part of my routine.
It all starts with a plan.
Building The Menu:
Since I shop for groceries every other week, I plan our meals two weeks at a time. Meal planning this way has a few advantages:
It corresponds with my husband's pay schedule so I can do all of our shopping, bill paying, and errand running at once.
When food items are on sale, I can stock up and repeat a menu twice during the menu cycle.
Shopping every other week instead of weekly really does save on the grocery bill (we tested out the weekly shopping trips once and were stunned at how much more we spent.)
I begin with an Excel spreadsheet with blocks for 21 meals. On each row I list the menu for the first week, type a slash mark, then list the menu for that same day the second week. Often I will just type "x2" beside a meal and we'll have it both weeks.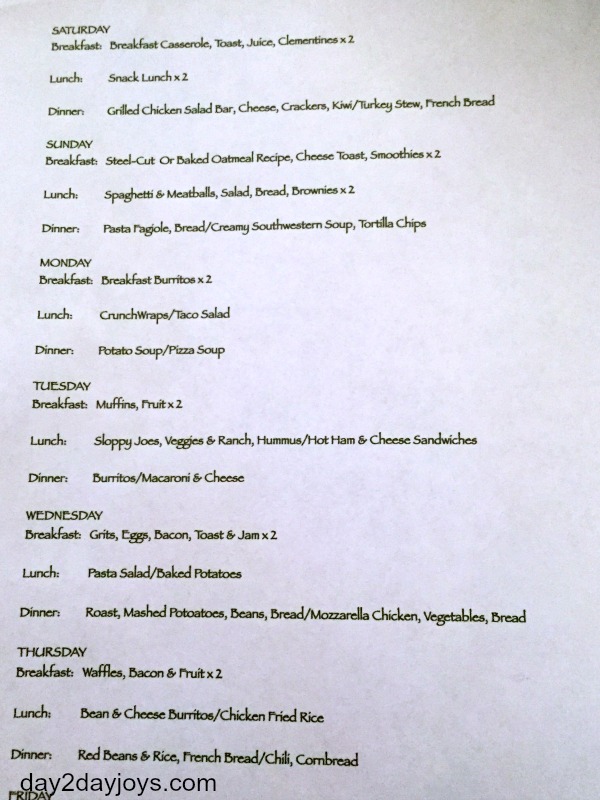 Filling in the Menu:
I follow a distinct routine each time I build a new menu. The very first thing I do is transfer meals. Nearly without fail, we will have a meal or two leftover from the previous menu that we never got around to preparing for one reason or another. Because I already have the ingredients on hand, I'm already lowering the next grocery bill.
Next, I shop the pantry, refrigerator, and freezer. If we have leftovers or extras that can be made into new meals, I add those to the menu and note any additional items I'll need to buy to prepare them.
The next step I take is to shop the sales ads. All of the grocery stores I shop have online ads, which makes it a breeze to browse their sales. I regularly shop 5 different stores for our groceries, snagging the best deals at three of them, and buying the rest that we need at Sam's Club and Wal-Mart.
I buy nearly all of our produce at one of the stores and the other two offer weekly Buy 1, Get 1 Free sales, which I use to lower our bill for the menu or to stock up on things we use frequently. Armed with sales information, I then use those items to create menu plans.
Finally, if I still have holes in the menu, I go to my old menu folder for ideas from previous weeks that I may have forgotten about.
Making the Shopping Lists:
While checking the sales ads, I jotted down the items I planned to buy. The only remaining lists to make are those for Sam's Club and Wal-Mart.
As much as I'd like to avoid Wal-Mart, the things that I can't get elsewhere get purchased there, and we are still a large enough family that shopping at Sam's Club makes sense.
I keep a master Excel worksheet for each of these stores with a list of the common things we buy.
When I realized we were often buying the same things over and over at Sam's Club, I created a master sheet. Now, all I have to do is go down the list and decide if we need to purchase each item during the upcoming trip.
I make a list on the side of the items we need, add any additional items, copy and paste it into an email, and send it to my husband or teen son (who almost always does the Sam's Club shopping for us).
Wal-Mart is my beast! I start with the master list, making note of the basics that we need in each department. After those are typed into my list, I go down the menu, meal by meal, noting any additional items I need to prepare them. These are added to the Wal-Mart list. Sometimes I email it to myself, but often I just print it out because nearly without fail, someone will ask me to pick up _____ while I'm at Wal-Mart and I need to add it to the list.
My Favorite Shopping Habits:
For a couple of years, I tried the coupon game. Eventually, however, I gave it up because it was so time-intensive, and I found that we were actually changing the culture of our eating habits because of them. Now, I will occasionally use them if they are easy, a great deal, and something I would have purchased anyway.
Instead, I prefer to shop for the best deals I can find. During the summer, I visit the farmer's market and local produce farms to get the freshest produce available and at great prices. For the rest of the year, the practice of pursuing ads and gleaning the best deals has worked much better than trying to pair coupons with my purchases.
Buy 1, Get 1 Free deals are some of the best ways I've found to save, and I try to always stock up on things that we use frequently when they are offered in these sales.
My very favorite shopping habit, however, is using shopping apps to save. SavingStar, Ibotta, MobiSave, and Checkout 51 are my favorites. Although they are slightly different, the basic principle with each is to scan the barcodes from purchased items, upload the sales receipt, and get cash back in your account! There are various payout methods for each, but my favorite are those that offer a direct transfer to my PayPal account. Over time it really adds up and is much less time-consuming than dealing with coupons.
Finding unique ways to shop and save is as individual as each family, but with a few basic principles in hand, you'll be well on your way to a routine that is effective, yet low-impact – even with more than a few mouths to feed.
What are some of your favorite menu planning and shopping tips?