Today is the 5th day of the 12 days of Christmas Reviews & Giveaways 2015!
Review by Lydia @ FrugalDebtFreeLife.com, Contributing Writer
On the 5th day of Christmas, day2day joys gave to me…
A family-friendly book created to help focus on the true meaning of Christmas. This book shares ideas, games and recipes.
12-Day Nativity: Christmas Activities for a Christ-Centered Home is designed to bring your family closer to Christ this Christmas with twelve days of activities, recipes, service projects, and crafts. Each day you'll focus on the symbolism and meaning behind one of the figures from your Nativity set. Learn about Mary, Joseph, the shepherds, and-of course-baby Jesus, and create a holiday tradition you'll want to repeat year after year.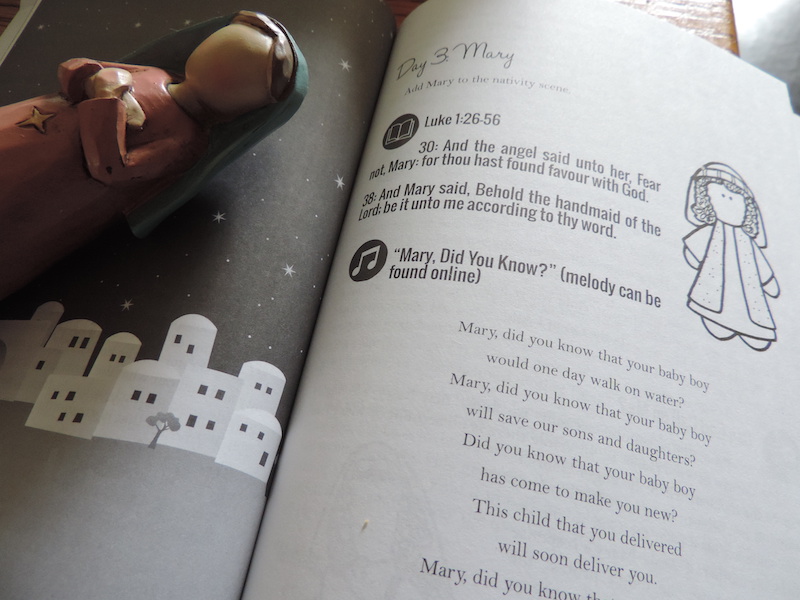 Features of 12 Day Nativity Book and Nativity Set

daily games and activities
service projects for the whole family
recipes
dress up activities
a beautiful nativity suitable for children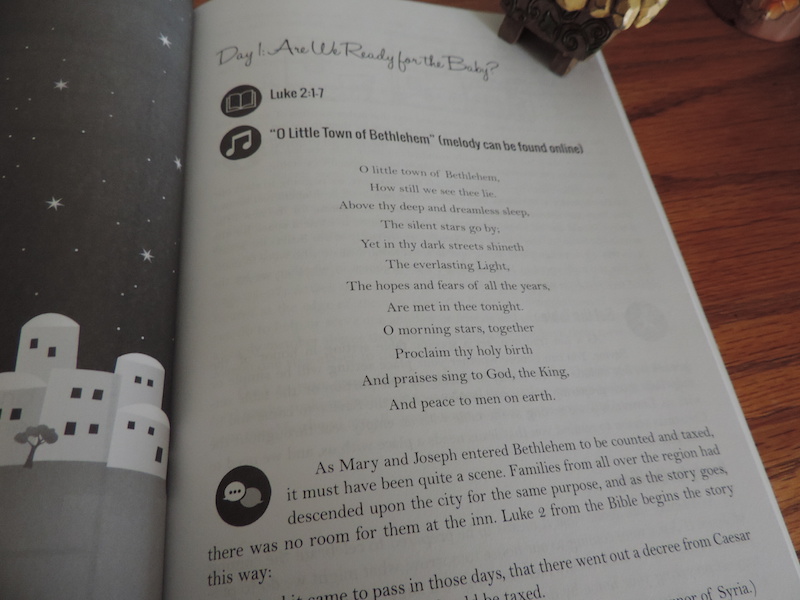 Now for my review:
There is something magical about Christmas. It's so easy to get swept up in all the excitement and sparkle. But as a mom I want to teach my children that the reason our family celebrates Christmas is because of the birth of our Lord and Savior. Without Jesus, it's just a day in December. So I am constantly looking for meaningful ways to bring Christ to the forefront of celebration.
So I was really excited when on my doorstep landed the book "12-Day Nativity: Christmas Activities for a Christ-Centered Home."
The book is packed with useful ways to bring the nativity story to life. My children are very young, just four and two, so learning through play is such a huge part of our life.
I was pleased to open the book and see from the get go it was geared toward play and acts of service, two things my children love.
We started the 12-Day Nativity by creating our own Bethlehem out of a cardboard box. This opened up discussion about what Bethlehem might have been like, the types of houses people lived in and what they might have eaten.
We also prepared our home for Jesus and practiced swaddling a baby. Of course, I live in a boy house, so the closest thing to a baby doll was Charlie Brown.
The book also introduces different characters within the nativity story, like, of course, Mary and Joseph. But we also discuss the shepherds and various animals.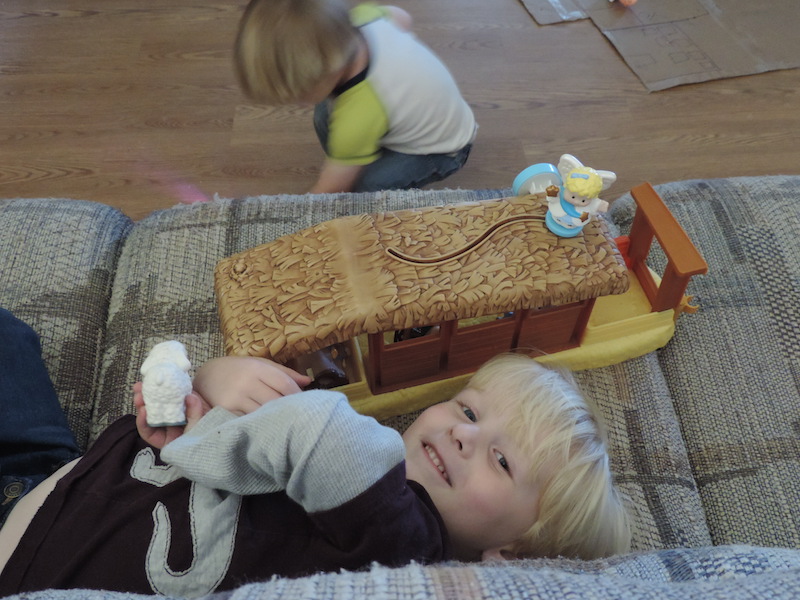 The book also offers fun games like playing hide and seek with a nativity set lamb.
However, the book isn't just surface. It's more than just games and craft ideas. The book goes much deeper than that, providing scripture passages, message to reflect upon and acts of service you can do to bring the light of the Gospel to your community.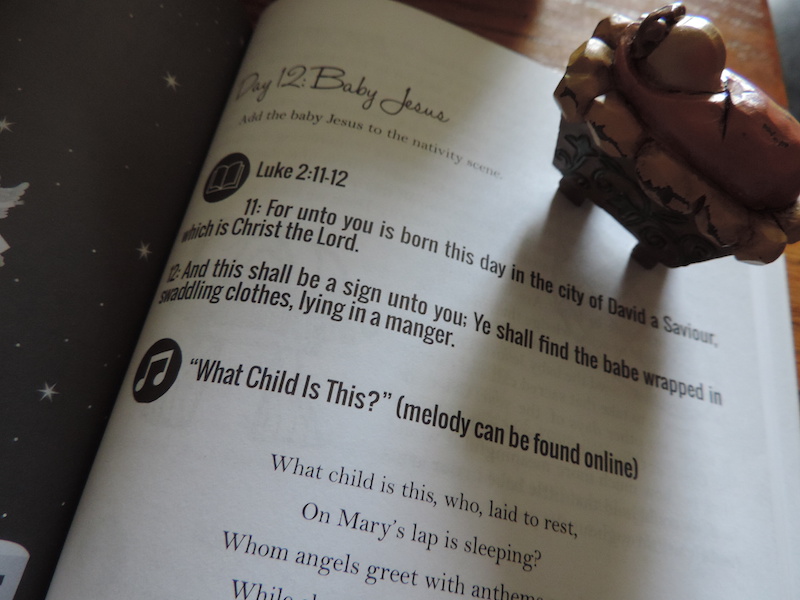 For example, on the first day the 12-Day Nativity suggests setting a place at your table for Jesus. On the last day the book suggests inviting someone without family to spend Christmas Eve in celebration with you. Another suggestion was to make care bags for the homeless.
What I Liked:
The emphasis on playtime activities
Predesigned crafts
Song ideas and object lessons
The emphasis on scripture
What I didn't Like:
Nothing!
You can Buy It!
See the 12-Day Nativity here!
You can Win it!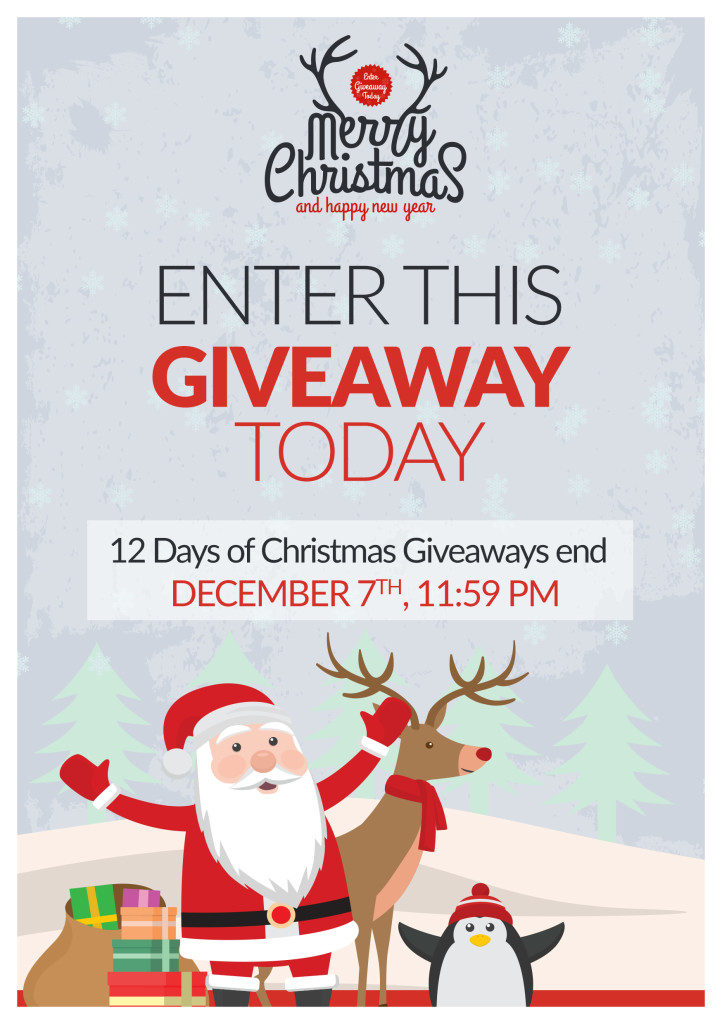 Enter this giveaway! If you win, you will get a copy of the 12 Day Nativity book along with a small nativity set to use! Use rafflecopter below!
a Rafflecopter giveaway
Disclaimer: I, Lydia, was given the product(s), to review with my fair and honest opinions. If you would like more info or to have a product reviewed, please contact Rachel.
**ALL of the 12 Days of Christmas giveaways end on December 7, 2015 at 11:59pm EST and is open to USA & Canada residents ONLY. One lucky winner will be chosen using rafflecopter and be notified by email. The winner will have 3 days to respond with their contact information, if they do not respond a new winner will be chosen. Must be 18 to enter. No purchase Necessary.
How do you work to keep Christ at the center of your family's Christmas celebrations?