Written by Janet @ Frugal & Focused, Contributing Writer
When your kids are really little, they happily go to bed at their regular bedtimes on New Year's Eve. Umm, okay, maybe not happily but they're still oblivious to the idea of staying up until midnight to welcome in the New Year.
At some point though, they will want to stay up. In fact, they might even beg to stay up until midnight. Perhaps you are like me and are at the point where you'd prefer to let the new year arrive while you sleep. However, saying yes to staying up with your kids to celebrate New Year's Eve can actually be a fun way to spend time together as a family.
I remember the first time my kids both wanted to stay up and celebrate the new year. They were eight and five at the time. My oldest daughter had attempted to stay up the year before but in the end sleep won out. This particular year they had teamed up and were determined to make it.
They campaigned for us to let them stay up and we ultimately said yes. We decided to turn it into a fun family night. We made our favorite appetizers, had a family bowling tournament with the Wii, and just before midnight we turned on the television to watch the ball drop.
Apparently, welcoming the New Year wasn't quite what our girls were expecting. We got a "That's it?" once it turned midnight. And then our very tired and somewhat disappointed youngest daughter proceeded to put her head down and cry.
The disappointment wasn't enough to deter our girls from wanting to stay up and celebrate the New Year in the years that have followed. We have continued to try and make it a fun night for the family and we have a lot of great memories of our little celebrations, even the one that involved tears.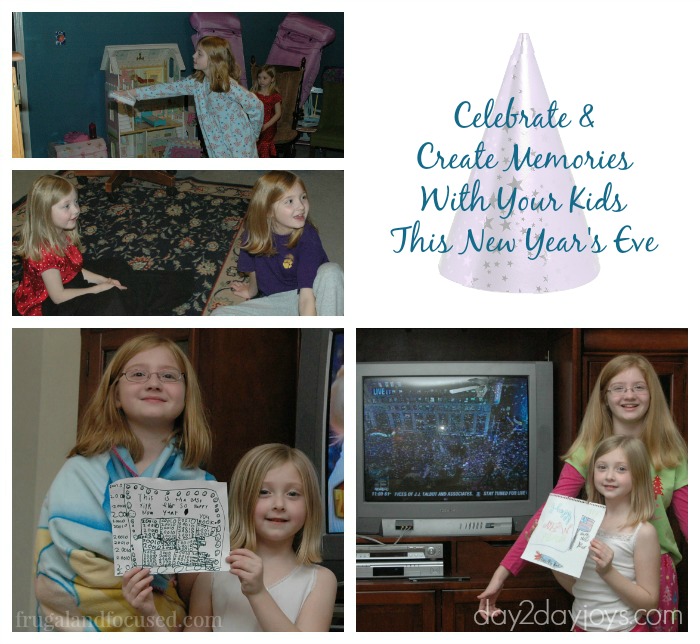 Fun Ways To Celebrate New Year's Eve With Your Kids
Serve Family Favorite Party Food
Depending on the size of your family, let everyone pick a favorite party food or agree to a few different party foods for that night's menu. There are lots of fun and healthy options out there like these Fun & Easy Fruit Rockets or these Zucchini Pizza Bites
Play Games
Gather up a few of your family's favorite games and enjoy a family game night. Games are a great way to pass the hours and usually bring about a lot of laughter.
Reminisce About The Good Times
Spend some time discussing your favorite moments of the year. You could even start a memories journal and write them down each year and then read back through them each year on New Year's Eve. Take a moment to give thanks as a family for those good memories.
Set A Family Goal
Take a little time to talk about something you would like to do together as a family in the new year. Perhaps it's a one time event like running a 5k together or taking a family hike once a month. It could be finding a place to serve together in your community or setting a goal to double the number of Operation Christmas Child boxes you donate. Setting a family goal is a great way to encourage unity in your family.
Make Some Noise At Midnight
Gather some leftover party horns, streamers, confetti, and party hats. At the stroke of midnight, dance around the living room, blow your party horns, and see how much noise your family can make. You're guaranteed to start the new year with laughter and smiles.
Celebrating New Year's Eve with your kids can become a treasured family tradition that will provide lasting memories.
Do you celebrate New Year's Eve with your kids?