Written by Janet @ Frugal & Focused, Contributing Writer
I'm not a cold weather person. If possible, I would hibernate all winter long. That's not very realistic though so I've learned that you have to make the most of it.
If you have kids, especially little ones, things can get a bit hairy and cabin fever can set in if you limit activities due to the cold weather. You may have to get a bit more creative than you do in the summer but there are plenty of fun family activities to enjoy this winter.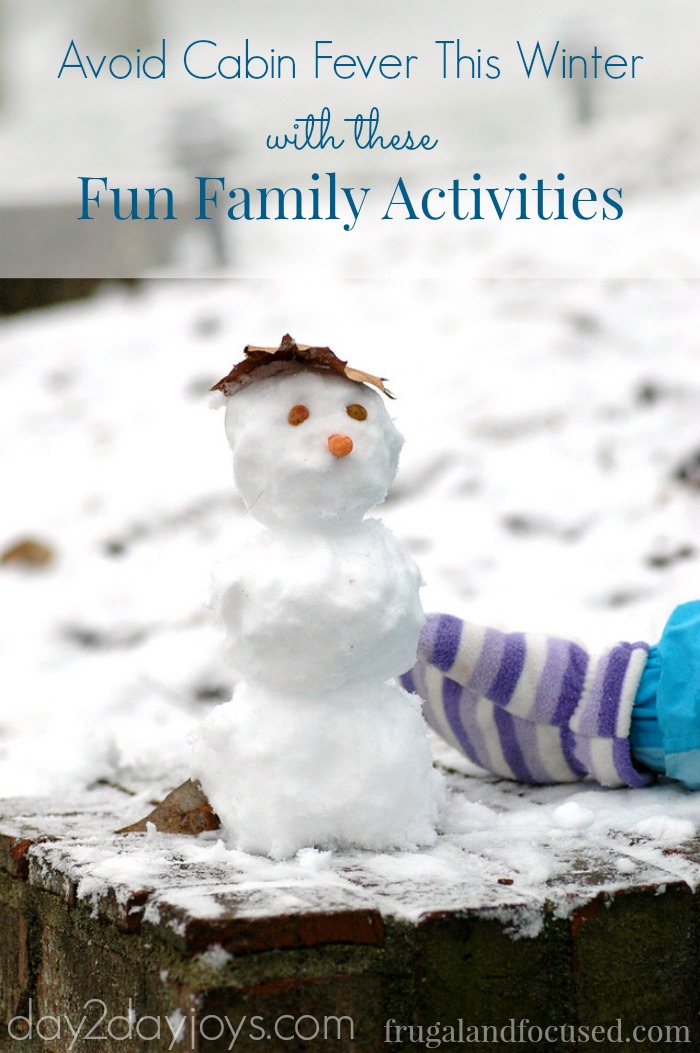 Keep cabin fever at bay with these fun family activities.
Get Outside
If you have an aversion to cold weather like I do, sometimes you just need to push through it, bundle up, get outside, and have some fun. If you have snow you can build a snowman, go sledding, gather up fresh snow for snow cream, or stage an epic snowball fight. No snow? Then take a hike or go geocaching. The activity will warm you up and you can soak up some much needed vitamin D in the process.
Go For A Drive
If it's just too cold to safely enjoy some outside time, consider taking a drive. Now if you have little ones who really do not like the carseat, then this activity may not be for you. However, if that's not a problem, just getting out of the house and taking in the scenery is a great way to enjoy some family time.
Sometimes it's best to just embrace staying indoors when it's cold and blustery outside. There are plenty of ways to enjoy a winter day indoors.
Enjoy Hot Cocoa And A Movie
Make some hot cocoa, grab some blankets, and snuggle up on the couch for family movie time. Let the kids pick the movie even if you've seen the movie twenty-five times already.
Play Board Games
Board games are a great way to connect with each other and pass the time on a cold winter day. Some of our kids' favorite games over the years have included Hi Ho Cherry-O, Candy Land, HeadBanz, Monopoly, Life, Clue, Scrabble, and Apples to Apples.
Get Crafty
I know crafts with kids strikes fear in the hearts of some moms but not all crafts are super messy. Your tolerance for messy crafts will impact exactly what you create but don't let it stop you from having fun. Besides, messes can be cleaned up and little ones can help with that. You could make snowflakes out of coffee filters, or have fun with glue with a Cotton Ball Penguin, or make a Paper Plate Snowman.
Bake Cookies
I've never met a person that didn't like cookies. Spending time with your kids in the kitchen is a fun way to connect with them and help them learn important life skills. Keep tasks age appropriate but even young kids can help measure, mix, and scoop.