With this being our first year full-time homeschooling, I knew I needed a plan in place. I had planned and selected our curriculum but was still trying to find a way to keep my kids accountable with their school work and responsibilities. I am not really one for the unschooling. In life there are things that must get done, even if you don't want to do it. But this is not a post about not agreeing with "unschooling".. I do like this post if you want to read more about it.
This post is about helping your student to independently be in-charge of their life, at least teaching them how anyways. So I created my own homeschool planner for them.
I thought about what subjects we will be covering, what would tie in with our morning basket, what their chores and other responsibilities are and even fun things. I looked all over the internet and pinterest for ideas. I began compiling different free printables to be added to their planners.
After doing all of that I began creating the weekly pages which make up the bulk if this planner.
For the months and first page I used student planners(Click here to find them) that were offered free one month, now they aren't free but she does offer specials and freebies each month. You can search around on the web to get other monthly printables for free too.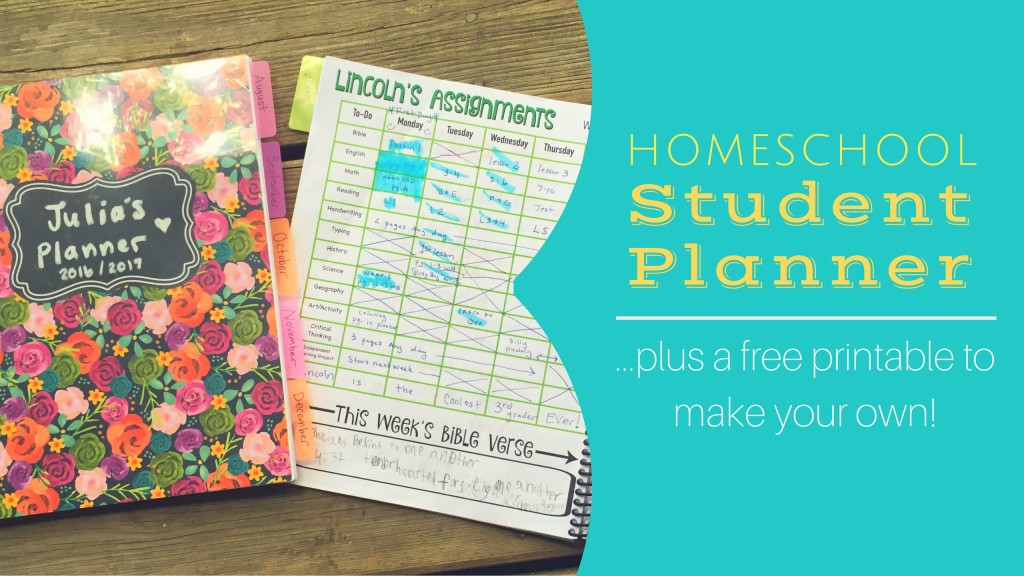 So this is what I did:
Once I got everything printed, I put it all in order. I did take a LONG time, especially making sure I printed on both sides of the paper as much as possible.
Next I looked at my year at a glance page that I had marked the numbers of weeks of school we would be doing and then added it to their planners, that way I knew how many weeks were in each month. (we are doing 36 weeks)
Then I made the front cover. I purchased a few scrapbook pages from hobby lobby and some chalkboard paper and chalk markers. Once the whole planner was made, I took the pages to OfficeMax where I had them put on a front and back and then had it bound.
Lastly I added sticker tabs to the months. I only did the first semester.
My kids were SOOOO excited to see this and began using it. Not only does it make my life easier, they are beginning to take charge of their life and their schedule.
Feel free to use these homeschool planner pages I have created for your student and take advantage of the free printables i found below. Or even go find some that your student likes!
**Click link below for your FREE planner pages**
Free printables I used in this planner:
I hope this helps you on your journey! Happy Homeschooling!